Different Mandap Decors To Glam Up your Wedding! 
Mandaps are more or less the highlight of the wedding decor. From guests to the bridegroom, everyone not just considers the mandap as an important aspect traditionally, but also a place to capture mesmerizing wedding pictures. Living in the current trend of the market, we're blessed with a range of mandap decors to enhance the beauty of your venue, but how many among them are defining your unique style of yours?
Here are a few interesting mandap designs that are worth giving a try! 
---
The Chandelier Mandap
From the old times, Chandeliers have been the classic choice of royalty. From big mansions, these beauties have now travelled to the mandap decor world to give a new and noteworthy look. These chandeliers come in different shapes and sizes are easily fit in, creating a new statement arc. 
Decor: Dreamzkraft 
---
The Acrylic Mandap
Acrylic mandap decor brings young modern decor, along with a minimal statement look. These acrylic decors are the showstopper of the current trends, giving the venue a western touch that defies the culture of putting those "extras" for a beautifully eye-catching  look. This style looks a perfect fit for a wedding with close family and friends.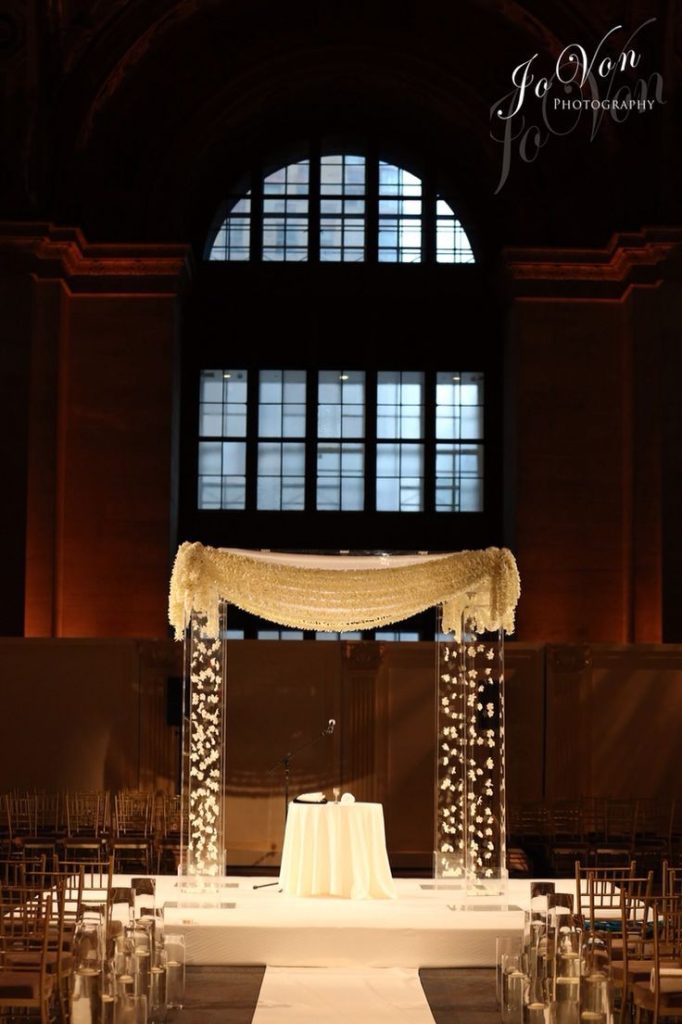 Via: Jo Von Photography 
---
Floral Mandap Decor 
Wherever there are flowers, there has to be freshness, love, and fragrance. These decors seem to be the most adaptable ones in the wedding trends, as they change faces with time, but are always there to support the venue with their simple finish and fresh vibes that are unmatchable. Hence, when in doubt, go for a flower mandap decor. 
Via: Gurleen M Puri 
---
Mandap With Fairy Lights
Fairy lights when added to the mandap decor give no less than an enchanted look to the venue that's full of light. Fairy Lights, be those wrapped around the pillars, or flowing over the roof, give such a delightful touch to the modern mandaps, giving an insightful look! 
Via: Taarini | Umbelino Fotografias
---
Boho Themed Mandap 
The lovely Bohemian theme isn't just a game for western, but now a great theme for Indian weddings as well. Its natural raw finish adds up a different vibe to the Indian mandap that just cuts it off the traditional ongoing wedding decor. The boho look of an Indian mandap is just unmatchable.
Via: Stephanie Velez
---
Grid Mandap 
A grid-patterned roof with minimal detailing is what we call an elegant modern wedding mandap. This contemporary design is now the choice of people in need of designs to maintain the dignity of an intimate wedding that touches your heart with efficient efforts. 
Via: EM Designs 
---
Statement Mandaps
It is always great to choose a mandap style that is beyond current trends. Telling a story through the decor or adding a statement item that makes your mandap stand out, allows you to set a new trend and makes your venue the talk of the town. 
Via: Altair 
---
Be it your customized theme or choosing among the latest trends, mandaps in the venue will be closest to our hearts. Being the showstopper of the show, they gotta be the best. Which ones are your picks for your wedding mandap? Tell us the comments below and for more wedding inspiration ideas explore with weddingplz! 
---
Check out more links: In Trend, Chic & Stylish Mangalsutra By Bvlgari | 10+ Discrete Saree Draping Styles | In Demand Bridal Trends Winter-Festive 2021 Will Witness| Yellow Is The New Pastel: B-Town Celebs Giving Major Festive Inspiration| Bridal Edit Featuring Papa Don't Preach By Shubhika| Local Indian Brands You Can Add To Your Visiting List.| Colour Trend Wedding Season 2021 Will Have