Brides of India: The Seven Sisters & Their Wonderful Brides!
In our nation, marriage is celebrated as one of the biggest ceremonies. This is celebrated like a festival that comprises numerous rituals including variations in wedding attire throughout the parts of India. Thinking to explore this segment
Here are the bridal attires of seven sisters of our India, the northeast that outshines everyone! 
---
Assam
Our beautiful state Assam is also the largest in the area among seven sisters. An Assamese wedding consists of numerous beautiful pre-wedding rituals and a beautiful wardrobe for the bridegroom. An Assamese bride wears Mekhela Chadar which is an Assamese bridal saree. The zari embroidery of this outfit is just unmatchable. Along with this, she carries gold jewellery with an elegant minimalist look for the wedding. The overall beauty of an Assamese bride is just commendable.
Via: Bikash Saikia Photography
---
Arunachal Pradesh
Our state full of natural beauty seems to take the human form in an Arunachali bride. When looking at a ceremonial couple in Arunachal Pradesh, we find the bride dressed in plain cloth or draping with red designs. Something they include woollen pom poms too for an additional touch. Overall looking at a traditional couple of Arunachal Pradesh we find the most experimental and dazzling combination that's unique and beautiful!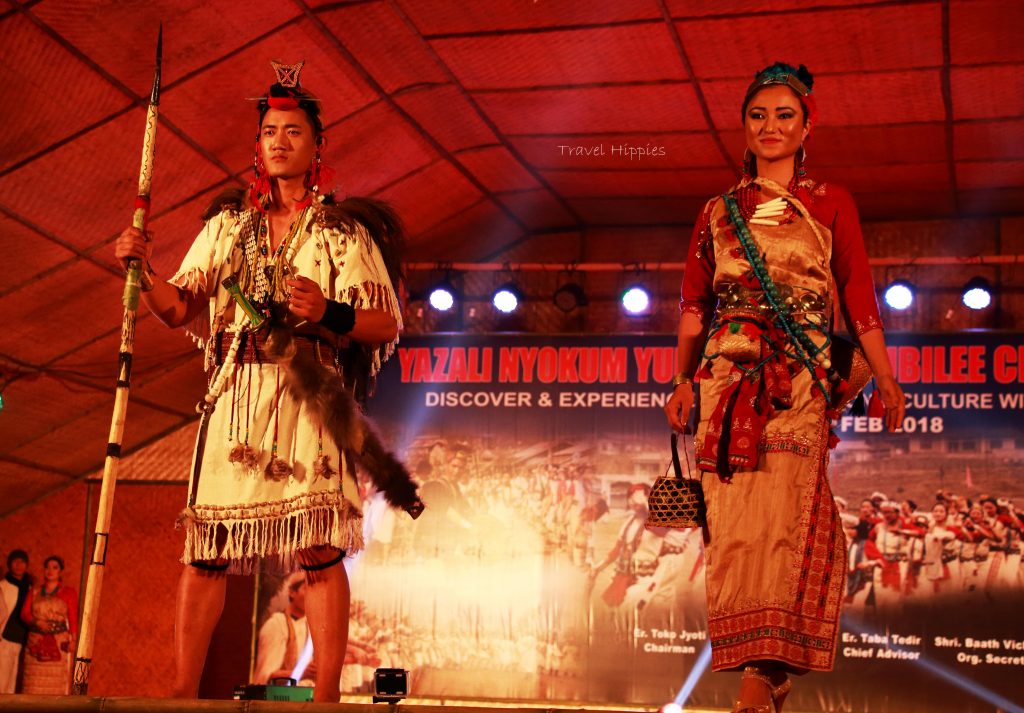 Via: Travel Hippies | representation of Nyishi Tribe. 
---
Manipur
Manipur seems to be the fun-loving one among the seven sisters. The wedding attire of a Manipuri bride is full of uniqueness and love. A Manipuri bride wears a skirt called 'Raslila' on her wedding day. Along with this, she carries a red and black sarong which is known as Pindhan. The entire dress is teamed up with a blouse referred to as Silum. The Raslila looks tough to handle but there can be no other stunner than our Manipuri brides who carry it with grace. One interesting thing about Manipuri brides is, that despite the state being known as the land of jewels, Manipuri brides carry minimal jewellery, and the groom wears almost no jewellery at all! 
Via: Maik | E blog online 
---
Mizoram
Our beautiful Mizoram state also follows the minimalistic culture of North East, having brides with minimal looks. Generally, Mizo couples have a Christian wedding, hence they wear a beautiful white gown with a veil, along with flowers in hand. White colour symbolizes virginity and purity hence this colour is chosen for a Christian wedding. Some Mizo brides also go for Puanchei, their traditional outfit, for the wedding. It is a beautiful outfit that is usually handmade, but now machines are also used for it. 
Via: Ms Pachuau Photography
---
Sikkim 
Our Sikkim holds what we call royalty. The wedding attire is so exquisite that compliments simplicity in its royal way. The Sikkim wedding attire is called 'Kho' for brides. It is a long-sleeved, full-length gown with elaborate patterns, stitches, and embellishments. Along with the clothing, they carry a traditional apron called a "pangden", also decorated with intricate needlework and patterns. The "Pangkham" is the traditional head covering for ladies, which is a big multicoloured scarf. 
Via: internet
---
Nagaland 
Our state Nagaland's full enriching tribal culture brings strong and beautiful brides. Various tribes here follow different rituals regarding marriage that can vary from a boy choosing her bride in the Angamis to prices being offered for the bride's marriage in the Sema Tribe. However, people in Nagaland now follow a mix of modern and old traditions, making their marriage a different bliss in the northeastern diaries.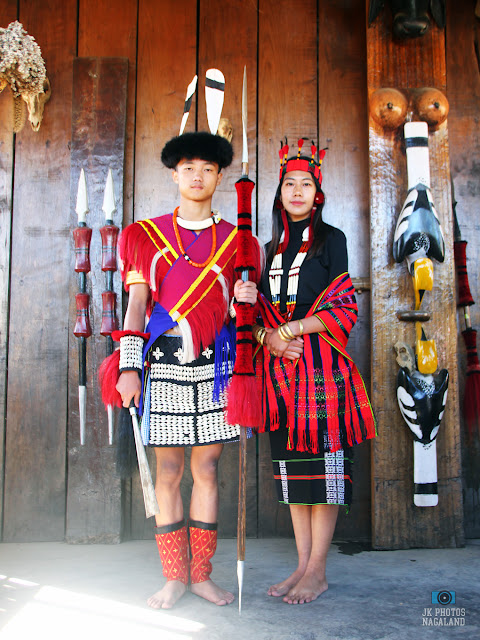 In frame: Lotha Naga Couple
Via: JK Photos Nagaland 
---
Meghalaya 
Our Meghalaya is a beautiful state of rainfall that celebrates the institution of marriage like no one else. Considering the Khasi tribe of this state, women enjoy higher status than men which is visible in their marriage rituals as well. A portion of the bride's attire and jewellery is given by the groom. The brides dress in traditional khasi outfits for the wedding, that is dhara or Jainesm. Both of these dresses are well-designed and several pieces of clothing give a cylindrical shape to the woman's body. The Jainesm includes two pieces of contrasting fabrics, which rest on both shoulders, i.e. one on each. Along with this, the bride adorns herself with a crown on her wedding day made of gold or silver, with a peak attached to her back. Brides also wear a gold pendant called Kynjri Ksiar.  For the brides in Meghalaya, it is an important custom to wear an ornament on the head.
Via: internet
---
They say the more you read it, the more you love it. The same is the case with marriages in our motherland. Every bride is better than the other and looks no less than a princess of her country ready, to begin a new stage of her life. What are your thoughts on these attires? Which ones are your favourite? Tell us in the comments below, and for more wedding inspiration ideas explore with weddingplz! 
---
Check out more links: In Trend, Chic & Stylish Mangalsutra By Bvlgari | 10+ Discrete Saree Draping Styles | In Demand Bridal Trends Winter-Festive 2021 Will Witness| Yellow Is The New Pastel: B-Town Celebs Giving Major Festive Inspiration| Bridal Edit Featuring Papa Don't Preach By Shubhika| Local Indian Brands You Can Add To Your Visiting List.| Colour Trend Wedding Season 2021 Will Have