Amazon India Couture Week 2015 : Colours On The Floor!
5 days (July 29-August 02, 2015)of models and glamour, dresses and designers, ramp walks and fashion talks at the Taj Palace, New Delhi. Yes!!! We are talking about the most happening event of the country; the Amazon India Couture Week-2015's sixth edition. This time the event had total 12 designers with their latest collections and creations with super-confident models to take up there dresses for us. Here is what will make you feel present at the event itself; the day-wise Designers who stole hearts and made cameras flashing continuously.
Day 1
The inaugurator Sabyasachi Mukherjee: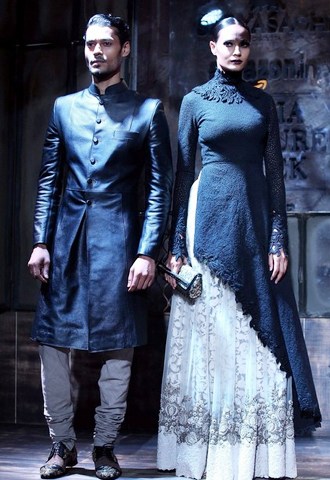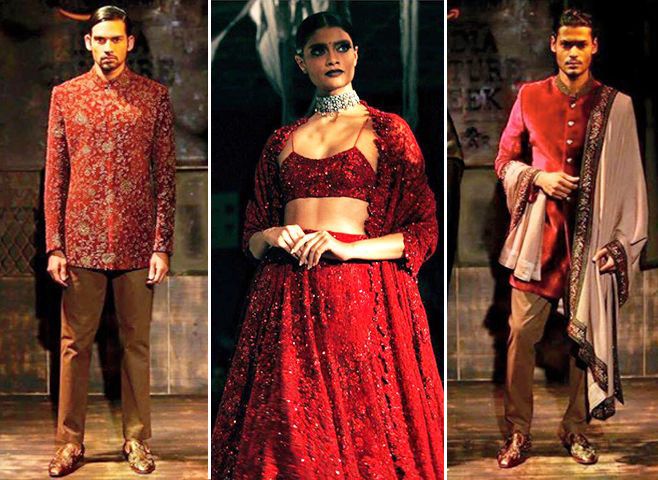 He collaborated with the renowned French footwear designer Christian Louboutin into match with his collection. His vintage collection entitled as "Bater" stole all hearts at the event. Shades greys and browns ruled over his creativity this time. To match his collection, the stage was also set as a shady jungle devising artificial bats.
Day 2
Rahul Mishra: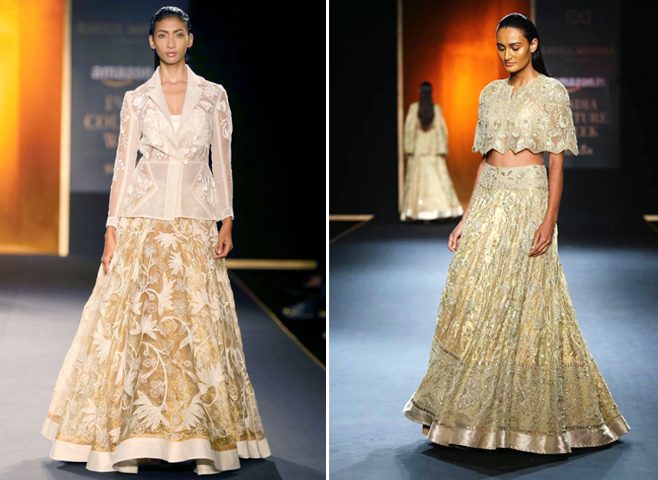 The winner of last year's Woolmark Prize, Rahul Mishra talking about his collection "Tree of Life" said that the idea was to push the craftsmanship to the edge and exhibit something exhilarating. His designs had hordes of hand-embroidered flowered patterns to utter handloom fabrics that fashioned a symphonic mixture of innumerable shades.
Gaurav Gupta: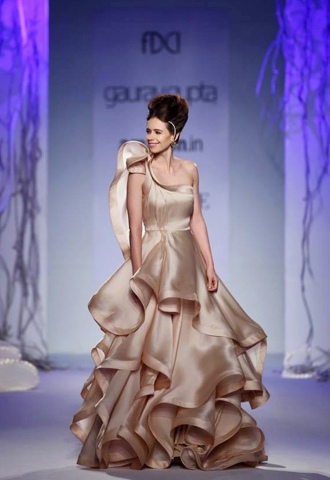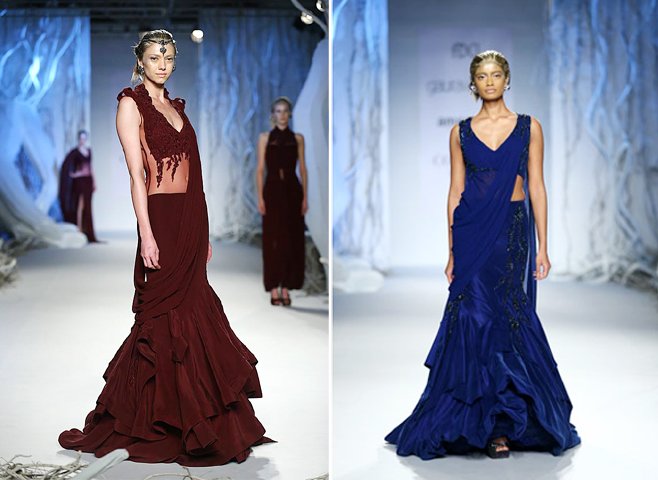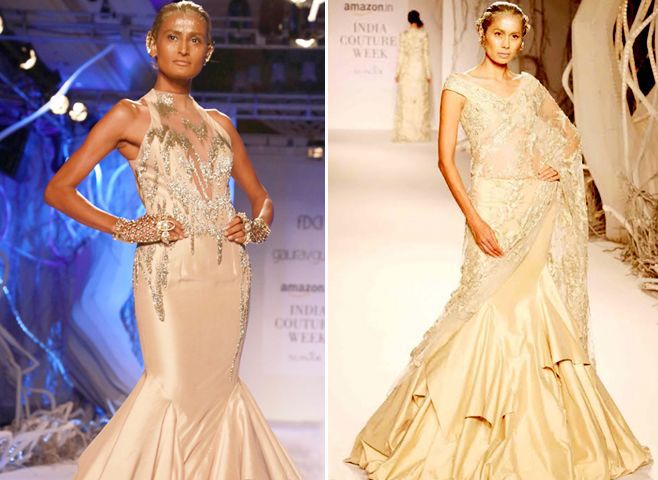 His collection "Silt and Cipher" intended completely for the Indian brides. In his collection he used chiffon, gentle laces, georgette, silk crepe, silk organza and taffeta which he perfectly used with colours like beige, champagne gold, corn, ivory and silver grey. Actress Kalki Koechlin, the showstopper for Gupta, whom the he calls "his fairy godmother and perfect muse" sizzled the ramp with her beauty in his collection.
Day 3
Anju Modi: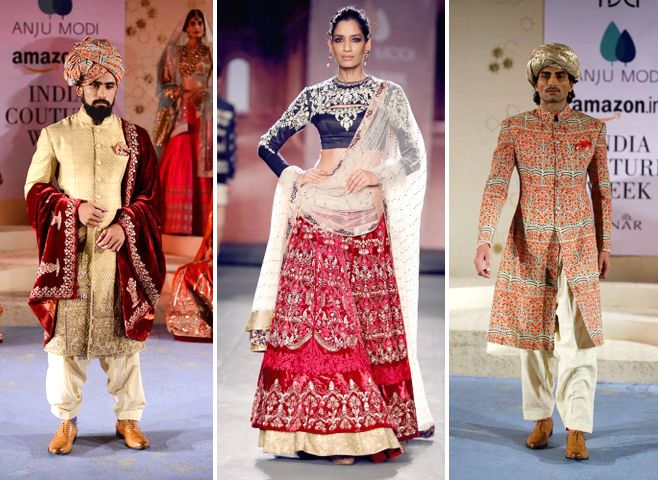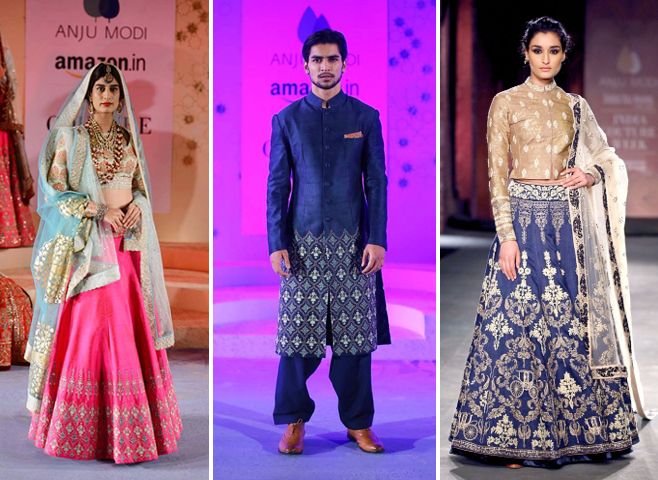 Her collection was enthused by Persia, a custom-made line entitled as "Kashish". It encompassed traditional attires such as Lehengas and Anarkalis. As said by her Kashish as an abstract motivation, is about the desire to attain; and as a physical sign, it will reproduce the Islamic and Persian impacts. Capacious silhouettes, Shararas and the use of numerous Dupattas with one dress could just be a bit of a bride who wishes to look Royal on her wedding day wants.
Monisha Jaising: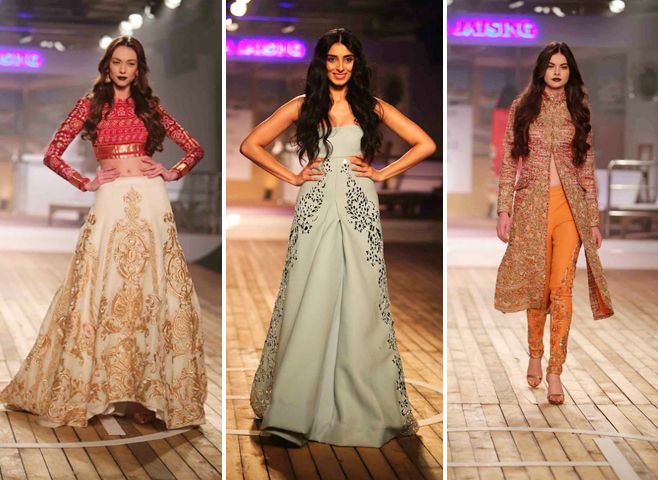 Her collection "The Sailing Bride" was set contrary to a background of playful numbers. Monisha's collection was emphasized primarily at those Indian brides who go for a destination wedding instead of a traditional wedding. Model turned actress 'Pernia Qureshi' opened the show for her whereas Bollywood actress 'Kriti Sanon' and Pakistani Model-Actor 'Imran Abbas' were her showstoppers. The show exhibited a wedding on a reserved yacht and to bring the viewers closer to the idea, the set was planned as an expensive boat with some female models relaxing on diverse decks and their male complements performing as the troops.
Varun Bahl: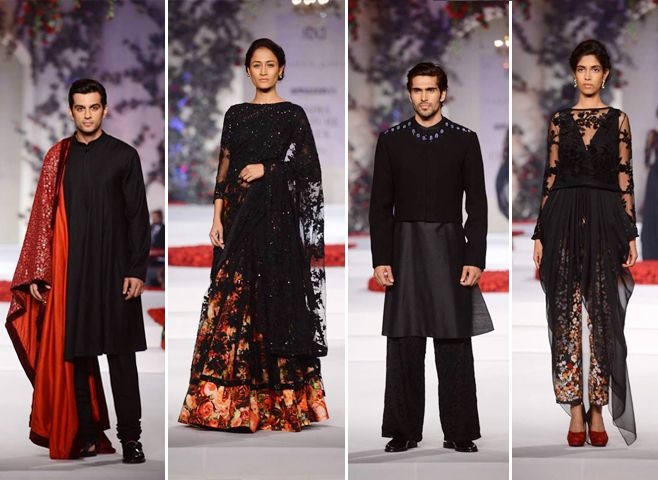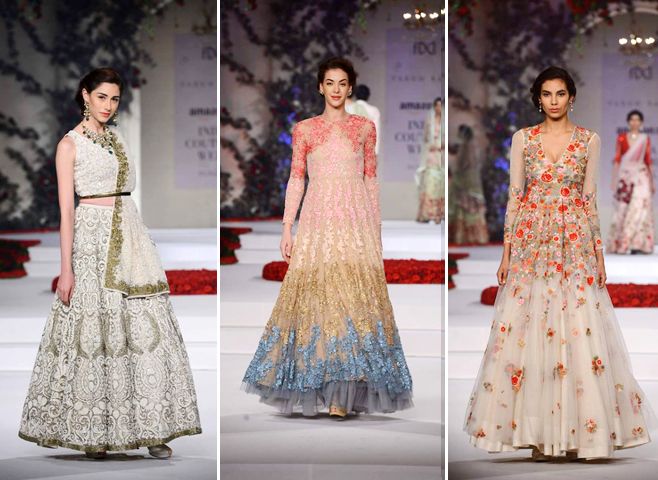 Next we witnessed, "Aurum by Varun Bahl". He unveiled his luxury wedding design endeavour on a lavish set planned with roses and bloomy prints beautifying the attires. Through the numerous designs, his collection emphasized on increasing the womanly prettiness of that modern woman who reconsiders her custom for a blend of classic and modern styles with delicate artistry. He used colours like ivory, light blue, old rose pastel pink and dark shades like black, burgundy, deep maroon and gold.
Day 4
Reynu Taandon: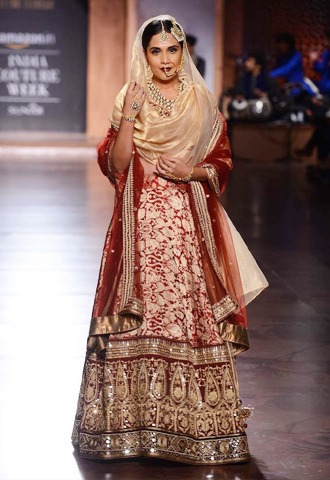 Aarkalis, Lehengas and Shararas in nimblest of the georgettes to the heftiest of the velvets sewed with Zardozi Gold amazed audiences in the show. She succeeded in conveying the on looker to the charisma established in Persia when Royals ruled over. Qawwali and Thumri were played as value added music during the ramp. Fukery fame 'Richa Chaddha' walked with delicacy as a showstopper for Reynu's 'Shahbanu' collection.
Rimple and Harpreet Narula:
This Delhi based designer duo presented their collection entitled as Maharajah & Co. with Bollywood diva 'Shilpa Shetty' as their showstopper. They are famous for mingling rural craft contrasted with acceptable hand embroideries. This collection was subjugated by elusive Gold Karigari. The models were appreciated exhibiting gorgeous parasols that harmonized their apparel. Everyone praised the combination of capes, lehengas, ponchos, robes sin addition to jackets embroidered with Preciosa gems stand out on the ramp in sunglasses of ivory, fawn, glittery gold and ruby.
Debarun Mukherjee: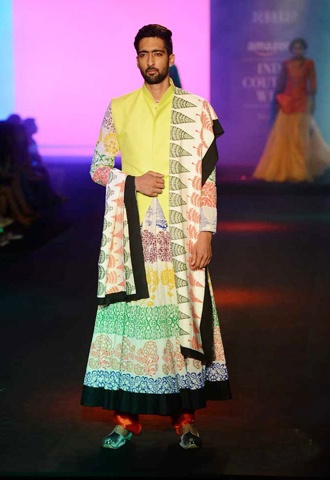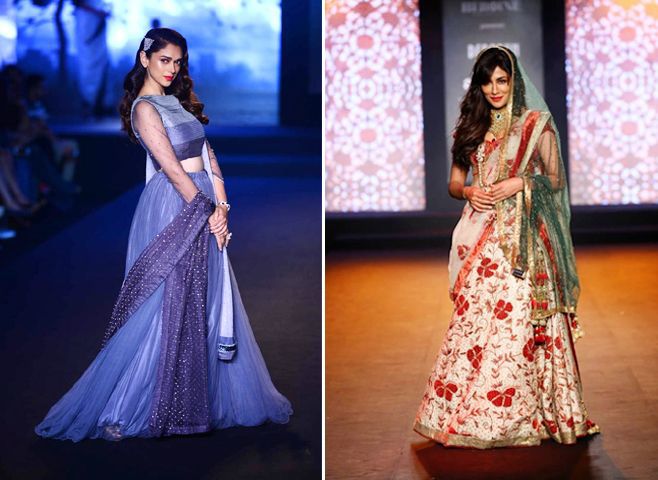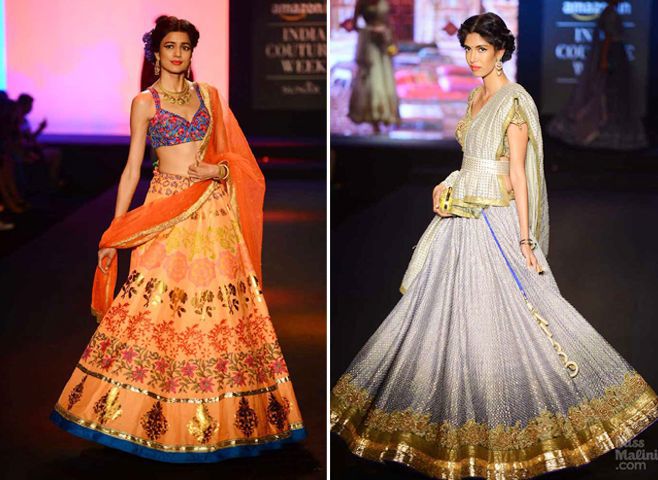 This debut Kolkata-based designer presented in association with Heroine. His collection portrayed spur from diverse eras of Bollywood. The variance amongst every era was marked by the change in the colour and tune. The show-opener actress 'Aditi Rao Hydari' was looking fragile in a grey lehenga redolent of the B&W movies of the '40s. The palette then progressed on to Eastman Colour of the '50s and '60s trailed by the Technicolor of the '70s and '80s which saw an eruption of lively colours on the ramp.The colour palette once more spun elusive with the '90s and the show concluded with a song to the present times where we saw the arrival of tradition with a touch of modernism. Actress 'Chitrangda Singh' was the showstopper.
Rohit Bal: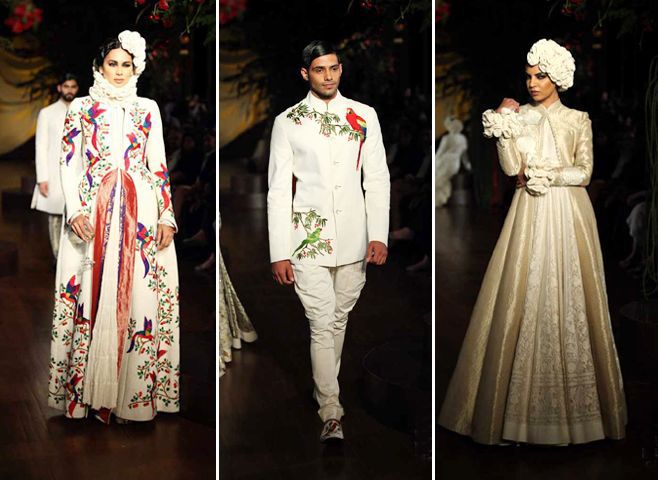 Leading couturier Bal presented his collection named as "Husn-e-Taa'iraat", or beauty of the bird. The hall was turned into a valley of grace with trees positioned on the ramp having actual apples and pomegranates. The collection has shades of cream with models outfitted in fashionable maxi coats over wrinkled floor-length Angrakhas. Cloth made white flowers was used as sloped circlets, the handcuffs and around the necks of models. In the next round, outfits moved to the divergent black velvets with vibrant needlework and brocade internal lining. Female models were dressed in jackets in wavering lengths and cuts, Angrakhas, sarees, and full lehanga whereas male models were dressed in smart Bandh Galas and Jodhpur pants with embellished slip-on footwear.
Day 5
Manav Gangwani:
He used numerous pure tulle, French lace, georgette and organza with deliberately sited glitters or needlework. Along with this applique and Swarovski basics with flowers prepared from the material of the attire. Models walking up on the ramp in a diversity of textures and shades like grey, aqua peach, sea green and purple showcased his collection "Le'amoureuse". Bollywood's another diva 'Kangana Ranaut' was unquestionably entrancing as she walked the ramp as his showstopper.
The Show Closer Manish Malhotra: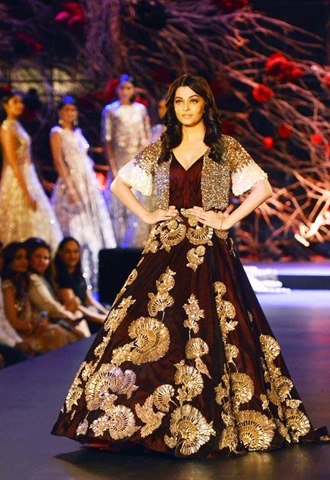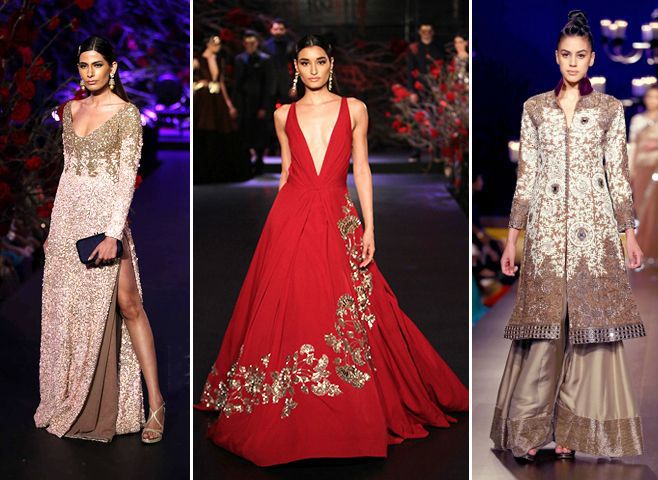 He exhibited the collection entitled as "The Empress Story". The collection was swayed by his desire for revitalizing centuries-old Indian artistry. Every dress in the collection was exceptional. From textured materials, large gown-like silhouettes that could be worn as an ode to 'lehengas', imprints of attractive silk and sophisticated needlework were some of the acmes of the range. The colour palette enthused from silver and gold to burgundy, old rose pink, pearl grey and coffee brown. 'Aishwarya Rai Bachchan' concluded the Couture Week as she walked as the showstopper for Manish.
This was all about the Amazon India Couture Week 2015. Share your views in the comment box and keep reading for such wonderful and informative blogs.
Also Read : Amazon India Fashion Week Spring Summer'16 – The Wedding Touch!