Unique Ideas To Make Your Wedding Special!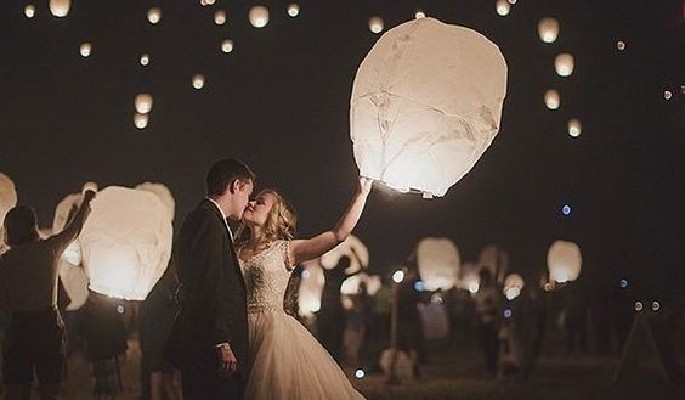 With modern weddings levelling up, we see a trend of setting something special in your wedding venue that makes it memorable. All innovative ideas from big to small never fail to set a new standard for D-Day. Why not explore and experiment ourselves then? Are you thinking of adding a special charm to the wedding venue?
Here are a few interesting ideas to make your wedding memorable!
---
Polaroid Frame
Who doesn't like good photos? Especially when adding vintage feels to it, it surely matches the current aesthetics. Creating a photo booth, or a Polaroid grid gives your guests a perfect spot to click good photos and keep their memory forever in your name.
Via: Shannon Collins Photography
---
Polaroid Clicks 
It takes us back to the era of slam books where we used to write for each other. Providing guests with the option of clicking the picture and sealing their good wishes with it, is a similar way to earn good wishes just like in the old times. Also, it creates a personal wish book for you to preserve forever.
Via: Elegant Wedding Invites
---
Dancing Shoes 
Yes! We understand the pain of our young girl group that struggles with heels while dancing, because of their sore feet. Hence, if you're looking to do something special yet meaningful then adding a bunch of dancing flip-flops to your wedding will be a great option. We bet on the fact that no of dancers will increase if you add these to the list.
Via: Joshua Zuckerman Photography
---
Wedding Punches
Everyone loves jokes, especially when you do them with a little style. If you're wanting to recreate relatives' WhatsApp groups with some funny jokes, circulate special pamphlets where you're cracking jokes about your wedding. Seems a little unconventional, but it's a great hit if done right.
Via: meghanandrewsphoto.com
---
Stone Wishes
Not skipping the blessings of your closest ones, you can also try asking your relatives to write one piece of advice for the married couple on stones, and hand it over. It not just creates a unique hit, but also creates for you the to-do list for a happy married life.
Via: Etsy 
---
A Sky Lantern Session
If you like living dreamy movie aesthetics, then this is a perfect idea for you. Releasing sky lanterns not just marks a new beginning, but also gives you a perfect moment to capture wedding pictures. Sky lanterns are quite fascinating too hence will make all of your guests remember your union for life.
Via: The Dreamery Events
---
Wedding Guests Book
Another way of collecting the lovely wishes of guests will be a giant guest book signed by your family and friends, wishing you a happy forever. These are not just interactive, but also a great memory to be framed later.
Via: Etsy 
---
Making a wedding interesting isn't easy. You have to manage an entertaining method that includes all. There are a lot of ways to make one that inspires new ideas too that enhance the list of innovative wedding ideas. Have you found the right fit? Tell us in the comments below your interesting Wedding ideas, and for more such content, explore with weddingplz.
---
Check out more links: In Trend, Chic & Stylish Mangalsutra By Bvlgari | 10+ Discrete Saree Draping Styles | In Demand Bridal Trends Winter-Festive 2021 Will Witness| Yellow Is The New Pastel: B-Town Celebs Giving Major Festive Inspiration| Bridal Edit Featuring Papa Don't Preach By Shubhika| Local Indian Brands You Can Add To Your Visiting List.| Colour Trend Wedding Season 2021 Will Have