Trending Invitation Card Designs
The first glimpse of how your wedding is going to be… wedding Invites are one of the most important parts of our wedding…. and here we are with with a list of 10 most amazing companies to design your wedding invites.
Have a look at the latest designer wedding invitation cards full of creativity fun And beauty 🙂
Located – Sector-8, Chandigarh
They specialize in invitations, stationery & branding with a specific focus on weddings. Weddings, for them are a very personal affair and an invitation is a public confession of your eternal love. So they want you to settle for nothing less than a unique piece that reflects you and your special day.

---
Location : Nariman Point, Mumbai
With an experience of over 4 years in the design field, Masumi Dhawan is a designer who isn't afraid to experiment and gains experience through a plethora of projects that constantly urge her to innovate and expand. Speaking the language of design, she communicates through colors and concepts with monochrome being her favorite, While you imagine what you want, They ideate and design it for you.

---
Location : Central Mumbai
Itchha Talreja is a full time graphic designer and a part time world traveler. Flirting with the fabulous and the structured is a technique she has mastered and every new client journey is a design adventure she chooses to take on. Delivering creative and engaging solutions to your communication problems across brand identity, print, packing and digital media is an exhilarating experience for her, especially with a job well done. she is able to offer a multitude of skills to her clients. She has had the pleasure of working with some pretty cool brands including blackberry phones, dr seuss , weirdass comedy and di bella coffee to name a few.

---
Location : Jogeshwari West, Mumbai
A destination for customized wedding cards and gift options..

---
Location : Khel Gao Marg, New Delhi
We at OZEL DESIGN have been creating beautiful custom invitations, attracting high profile clients and patrons throughout the country. They are a full service custom design company where luxury and extraordinary are the foundation from which they begin. there team will ensure your first impression will be a lasting one.

---
Location : Basavanagudi, Bangalore
Invitations set the tone to what the invitees should be expecting at the wedding. Every detail has to speak the couple's story, every color has to emulate love, joy and hope and every element used needs to set the tone for the festivities. At perfect invites, we will help you achieve that! We love working with brides and grooms from all over the globe where they can infuse various cultures, traditions and flavours into their design! Doing one thing at a time and keeping it simple is our way of approach!
Perfect invites.in is backed by a team of excellent printers who help us to ensure that our clients are not only happy with what they get, but they love what they see!

---
Location : Bandra West, Mumbai
The name Pink Whistle is often being misconstrued for a medical illness campaign, a make up company or just something naughty.. But the name is nothing but just a tribute to my favorite character while growing up.. Mr. Pink Whistle – A colorful and delightful little magical creature who brought in an element of surprise and excitement in each and every expedition he set out on.



---
Location : Shahpur Jat Village, New Delhi
Turmeric Ink gives your inclinations significance. We blend indigenous with contemporary to bring aesthetic affordable and lavish invites; invites that generate considerable exuberance among invitees.
They commence, with an in-depth appraisal of their client's preferences. The design proceeds with a vision that echoes the dreams of our clients. From the first spark of inspiration research flowers, whether the project calls for delving from the most ancient to the most modern baroque patterns or using ground breaking colour theory to guide the design and the production process.

---
Location : New Friends Colony, New Delhi
Wedlock Invitations by Ashna Nayyar creates bespoke Invitations and Customized Stationery. they let you design an invitation that is tailored to your special day that represents what you and your partner are all about. After all, wedding invitation is the first impression your wedding guests will have of your exquisite and opulent wedding : so make it a good one!
---
Location : Connaught Place, New Delhi
Luxury Wedding Invitations, stationary, packaging for your exquisite and artistic taste. Invite your guest with elegance.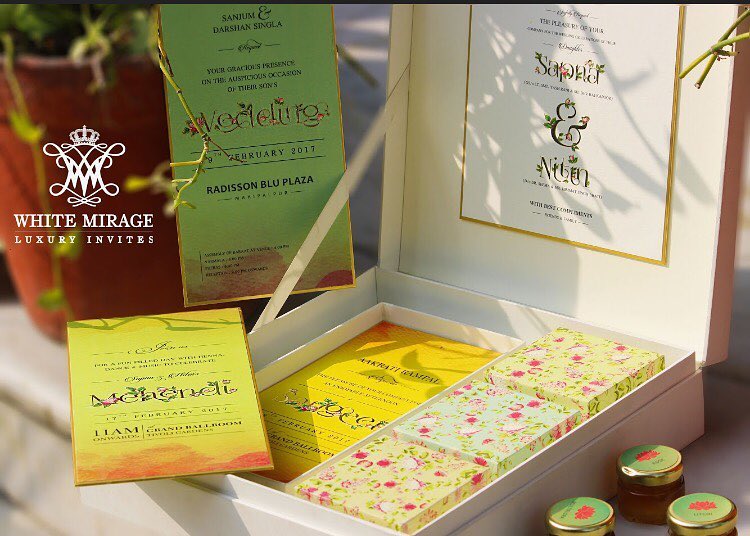 Checkout more links like this : The Wedding Invites that will make your Dil Dhadakne Do! | Wedding Cards – What's Hpt and What's (Realy) Not | 7 Creative Wedding Invites To Give You The Edge! | 5 Essential Tips to Take From Wedding Invites of Bollywood Celebrities