5 Essential Tips to Take From Wedding Invites of Bollywood Celebrities
Bollywood celebs often try to keep their wedding celebrations out of the public limelight but they invest a lot of thought and imagination (and money!) in their wedding invites.
Every detail related to their wedding invites is beautiful crafted often with sophisticated designs and fabrics. Hence, Presenting you some of the best wedding invites that created buzz in the recent past.
Harbhajan And Geeta Basra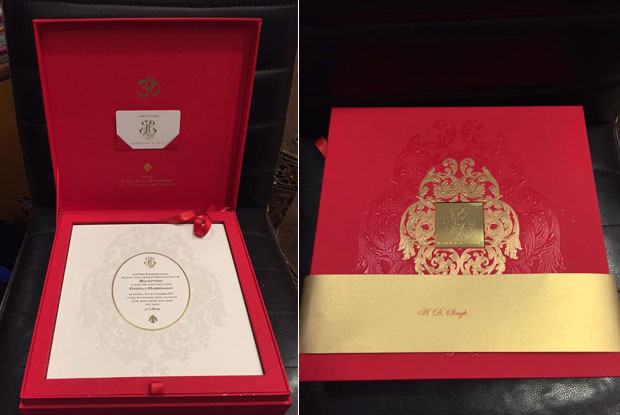 The wedding invites were designed by AD Singh designs, a popular Super Luxury Fashion label. Beautifully designed with red and gold colour scheme for the wedding reception that was held at Taj Palace hotel in New Delhi.
Tip – Engraved Wedding Invitations – Engraved wedding cards have embossed letters with slightly raised images that give a 3D effect to the card. Harbhajan and Geeta's initials were engraved on the cover of the invite. It also had their names with details about the reception embossed in gold. Try this for a classy wedding card.
Ritiesh and Genelia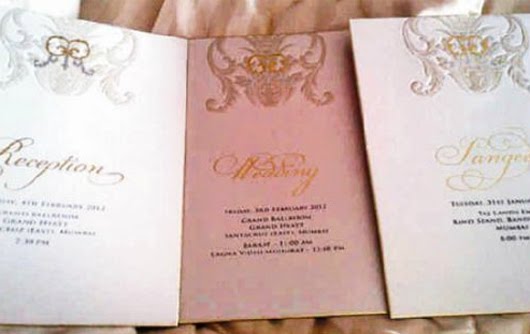 Riteish and Genelia's marriage story is example of a perfect inter-faith love marriage, where both the families gave equal respect to each other's traditions. White and gold shades invites embossed with the couple's initials were sent in wooden boxes along with handmade chocolates with the same reflecting the lavish celebration.
Tip – Culture Mix! – Riteish and Genelia's wedding saw a beautiful amalgamation of both the traditions right from the pre-wedding bash to the wedding ceremony itself. Hence, a wedding invite suited as a reflection of the couple's personality is something that you can definitely try to give a personal touch to the card.
Esha Deol and Bharat Takhtani
Esha's wedding invite was an exquisite and beautiful affair. The invitation had the wedding details embossed in golden which was placed inside a cream and golden coloured re-usable box. Radha-Krishna pictures, sweets and dry fruits were also sent with the invite which shows the deep care the couple have with their traditions.
Tip – Traditional and Courier Friendly Invite– Esha and Bharat wedding card is the perfect example of a traditional wedding card presented with a reusable box, chocolates, dry fruits, sweets and quaint gifts. You can clearly keep your card traditional and courier friendly as well if you plan to send it to relatives and friends.
Shahid Kapoor-Mira Rajput

The invite was placed inside a lovely box with a classy white and golden colour scheme designed by Delhi-based designer, Ravish Kapoor. Also, Anamika Singh, a Delhi-based Tea sommelier added tea infusions that were closely wrapped in four parchment boxes, with one potli each. The invite also had four small jars of honey placed on the sides to complete the look.
Tip – Designer Based Cards – If you are having your wedding invite done by a designer, you can incorporate different ideas such as placing coffee parchments, eatables and small gifts into your card. It will surely impress your guests and would make you their top of the mind recall.
Imran Khan And Avantika:
Two black and silver boxes – one box had chocolates, the other contained a year-planner diary, potpourri fragrance and a pinwheel, this wedding invite was certainly out of the box and indeed fancy. A yellow paper was attached to the pinwheel, which had details of the wedding events. Imran's and Avantika's love for creativity was clearly reflected in their wedding invite.
Tip– Creative Wedding Cards – They can be made in a variety of colours and stationary, are cost friendly and yet look pretty rich. So if you have a limited budget, a card similar to this like one would do you a lot of good and be a good choice.
Also Read – Wedding Cards – What's Hot and What's (Really) Not