Needledust Juttis Launched Springfields, for Beautiful Summer Brides!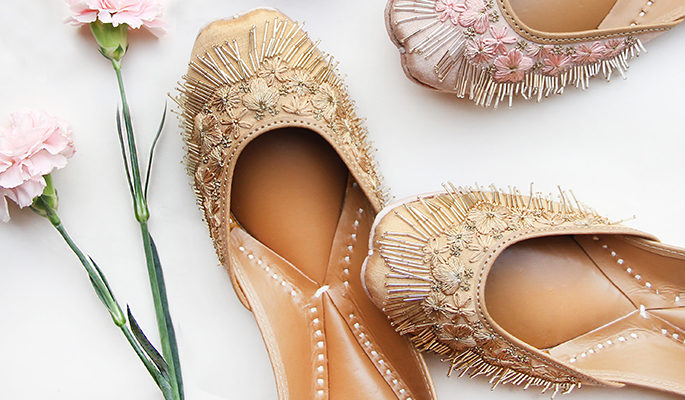 The new season at Needledust is an expression of beautiful colours, ace craftsmanship and fluid designs that make perfect partners for your summer travels as well as will make your dances more fun at spring weddings. Inspired the the flora and fauna of the new season of spring, with boho chic vibes of the colours of Coachella, this season is all about introducing beautiful handcrafted juttis to your everyday stories.
Creating colourful gardens of lillies, yellow ferns, lavenders, daffodils and tulips making our Springfields a favourite! We are also happy to welcome the jewels of the rain forests of Ecuador, with our crowned Macaws embroidered in bright sequins in 3D effect. Bringing the Indie dash with our Boho Chic 'Black Amber', these will make your perfect shoes for Coachella this year!
For our beautiful summer brides, we have introduced new necklines, giving your traditional Jutti a fresh facelift. Perfect scallops, cursive centres, adorning beautiful light weight yet impressive embroideries of pearls, sequins, mirrors and Chantilly lace is what you and your bridesmaids can look forward too.
 About Shirin Mann Sangha, Founder 
Shirin Mann Sangha established and launched 'NeedleDust' in August 2014. Shirin was a boarding school student originally hailing from Chandigarh and went on to pursue a Master's Degree in International Journalism from Cardiff University, Wales, United Kingdom. Upon returning to India, she started working as a crime journalist with a Delhi NCR-based investigative paper. However, her passion for design eventually led her to pursue the creation of NeedleDust.
Checkout more links like this : Needledust Juttis Launches Special Capsule Line | When Shoes Speak Louder Than Words : Gorgeous Wedding Footwears We Couldn't Ignore! | 6 Wedding Jewellery Accessories For Your Beautiful Hair | 5 Stunning Wedding Accessories You Can't Say No To