Timeless Necklaces To Enhance Your Bridal Look!
Every girl dreams to be the most beautiful bride in the world and lives her dream on her wedding day. Apart from their unique smile, and confidence, jewellery too plays a big role in turning the tables for the most beautiful bride. But what are the options to look for? Still confused?
Here are a few timeless necklace designs that can give you the look you dream of!
---
Raani Haar
As the name already mentions, the Rani haar gives you a royal look. These are big necklaces that can come in varieties of jewels, say polkis or kundan. Rani haars look best when paired with another big necklace, say a collar necklace or a choker.
Via: Kishor Krishnamoorthi 
---
Satlada Panchlada & Teenlada
This is a type of bridal neckpiece that can give you the feel if you're a fan of layers. The panchladas, satladas or teenladas are one piece of 5, 7 or 3 layers of necklaces, giving the bride a royal touch. These necklaces are generally pearls or other precious gemstones and go perfectly with chokers.
Jewellery by: Kishandas and Co 
---
Collar Necklace
Such necklaces are a great pick to pair with layered Jewellery like satlada or Rani haar. Also called crewnecks these are around 12 inches long, these necklaces cover the neck overlapping the collar area. Available in various designs this type is very common for the grand jewel range.
Via: The lightsmiths 
---
Choker Necklace 
Chokers are wrapped around the neck, in single or multiple layers. These can be great to go with Rani haars or satladas, as it creates a statement look. Chokers nowadays are blended in the style of hanging polkis or kundans which gives them a unique flow.
Via: Vogue 
---
Bib Necklace
Just like a toddler's bib, this necklace covers the whole neck and chest area, giving it a heavy yet grand outlook. These necklaces are perfect for those brides who are planning to wear one big necklace than layer the ornaments. Personally speaking, a big kundan or polki bib Necklace is just beyond beautiful!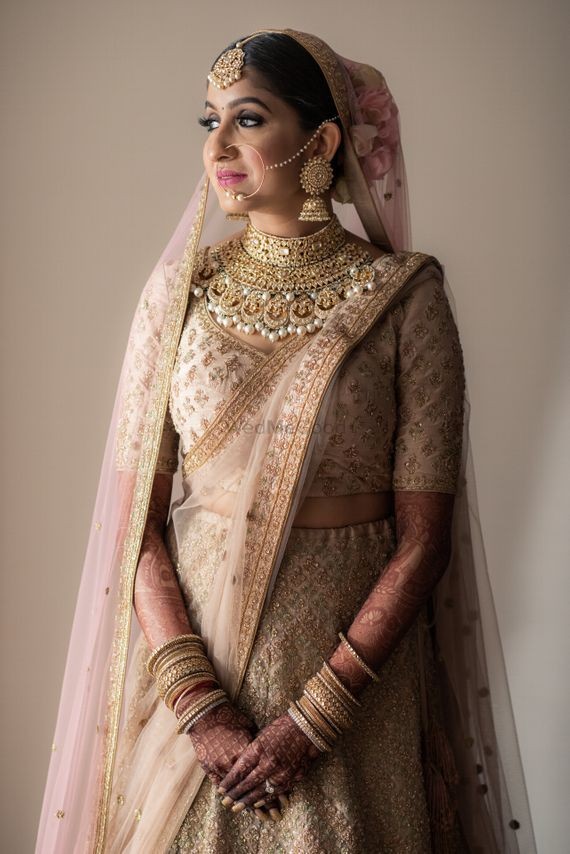 Via: Pinterest
---
Aadh Necklace
Aadh Necklace is also known as the Rajasthani choker. These are straightened instead of wrapping around the whole neck and are often decorated with precious gems. A perfect pick for a traditional bride planning for a typical Rajasthani look. 
Via: Dipak Studios 
---
In the world of bridal Beauty, necklaces hold a big legacy. From maternal jewels to trendy arrivals, each bride chooses what she envisions in her dream look. What about you? Decided on your wedding jewellery yet? Tell us in the comments below your pick, and for more wedding inspiration ideas explore with weddingplz!
---
Check out more links: In Trend, Chic & Stylish Mangalsutra By Bvlgari | 10+ Discrete Saree Draping Styles | In Demand Bridal Trends Winter-Festive 2021 Will Witness| Yellow Is The New Pastel: B-Town Celebs Giving Major Festive Inspiration| Bridal Edit Featuring Papa Don't Preach By Shubhika| Local Indian Brands You Can Add To Your Visiting List.| Colour Trend Wedding Season 2021 Will Have