Bridal Vanity Kit Checklist
We all love shopping but shopping specially for cosmetics and other make-up essentials is the most delightful experience for a bride. You are the best judge of your skin type, so make sure you yourself shop for your bridal vanity kit essentials. You are the star of this auspicious occasion, so don't let your incomplete kit spoil your big day. Go through this savior checklist we have for you and you won't miss anything at all.
Face :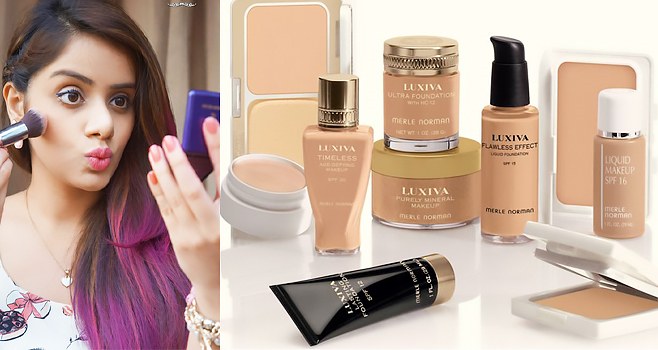 Primer: For that beautifully clear and radiant skin, go for a good quality primer which is rich in vitamins so that even after wearing layers of make-up, your skin can breathe properly.
Foundation: Look for a foundation that matches your skin color. Too much lighter shade can make you look disastrous on stage and in pictures.
Concealer: Mostly people don't need a concealer after applying primer and foundation but you should always keep it in your kit to get away with those dark blemishes.
Face Powder: If the wedding is in summers then face powder is a must to save you from melting make-up. It will fix your make-up and help you get a shine free matte finish.
Blush: As per your skin tone, pick up pinkish or peachy shade of blush to add definition to your cheekbones. Go for matte blush if your skin is oily and shimmery for normal to dry skin type.
Moisturizer: To keep your skin hydrated.
Sunscreen: To save yourself from tanning.
Face Wipes: For staying fresh all the time.
Sindoor and Bindi: Since now you will be a newlywed, this is something you need to carry all the time.
Rose Water: For moisture and freshness.
Eyes :
Eye-shadow: Its better you keep a palette of eyeshadow that has many colors from light to darker ones, so that you don't have to panic even if the one you thought will go well with your dress actually did not create the same magic.
Kajal Pencil: Black is the evergreen color for eye make-up as it goes well with every eye color, but you can always have blue or green color for a chic look.
Eyeliner: Liner can be liquid based, gel based or like a sketch pen, go for the one which you are comfortable using.
Eyelash Curler: If you are not very comfortable using false eyelashes then you must keep an eyelash curler to perfectly spread them out and to make your eyes look bigger.
Mascara: Go for a good quality waterproof mascara to make your lashes look darker and thicker.
Lips :
Lipstick: A right shade of lipstick can transform your look completely. Shades like cherry red, magenta and coral are must haves in your kit.
Lip Balm: For prepping up the lips.
Hair :
Shampoo: Keep a mild shampoo to save yourself from bad hair day.
Conditioner: For adding moisture and lusture to hair.
Hair Brush & Rollers: To style your hair and add volume to it.
Bobby pins: To secure the frizzy flicks.
U-pins: For the perfect neat bun.
Clutcher: For a normal hairdo.
Nail :
Nail Paint: You must keep at least two three nice colors like maroon, magenta or the one that matches the color of your dress.
Nail Paint Remover: To make it easy for you to change the nail color according to dress.
Miscellaneous :
Small Mirror: Everything you keep in your vanity is of no use if you forget to keep this thing.
Hand Sanitizer: To clean your hands before using any product on face.
Perfume/ Deo: Because smelling fresh is as important as feeling fresh.
Make-Up Brushes: Keep a set of make-up brushes for face and lips both.
Kajal Sharpner: For perfectly defined eyes.
Safety Pins: Keep a bunch of it.
Make-Up Remover/Cleanser: It's a must have.
Cotton Balls: It's a strict no no to leave home without them.
Sanitary Napkins: You don't always remember the date so it's better to keep them all the time.
This list will surely save you from all the last minute hassles while getting ready and assure you of looking stunning as a bride.
---
Checkout more links like these: Must have for your bridal vanity box|12 Makeup Hacks That All Girls Should Know !!! | 5 Great Ways To Clean your Makeup Brushes At Home! | 7 Party Makeup Tips To Make You Look Glam! | Kanikka Tandon : The Expert Makeup Artist!