12 Makeup Hacks That All Girls Should Know !!!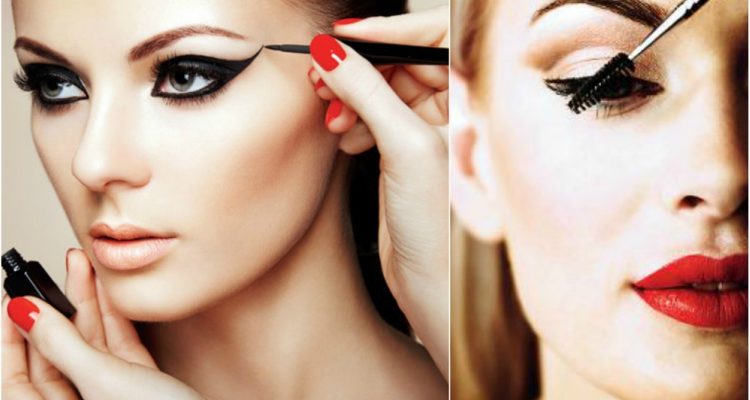 We love makeup and want to make sure that you know some quick, easy to do and great makeup tips to look outstanding. And so we are here to give you some great makeup hacks, a quick basic guide on what and how to do your makeup !
Things needed: Some of the basic products you would need to do make-up for a party are – Under Eye Concealer, Loose Powder, Lid Primer, Black eyeliner pencil, Matte Powder Shadow, Mascara, eye shadow brush, sponge smudge / blending brush.
Liner: A healthy dose of black liner paired with yellow or golden yellow shadow would give a subtle smoky and lavish effect. A well-defined eyebrows with the pencil and an tinch of work on lashes with the mascara adds up to the natural beauty.
Concealer: Highlight the under the eyes, chin, forehead and nose bridge by a two shades lighter concealer than your skin tone. This will highlight the parts evenly and help to retain the skin complexion.
Undertones: If you wish to have a subtle and nude undertones, a tinge of pink and gold with blues and pinks on the eyeshadow, along with complementing brown or dark brown lips can steal the heart away for anyone. Of course an absolute necessary are the eyelashes trimmed with mascara.
Natural Glow: Apply your favorite blush on the cheeks before applying the foundation for a natural glow that looks like the radiance is being emitted from within the skin.
Adding Volume to Lashes : Apply transparent powder over the eyelashes and let it rest for a few seconds. Now apply your favorite mascara. This would add volume to the lashes instantly.
White Liner Base: Using a white pencil on the upper eyelid as a base makes the eyeshadow look more intense and bright.
Corner of the eyes: Use a gold/silver highlighter on the inner corners of the eyes to make the face look more fresh and awake.
Foundation brush: A fleecy brush (stippling) will allow you to mix the foundation properly to avoid sparseness and a cakey effect.
Natural lips: Afraid of wearing a bold lip color? Swipe a coat of the lip color gently on the lips and blend it with your fingers for a stained look. This adds a dash of color to your lips, yet gives them a natural look.
Blunt Tip: Applying a lip liner is easier if the tip is blunt. Running the sharp tip on a tissue will help blunt the tip.
Fine lines/Open Pores/Under eye circles:

The pores on your cheeks can be protected and subdued with the application of the thin layer of make-up primer.
To reduce fine lines around the eyes and mouth area, use an eye cream as most of these creams have diffusers that help in minimizing the appearance of fine lines.
Prep the under eye area by using a fast-absorbing eye cream that allows the product to slither on smoothly and evenly.