Kanikka Tandon : The Expert Makeup Artist!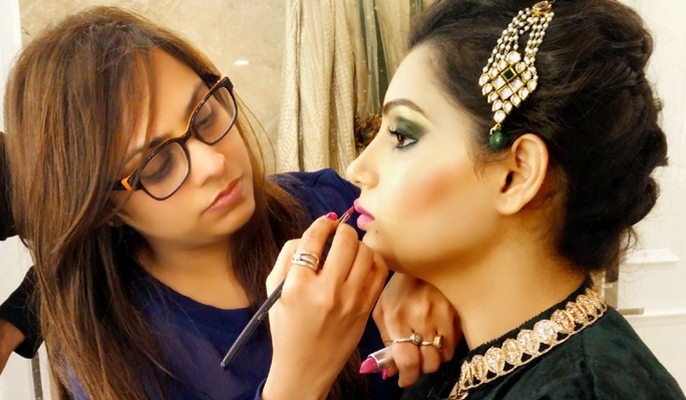 We all know photographers love the magic hour: the time at Sunrise and Sunset when light hits skin perfectly. But for the other 23 hours of the day, they rely on makeup artists. WeddingPlz in conversation with Ms. Kanikka Gauraav Tandon, The Bridal Makeup Expert, explored the world of Beauty and Brides and learnt about her expert views on Makeup and the small knick knacks that she keeps in mind while making her brides look just stunningly beautiful on the most important day of their life.
A topper in academics, Ms. Kanikka, learnt the Art of doing Makeup through 'The Pearl Academy'. Her natural ability to make clients not only Look beautiful, but Feel beautiful has made her favorite amongst all. Recently, Ms. Kanikka Gauraav Tandonn has been nominated for 'Best Upcoming Makeup Artist' by 'Brand Achiever'.
This is what she shared:
1. When did you know a career in beauty was for you? How long have you been doing makeup and how did you get started?
A: I started my career in beauty after my wedding, I did not even had a foundation before my wedding. During my wedding I bought makeup and I used to enjoy experimenting different styles on myself and my kith and kins. From then onwards I developed passion into makeup. It's been 5 years now I am in this industry professionally.
2. What three makeup item should no woman leave home without?
A: Compact Powder, Kajal Pencil and a Lipgloss
3. If we take a peep in your makeup kit what would we see?
A: MAC Pigments, MAC lippers, Bobbi brown Foundations, NARs Blush, Mac Makeup brushes, Bobbi Brown Volume lash Mascara and Black track by Mac
4. How do you determine a client's undertone before you decide what makeup technique to use?
A: 1. Skin Tones :
Dark skin: Apply darker lip shades, prefer smoky eyes with blue and black shades.
Wheatish/Medium skin: Apply shades like hot pink, reds and orange on lips and for eyes green , dark browns, dark pinks, reds, gold and copper.
Fair Skin: Any lip shade can be used. Neons look beautiful like neon pinks and oranges. For eyes Pink, peach, black, brown, green, purple all look good.
2. Skin Types :
Dry Skin: Use heavy moisturizer , Primer and Crème base foundations.
Oily Skin:  Use water based moisturizer, mattifying primer and Liquid base and good powdering over it
Normal skin: Use Liquid foundation with proper primer and moisturizer
Combination skin: Use Liquid foundation and powder properly on t-zone
Sensitive skin: Use Aleo vera based Cleansing tonning moisturizing and use Mineral Makeup.
5. If a customer asks for a style that you are sure would not suit them, how do you convince the customer to go otherwise?
A: In this case, we would convince customer by showing her pics of her face cut and her eye or lip shape and explain her technically that this might not suit better on her face, eyes and lips. Rather than what they desire, we can give her examples by famous people having the same face cut, eye shape or lip shape like them.
6. How often do you clean your makeup tools such as brushes and combs? How does it affect the wear and tear of your tools and how do you feel about the associated expense?
A: After every use. We use sterilizer to keep combs and hair tools and as per makeup brushes they are washed after every use with mild shampoo and we condition them properly.
7. Does everyone look better with make-up?
A: Everyone can't carry the same makeup..  But yes everybody can look good with makeup. It's important to understand that we should give them a makeup look as per there facial features.
8. If your customer has terrible skin, what do you do?
A: In this case , we cannot experiment much with the clients skin as it is already not in a good condition. We prefer making her look flawless with different correctors and concealors.
9. What are your favorite Summer/Winter 2015 beauty trends?
A: Summer Trends 2015
Carry light foundation base with SPF/ BB cream and proper powdering on the face
Use brown, blue or black thin eyeliners and kajal
Use black or blue mascara
Use light pink blushons
Use nude /pink and peach colors on lips or may be just the gloss or sheer balm
Avoid heavy moisturizers, heavy crème base, dark and creamy lip shades
For Healthy Skin:
Protect your skin with proper spf
Drink plenty of water
Detoxify your body with water made up of cucumber, mint leaf and lemon( 1ltr water , 3-4 slice of cucumber, 2 mint leaves,1/4 lemon)
Wash your face with a face wash 3 times a day.
Sleep well
Eat lots of juicy and fresh fruits.
Avoid oily and fried food
Apply Pack made of Cucumber, Lemon ,Curd and Crushed mint leaves on skin. Apply this pack for 10-15 mins to refresh the skin
Apply Papaya with honey and Oatmeal powder for 10-15mins to detan the skin. Remove after light massage.
 Winter Trends 2015
Use crème foundation
Use moisturizer properly
Use thick black eyeliner and kajal
Use orange blushons
Use crème dark lipsticks (Reddish orange and deep plum is the season of colour)
For Healthy Skin:
Eat all green leafy vegetables available during the season
Have 2-3 oranges a day
Drink plenty of carrot and beetroot juices or soups
Apply face pack made of MILK, MILK CRÈME and ALMOND Oil twice a week for 10-15 minutes to hydrate the skin.
10. What is the thing u love most about makeup?
A: Pigments by which we can create different look on eyes.
11. What are the biggest challenge makeup artists have to face?
A: People mistakenly treat us like general laborious artist who can work for peanuts.
It is difficult to make people understand its an art and its all about creativity rather than just copying somebody's already done work.
People are scared of experimentation and they do not let our creativity come out as they just give us a path to walk rather than giving us space to take them to a proper path.
12. What do u think is the most special thing about Indian Brides?
A: Traditional look by giving her elaborated traditional eye makeup.
13.   Give WeddingPlz readers your best make-up tips.
A: Though the answer is somewhat same as in ques. 8 but just to add on a little:
Use Cleanser toner and Moisturizer before the Makeup.
Remove the makeup properly before you go to bed.
Take care of your diet and follow healthy regime.
Always use makeup as per your skin type and your facial features.
Experiment with those colors only which goes as per your skin tone.
14.   What is your advice to aspiring makeup artists?
A: BUY Genuine products from the authorized stores. BUY LESS and WASTE LESS. And work on your Creativity rather than copying somebody.
After 4 yrs of extensive experience as a freelancer, now, to be a part of the race of best makeup artist in Delhi, Ms. Kanikka Gauraav Tandon has come up with an exceptionally awesome venture – 'Kanikka Tandon Studio – Luxury Makeup Lounge' in 2015. 

Have a look at : The 15 Best Makeup Artists in Delhi-NCR!