9 Dazzling Substitutes for Gold Jewelry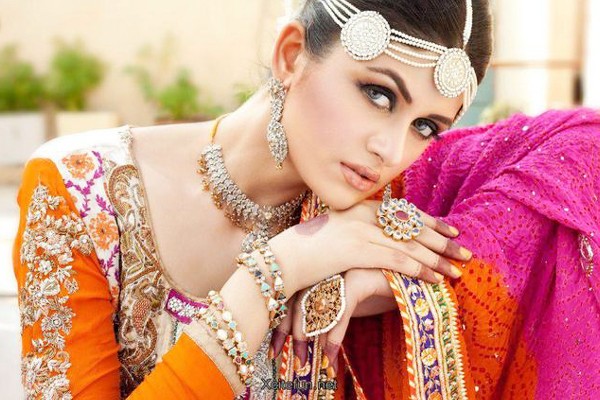 You love gold, but are dying to look totally different and cannot think of a possible alternative for gold? Try these alternatives and reinvent your style! These jewelries are not here to compete with gold jewelry but are here to spice up your bridal look with some more exclusivity and panache.
Gorgeous kundan jewelry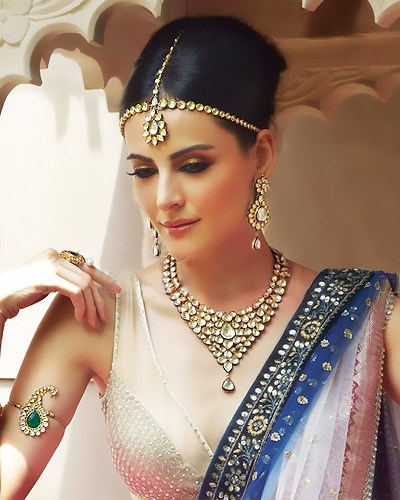 Kundan Jewelry with exquisite stone artworks is one of the favourites for most brides as these jewelry pieces usually come in very gaudy and heavy designs and cover one kundan necklace is enough to cover up for any other jewelry. The artwork is mostly done on gold base and the stone cuts are done in a manner as to dazzle from every angle, making you look all the more royal and exclusive.
Elegant pearl jewelry with stone settings
Pearl Jewelry with diamond settings and sapphire, ruby or emerald stone settings look really elegant and classy. These jewelries go perfectly with the unconventional bridal attires like mauve or onion colored lehengas as they compliment the entire appearance splendidly.
Semi precious stone work jewelry
The semi precious stone setting jewelry items are good to go as minor accessories coupled with the genuine platinum or diamond sets for bridal wear. These can also be used for mehendi and sangeet occasions, where you might not want to wear gold, diamond or platinum jewelry items. These are mostly done on copper base with silver plating, gold plating along with semi precious stone works to make them look highly dazzling.
Sterling silver jewelry with stone settings
The sterling silver jewelry with precious and semi precious stone embellishments is currently creating the ripples and is in great demand. They are cost effective, shiny and genuine silver is used with a blend of copper alloy to make the jewelry more durable. The precious and semi precious stone studded works on sterling silver jewelries makes them look no less gorgeous than platinum jewelries.
Classy white gold jewelry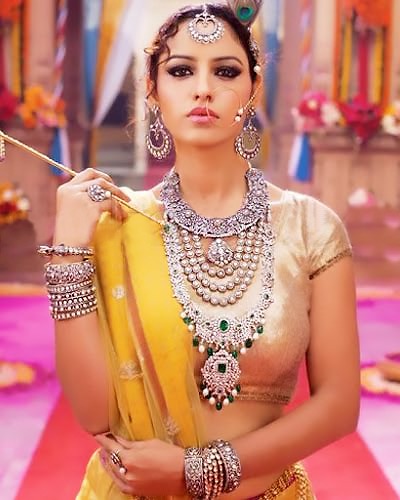 White gold jewelry with diamond, ruby and sapphire stone embellishments is another popular alternative to gold that looks just like platinum jewelry and renders the same exquisite feel and classy appeal to the Indian brides. They go best with ruby and sapphire, emerald stone embellishments as this gives the stone work to stand out appropriately and go with the bridal attire equally well.
Colorful & dazzling costume jewelry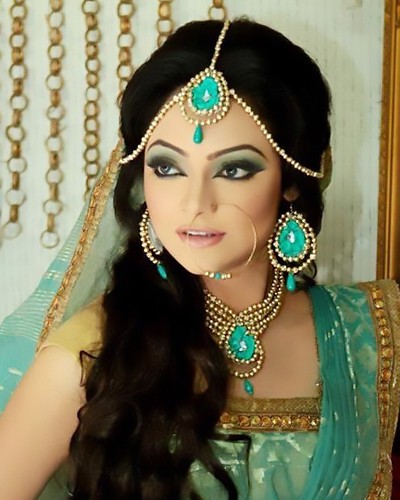 In the realm of bridal jewelry, costume jewelry is steadily creating its ground, especially, if you are looking to wear something dazzling and gorgeous to go with a usual diamond, gold or platinum set. These costume jewelries are mostly done on copper base with gold or silver plating along with semi precious stone works to make the jewelry pieces look very traditional and gaudy.
Stylish and chic gold plated jewelry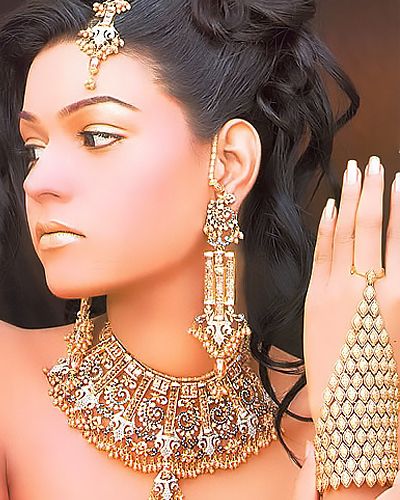 Gold plated jewelry is a comparatively cheaper option but when you couple them with diamond or platinum jewelry, these jewelries gain a different level of exclusivity. Most of these jewelries are made of copper, brass or alloys of other metal and gold plating is done to make them look shinier.
Diamond jewelry with stone settings
Diamond jewelry with precious and semi precious stone embellishments is speedily grabbing attention and has come to rule on hearts of countless Indian brides. The stone settings are done in a manner to highlight both diamond and other stone types appropriately. Diamond with Panna or sapphire settings simply look great for bridal collections.
Designer platinum jewelry
Platinum jewelry with diamond stone embedding adds a different class to the entire bridal makeup and looks great especially with red bridal attires. Platinum base with ruby stone embellishments look equally great and go with light colored bridal wears, since, the ruby settings get appropriate focus. Platinum Jewelry with light blue sapphire stone work looks splendid as it gives the perfect cool blue and pure white effect.
With the growing varieties in the realm of jewelry, there's no dearth of alternatives for gold jewelry items, all you have to do is choose wisely.
Also Read : Solah Shringar:The Ultimate Beauty Regimen for Indian Brides