Shyamal And Bhumika Launch 'The Renaissance Muse' at India Couture Week 2019 with 'Kriti Sanon'!
Celebrated and  renowned coturiers Shyamal and Bhumika's Indian Couture Week Collection for the season is inspired by the iconic period of renaissance which marks the rebirth of art, architecture, music, couture and theatre from the medieval ages to modernity. The famous deigner couple travelled to the birthplace of rennisance cultural  movement to explore inspirations for thi uber glam collection.Bollywood superstar  Kriti Sanon walks for Shyamal & Bhumika's Couture Collection- The Renaissance Muse and jewellery by Jewels of Jaipur at India Couture Week 2019. Kriti wears a stunning muted beige panelled raw silk lehenga inspired by beautiful frescos & floral water colour paintings from the 17th Century. The lehenga has multiple colours of Silk threads used in the embroidery, highlighted with hints of glass pipes, shimmer sequins & crystals.The jewel tones of colours mixed together on muted beige make it a great choice for destination weddings.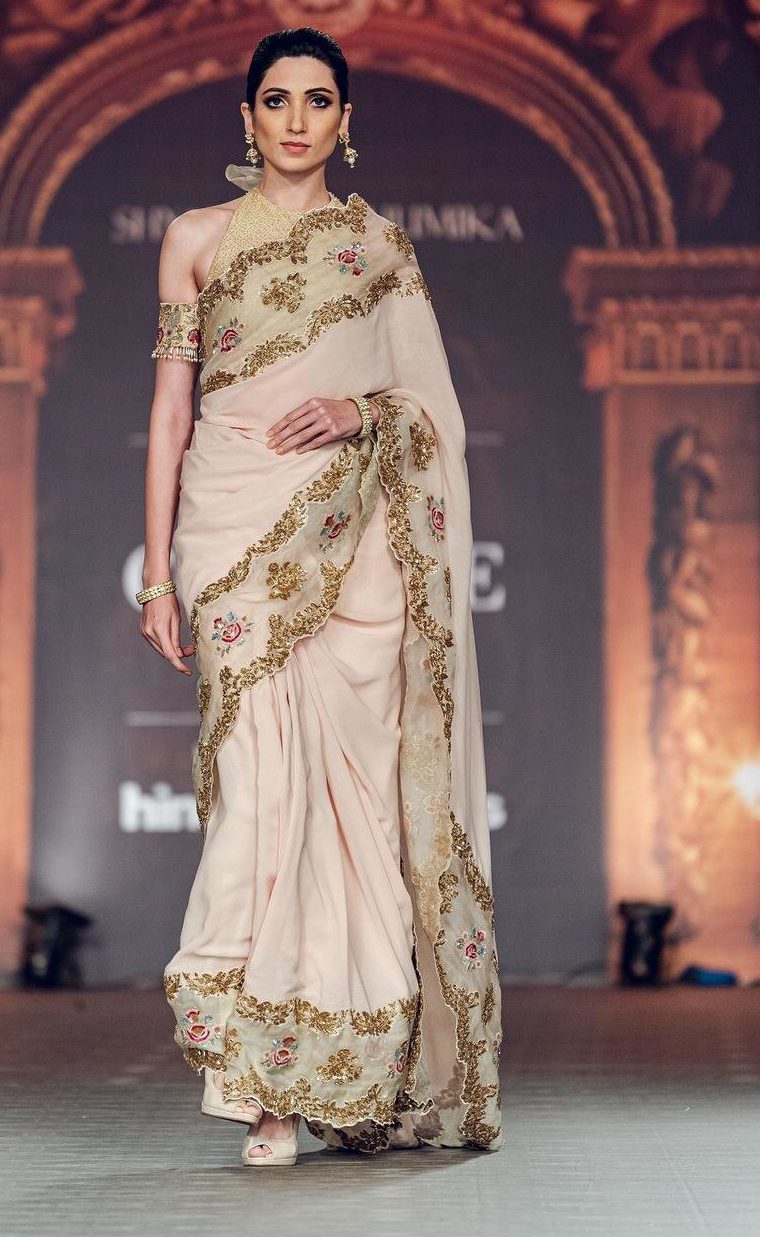 ---
The collection comprises of timeless bridal couture, exquisite Mens Sherwani jackets, bias skirts with sensuous cholees, shararas, kalidaar paneled lehengas, trendy shoulder baring blouses, structures jackets, saris in sheer organzas, asymmetric hemlines, signature cowl dresses, trailing kalidaars, exquisitely crafted veils, peplum tops, poet sleeves, georgettes & translucent tulle and fun details for brides and grooms for a perfect romantic feel on their big day. Shyamal & Bhumika menswear is designed in understated hand woven tussars, matkas and moonga variety of silks making it unconventionally elegant.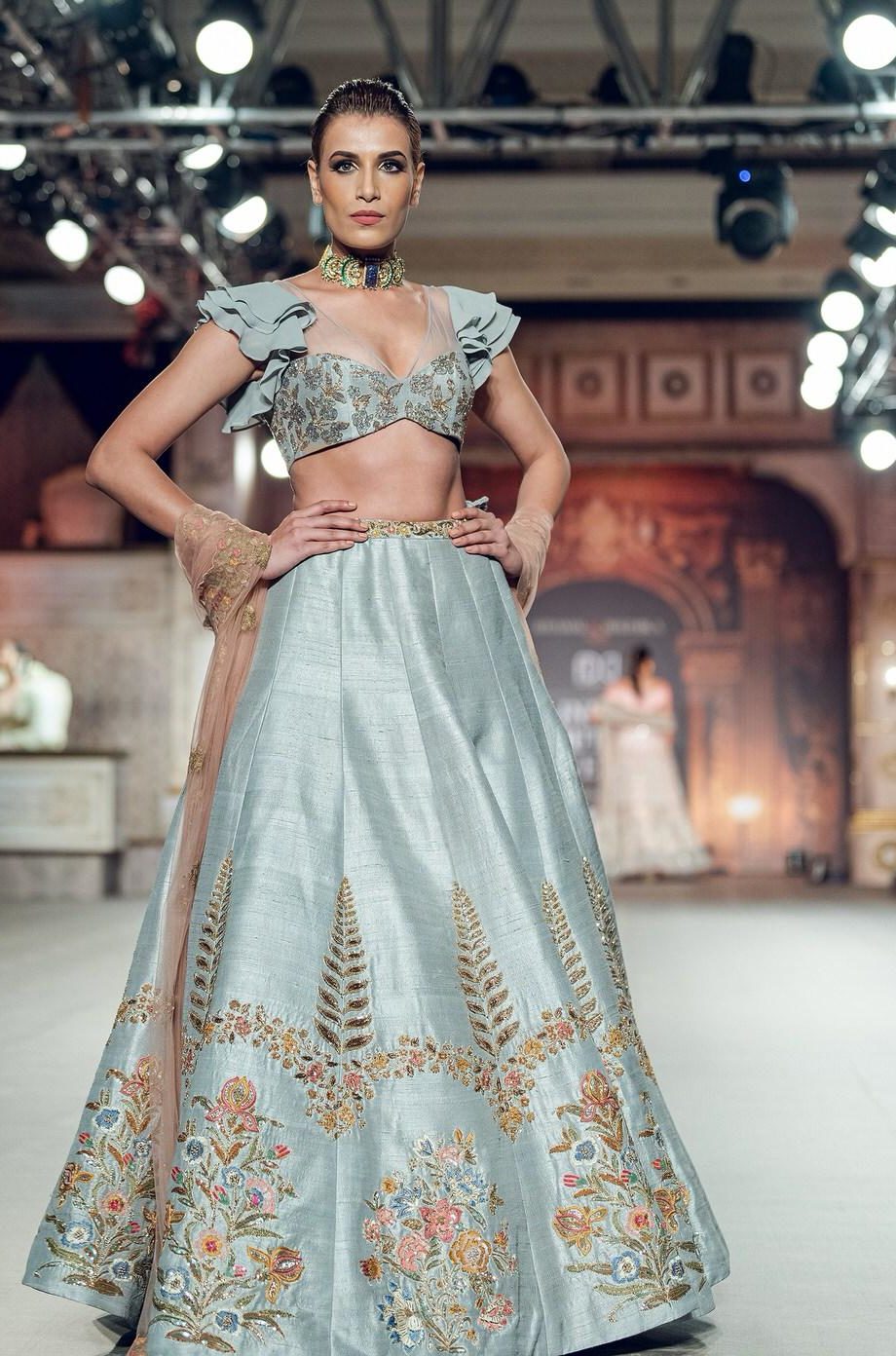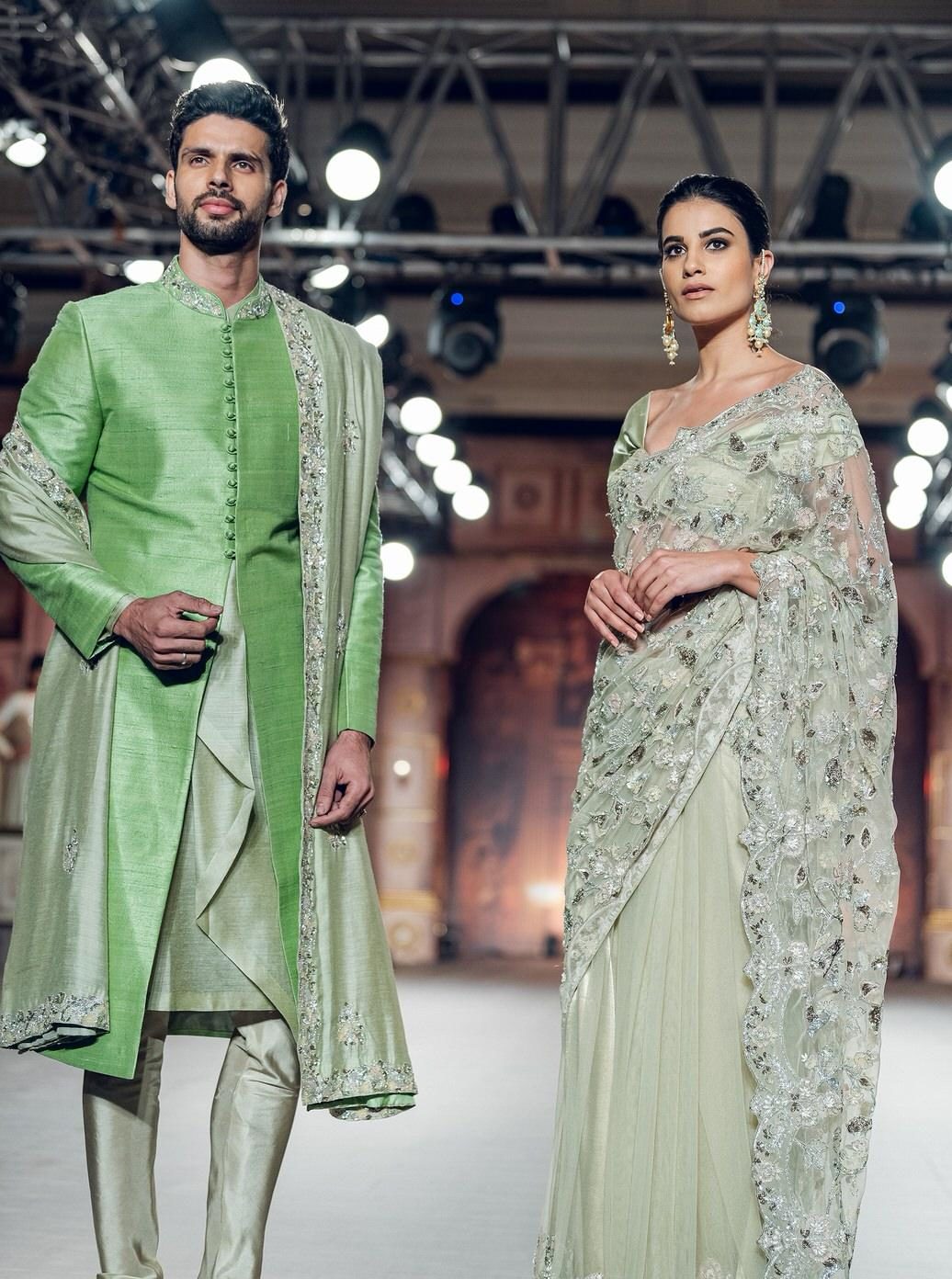 ---
The interesting use of color has a blend of traditional Indian tones along with unusual vintage tones inspired by the ceiling frescos of the 15-17th centuries. To create an intersting colour and cut, the collection has a wide range of jewel tones, vintage pastels, Indian reds, wine, blush pinks, watermelon, mood grey, powder blue, navy, muted olive, dusty mint, fennel green, emerald, almond beige and vintage cream.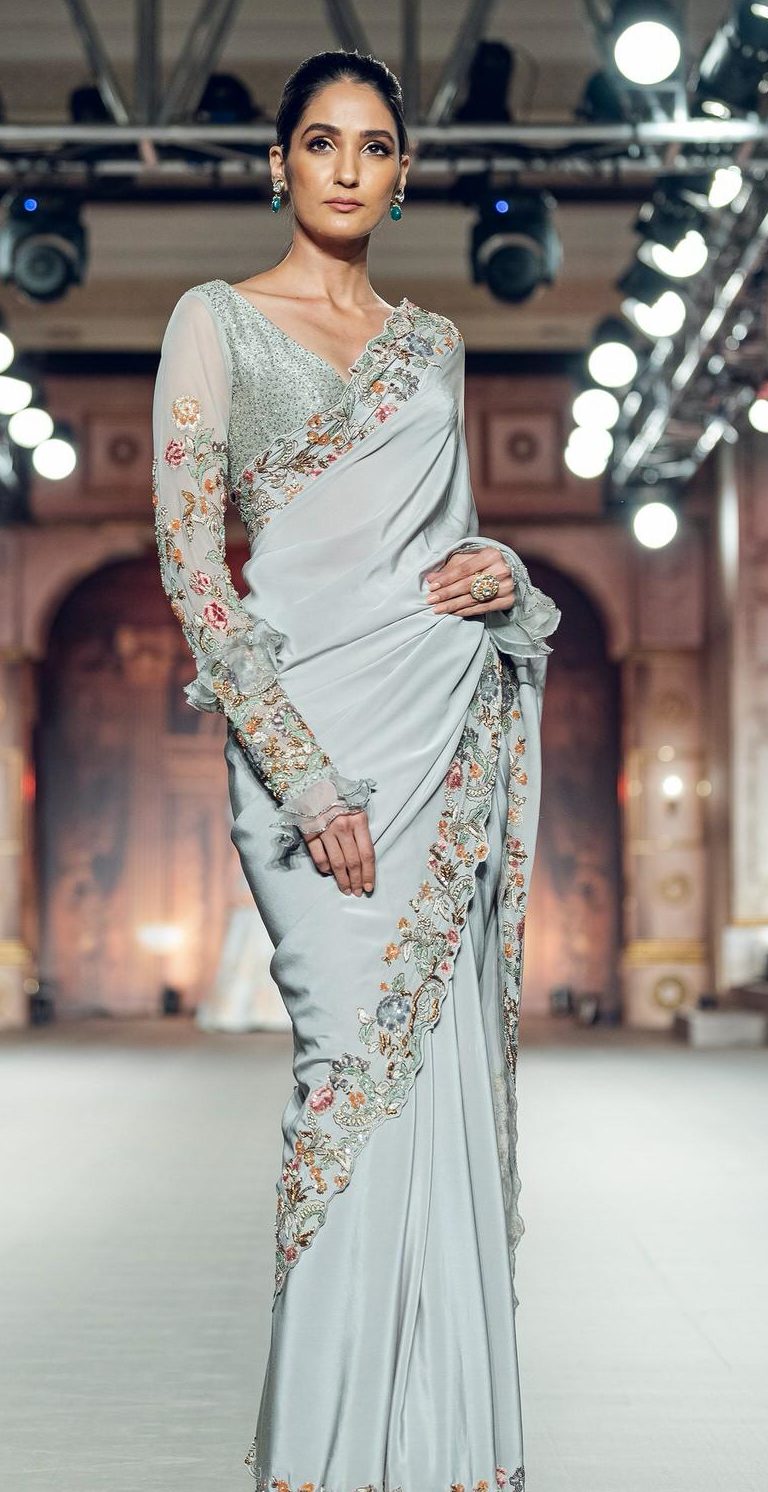 ---
Speaking about their collaboration with India Couture Week 2019, Shyamal & Bhumika said "We are very excited to showcase our couture collection 'The Renaissance Muse' at India Couture Week 2019. This collection is extremely special to us, we have utilised the most elaborate embroideries in couture. We've worked towards modernising the Indian traditional crafts that is showcased through our handworked embroideries. It is an attempt to give a better modernising outlook through trend centric offerings and a timeless iconic bridal look inspired from our love for colour, texture, meadows and gardens. Our collection signifies a wonderful connection between conventional and present day India."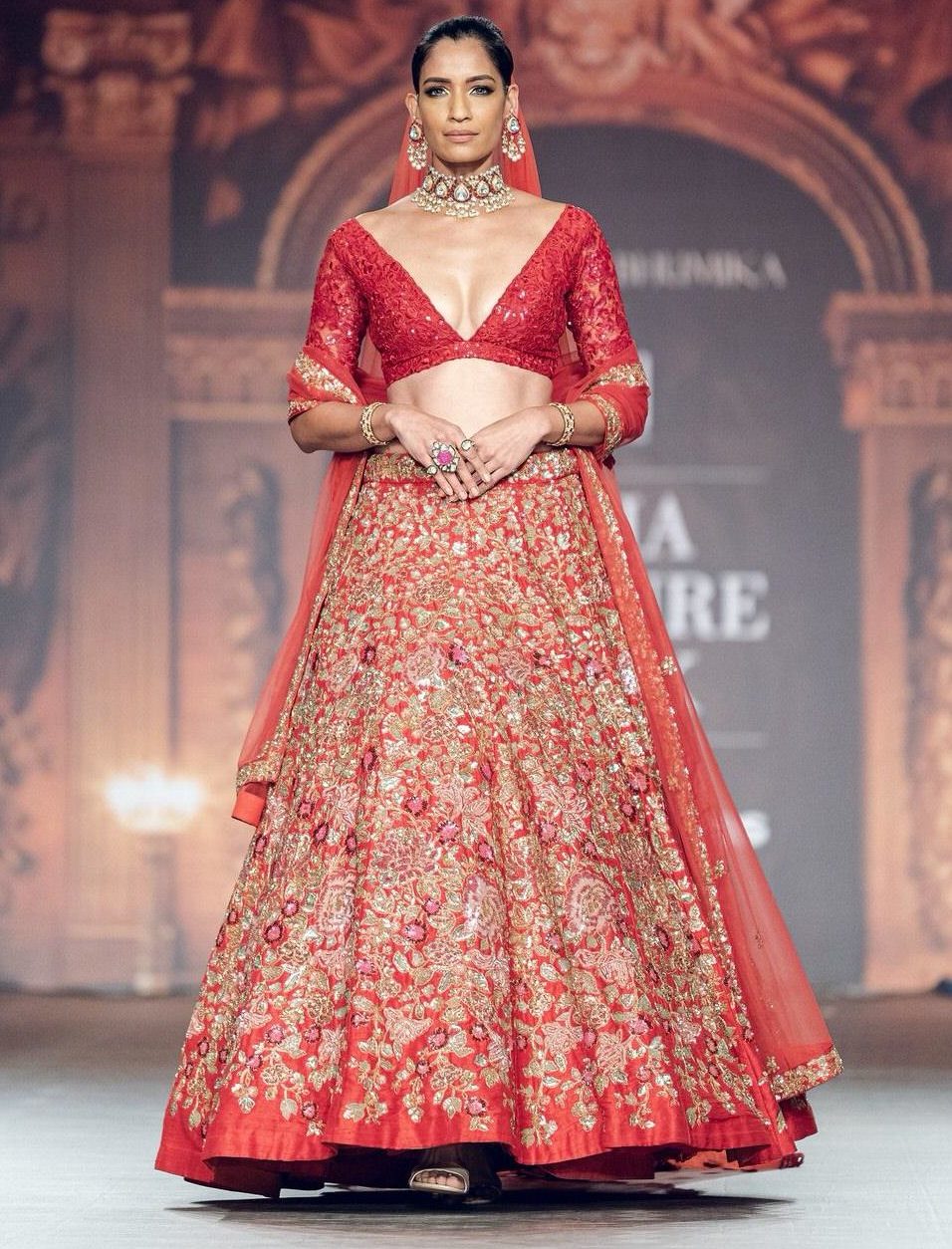 ---
About Shyamal and Bhumika
Established in the year 2003, SHYAMAL & BHUMIKA, today, is one of India's leading fashion houses. Shyamal and Bhumika seek inspiration from the rich Indian heritage & history from the ancient culture and use its precious crafts and artisan techniques to create couture collections relevant to the modern day sensibilities.
Globetrotting and powerful, feminine and sophisticated, immensely proud of their roots is how Shyamal and Bhumika describe their muse. Many celebrities like Alia Bhatt, Deepika Padukone, Esha Gupta, Jacqueline Fernandez, Kangana Ranaut, Kiara Advani, Katrina Kaif, Kareena Kapoor Khan, Sonam Kapoor (and the list goes on) have been spotted in outfits from Shyamal and Bhumika.
A loyal & growing client base in India & international markets stand as a testimony to their distinguished style, impeccable intricate detailing, an eye for perfection & methodical approach. Through consistent work in reviving dying textiles & crafts, promoting & believing in Indian artisanal techniques, the fashion house has generated employment for numerous of craftsmen & continues to do so. Beyond giving employment to artisans, Shyamal & Bhumika's philanthropic fashion show contributed significantly to the Gujarat Cancer Society.
---
Checkout more link like these:  Shyamal And Bhumika Showcase For The First Time At India Couture Week!!! | A Parisian Symphony By Shyamal and Bhumika At Amazon India Fashion Week! | 10 Dream Brands and Their Flagship Stores in Delhi  |Abhinav Mishra Launches 'PHIROZA' With Aditi Rao Hydari! | This Winter Look Haseen, With Abhinav Mishra's New Fall Winter 2017 Collection – HASEEN