A Beautiful Peachy Wedding With The Most Unique Bridal Entry!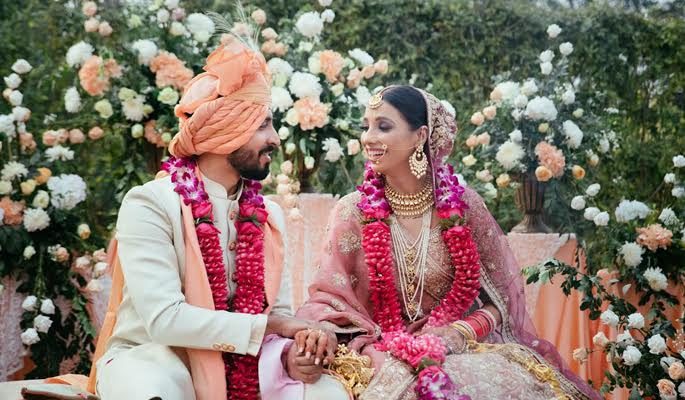 The Love Between Viraj And Gopika
Viraj steals a line from F. Scott Fitzgerald when he thinks of his relationship with Gopika. "She's the beginning of everything" and adds, "she's the big bang of my existence, quite overwhelming, indomitable, a touch scary at times, I'm incomplete without her." Gopika sums it up pithily: "Viraj is my soulmate."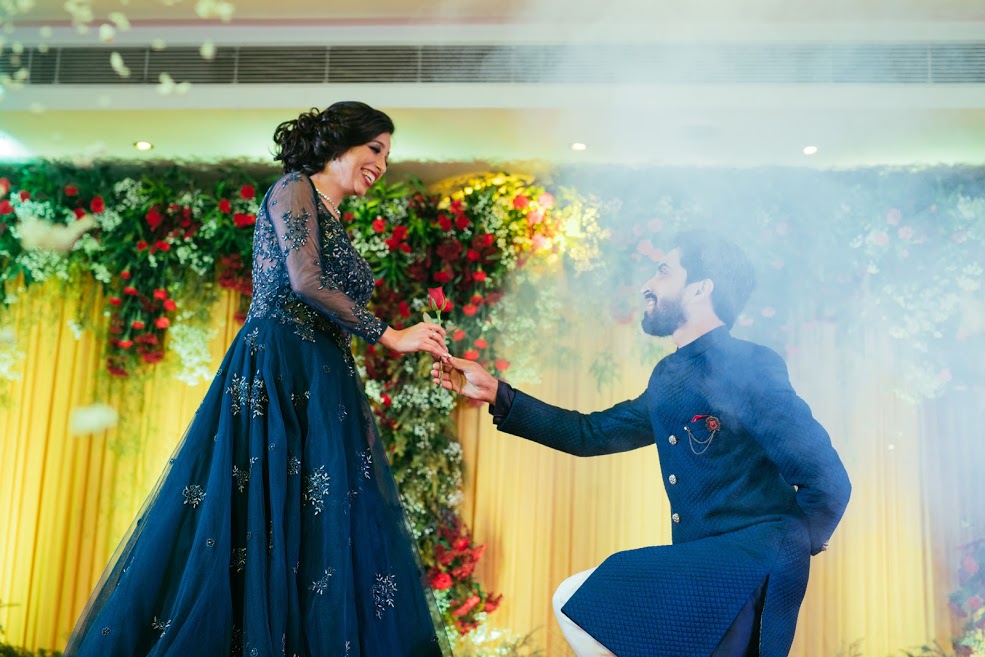 ---
Down Their Wedding Planning Lane
Viraj has always been a little alternative, while Gopika is very mainstream. So we mainstreamed alternative: a wedding that brings to life the magic of two different worlds meeting. Viraj is from a liberal, academic background–Malyalis, Bengalis and Goans scattered across the world, while Gopika is from slightly more traditionalist Punjabi Brahmin stock, but they are an extremely open-minded, gregarious, and large-hearted family.
In Viraj's family, court marriages, with little of the theatre of Punjabi weddings, were the norm. Viraj, however, thought it would be a lot more thrilling to do it the Punjabi way. So Gopika's family (led by her two formidable aunts, Rohini and Radhika Bhushan, the matriarchs of the household) took charge of the wedding arrangements. They meticulously planned and executed the whole wedding. Radhika maasi wrote, composed and sang the jaimala for her beloved Gopika. Gopika's bridal entry, to the soundtrack of Radhika Masi's jaimala, was one of the highlights of the wedding; she was wearing a 14-feet long peach Bridal wear, held aloft by her bridesmaids; her twin brother, walking by her side, held a satin umbrella above her. Rohini maasi ensured the food and cutlery were of the highest standard. She also helped pick out Gopika's attire and oversaw the bride's makeup, outfits, hair, etc.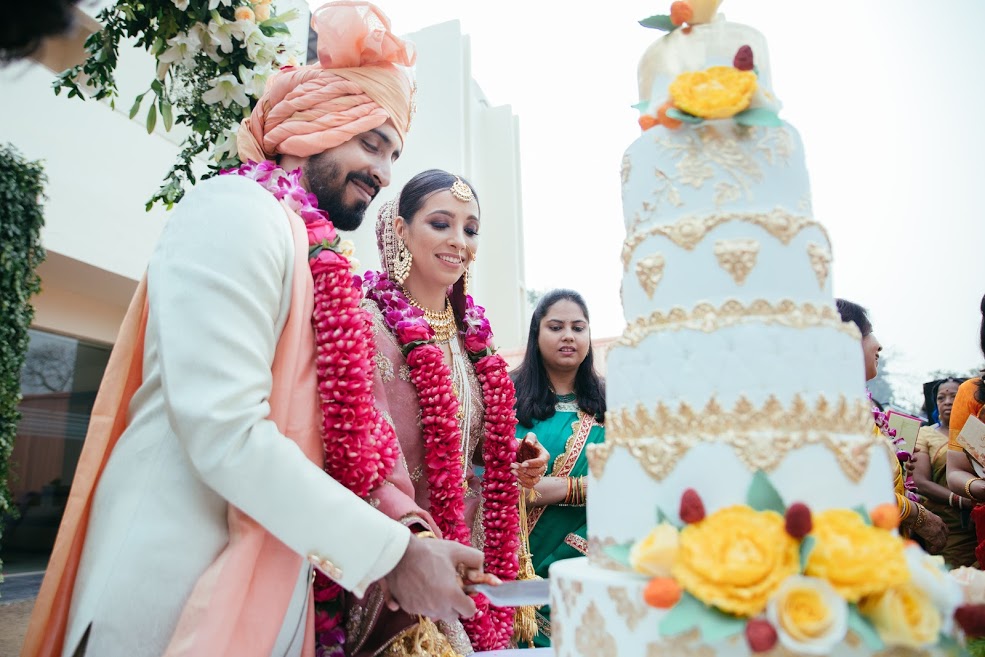 ---
A Fairtytale Wedding
Gopika wanted a fairytale wedding. "I wanted it to be magical, beautiful, peachy," she declares. "That's really original, Gopika" Viraj teases her. "I like Peachy though. Life should be peachy." And so it was, Magical, beautiful, and distinctly peachy.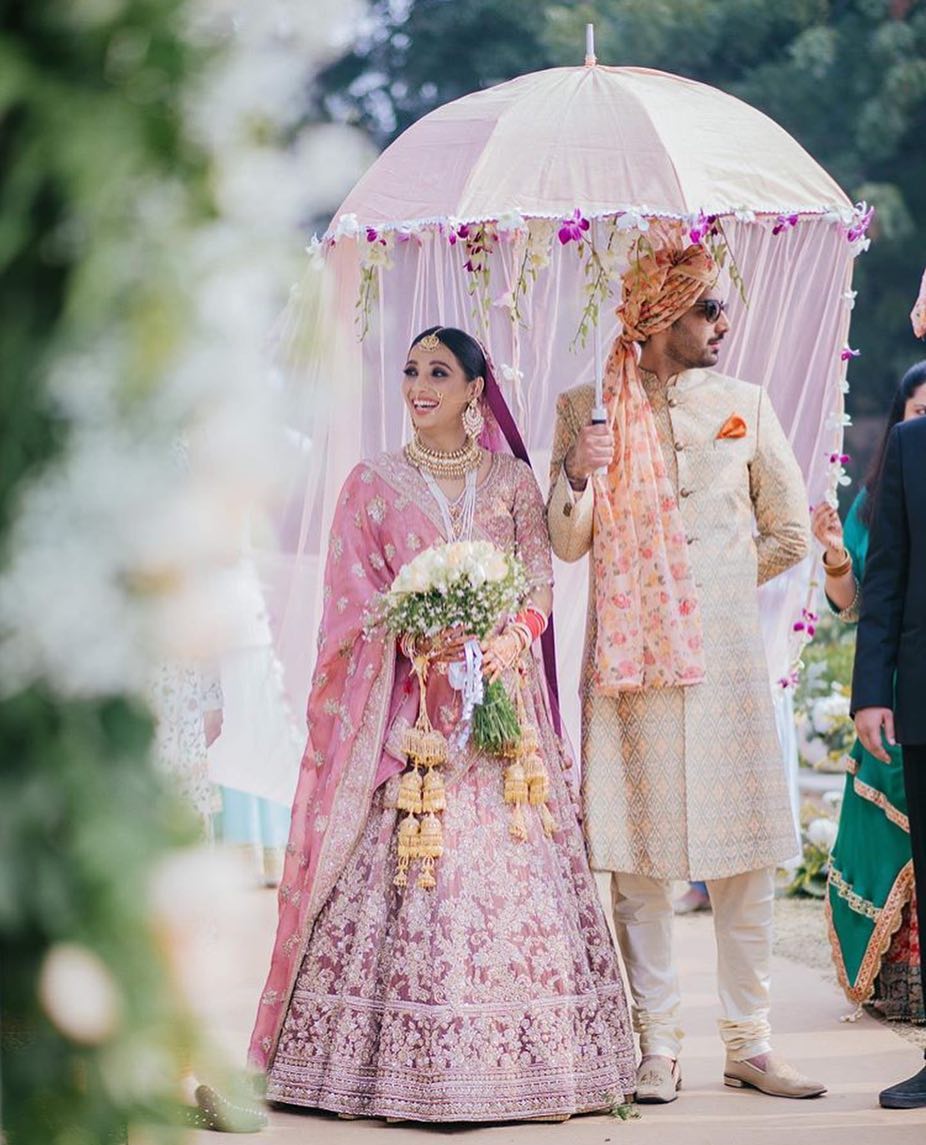 ---
 Gorgeous Wedding Outfit Of The Couple
We had three sets of outfits. For the Sangeet, Gopika looked stunning in a blue, Cinderalla gown and Viraj wore a majestic quilted blue bandgala. For the mehendi, Gopika wore a purple Sabyasaachi-style lehenga, and her dashing partner turned up, slightly late and hungover, in kurta, pants, and an orange Nehru jacket. Finally for the wedding, we picked outfits that reflected our image of the perfect wedding: regal, but not garish, classy not ostentatious, and elegant, not overdone. Viraj wore an intricately printed ivory Sherwani. He didn't carry a sword, because he bats for love not violence. A Kalgi on his salmon pink Banarasi silk safa and an elegant golden brooch lent his attire a royal aura. Gopika chose a double-shaded velvet lehenga that progressed subtly from shades of lavender/pink to wine. Her jewelry was drawn from her family's tijori: her grandmother's magnificent kundan set (choker and earrings).
---
Advice To The Future Couple By Gopika and Viraj
Nobody warned the groom about the baraat. The ghodawallah and dholwallahs were shameless extortionists. The groom found their money-grabbing antics most distasteful. It's best to have a rehearsal of the wedding day.