Handpicked Wedding Invitation Ideas You Can Go For.
If you want your wedding to be different from the start then begin with a contrasting invitation. It should be such that every guest excites to be a part of your D-Day to witness the unwitnessed discrete wedding. Wedding invites have also been an important part of the preparation and have evolved over time. So to make it simpler for you to choose from we have personally sought some Invitation ideas which fall in every category from minimal to luxurious and physical to virtual. The handpicked invitations from weddingPlz are as follows:
RUSTIC LOOK
Are you someone who do not want to invest much in invitation but also want something attractive? So keep your invitation simple yet different, you can go for a rustic touch invite. These type of cards are light weighted, pocket friendly and attractive enough to stand out old traditional invitations.
Card By Rustic Wedding Invitation
---
ACRYLIC CARDS
Whether going for an event as big as a wedding or some small family function. An acrylic card is new all time favourite in the house. Made out to give a glass finish these cards are perfect to match your aesthetics if you are looking for a classic invite.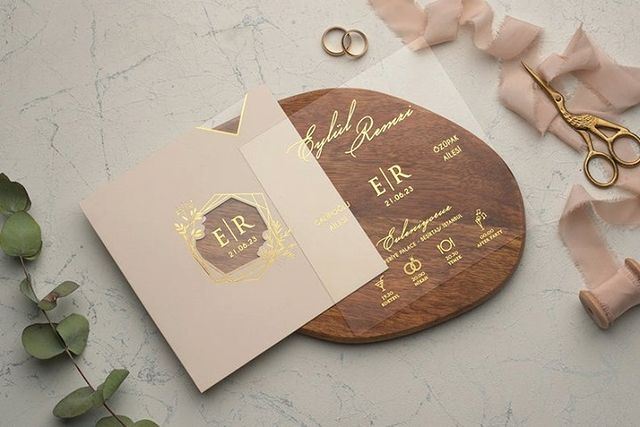 Card By Acrylic Wedding Invitations
---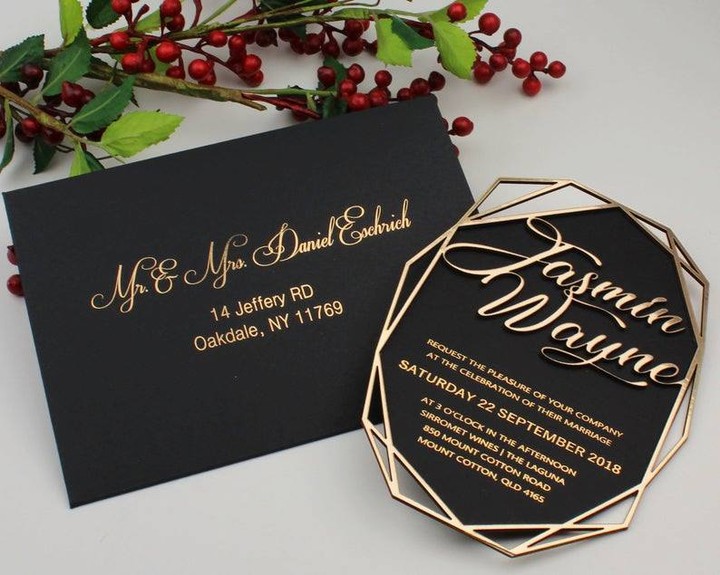 Card By Acrylic Wedding Invitations
---
ROYAL BOX INVITE
If you are planning a big fat indian wedding then to go for this invitation would be the right first step on your journey.
These invites include a box full of goodies, eatables or anything you wish to include along with your wedding card. Large variety of gifts can be included depending upon your budget. They meet the criteria of royals, thus are little expensive to go for.
Card By Izhaar
---
Card By Izhaar
---
VINTAGE SCROLLS
Starting from the time of kings and queens, vintage scroll invite has served the purpose of invitation cards and are still not out-dated. So if your plans are to get hitched like ancient times then this is the pick for you.
Card By Izhaar
---
VITUAL CARD/VIDEO INVITE
When weddings can be virtual, invitation can also be! Modern day couples demand everything which matches their sense of modernity in all aspects. Invite through a virtual card or video is what you should go for if you are looking for something different, sustainable yet in demand. They reduce the hassle involved in distribution of cards to your loved ones as virtually, we are just one click away!
Card By Graphe Weddings
---
Card By Graphe Weddings
---
HANDMADE INVITE
Very different and one of our favourites are these handmade Wedding Invitations from "Knot Your Type". They add a personal touch to your invite and are very beautiful to look at. But they fall on the expensive side as time and efforts are put in place.
Invitation By Knot Your Type
---
Invitation By Knot Your Type
---
Checkout more links : Cute And Trendy E Invitation Designs For The Intimate Weddings| Top Best Ideas To Include In Your Wedding Invitation In 2021, Unique And Delicious To Surprise Your Guest!| Wedding Invitation Designs That You Will Fall In Love With|The Wedding Invites that will make your Dil Dhadakne Do! | Wedding Cards – What's Hpt and What's (Realy) Not | 7 Creative Wedding Invites To Give You The Edge! | 5 Essential Tips to Take From Wedding Invites of Bollywood Celebrities