Top Best Ideas To Include In Your Wedding Invitation In 2021, Unique And Delicious To Surprise Your Guest!
Wedding invitation has to be very interesting and unique as it's the very first gesture to let your people know about your new beginnings and make them feel so special being involved in your happiness. Gift your guest a moment of thrill that when they get your invitation they get mesmerized and surprised as well. Yes, selection and distribution of wedding invitation is an overwhelming task that create chaotic situation in making it elegant and unique. Come and let's explore the great ideas of gifting the best to your guest a cordial invitation with exquisite look and feel in this year 2021. And guess what you can it delicious also as these sweets and chocolates will surely move them away going through their taste buds and giving them an extreme pleasure! Isn't it really great?
# Seven Vedic Essentials A perfect option to gift your guest the best ever gift can be,
beautifully assembled by Turmeric Ink.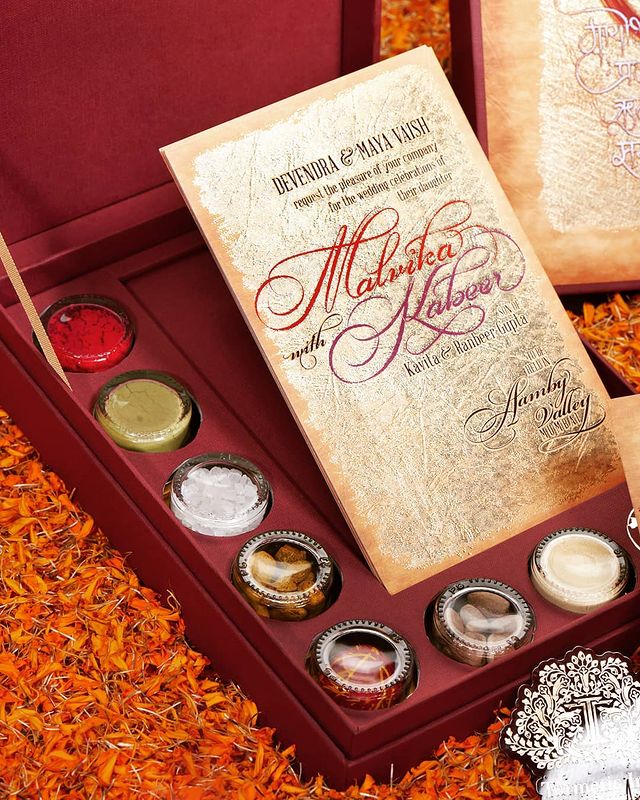 Card By Turmeric Ink
---
# A great combination of a Gift Tray, a Gift Box and an Indian potli is something really
surprising created by some creative minds group team of Rani Pink Gifts.
Credit : Rani Pink Gifts
---
# Also this classic silk dupatta for women and a pale blue Chikan kurta-pyjama for men is
fabulous gift to give from Rani Pink Gifts
Credit : Rani Pink Gifts
---
# To make them surprised who always sparkle all the way, gifting a sparkling sky box
would be the most suitable and amazing. A wide range of beautiful boxes created by
Confetti Gifts.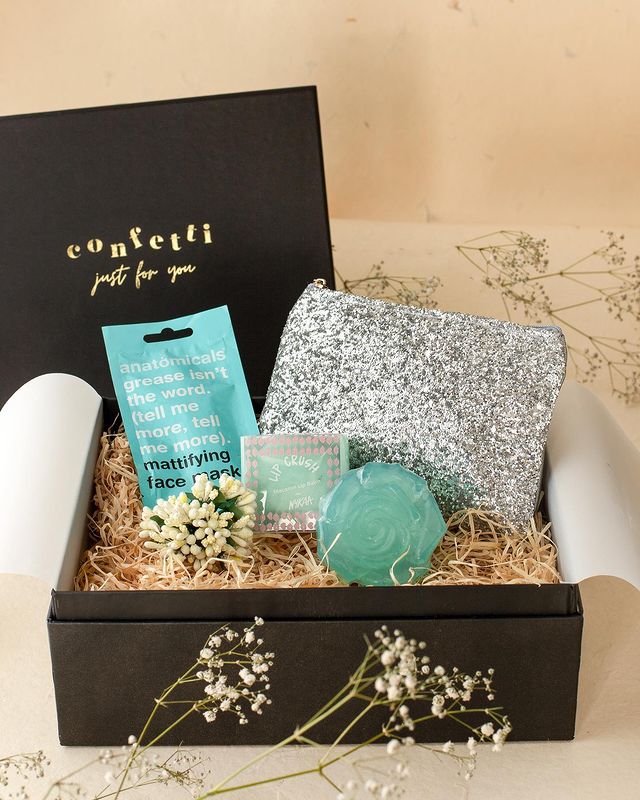 Credit : Confetti Gifts
---
# This box of prettiest goodies is a stunner and awesome gifting options as in your
intimate wedding invitation from the one and only Confetti Gifts.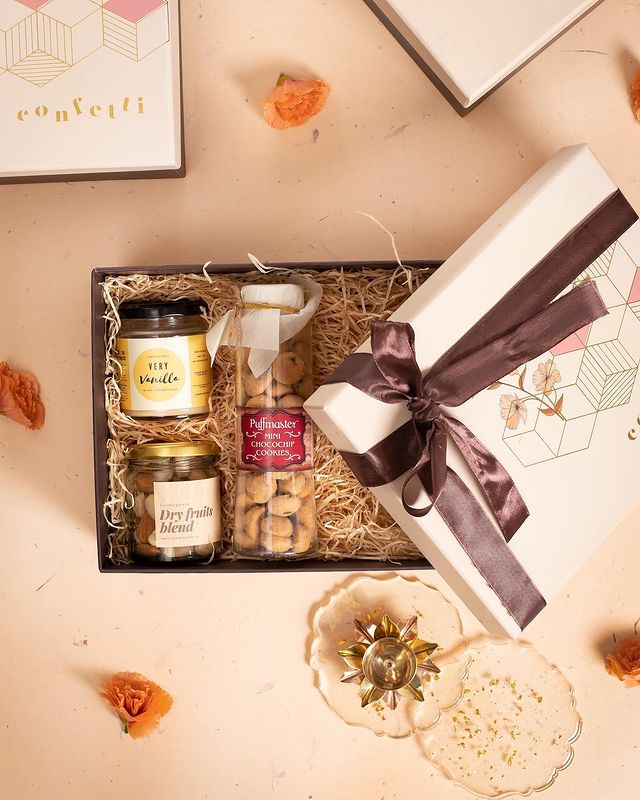 Credit : Confetti Gifts
---
# A box of three assorted brownie of a Tea Cake, four glass jars filled with dry fruits,
chocolate coated dry fruits are makes it delicious invitation and happiness dissolver too.
Beautifully prepared by the great team of Ka Eclairs Kafe.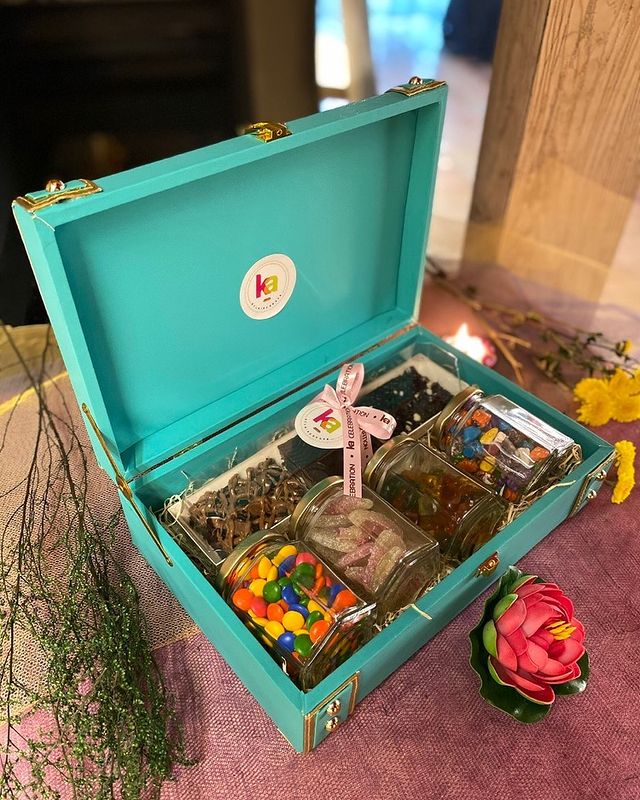 Credit : Ka Eclairs kafe
---
# These beautifully designed wedding cards are something putting the receivers in aww
surprised and best giveaways to your guest by White Mirage invites.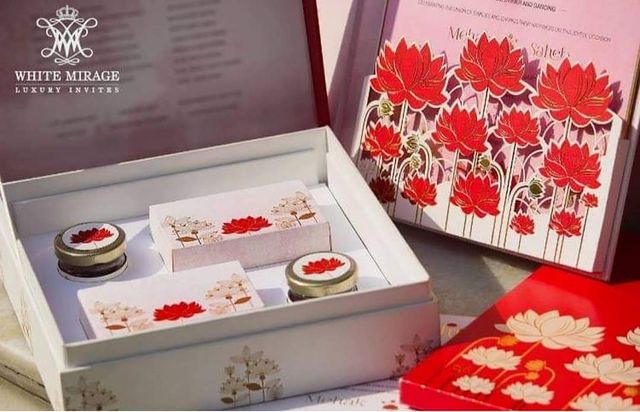 Credit : White Mirage Invites
---
# An amusing arrangement of cards and box of sweets with some jars full of cookies is the
perfect option to amaze your guest at its look itself by White Mirage invites.
Credit : White Mirage Invites
---
# The uniqueness and elegance of this combination of gifting option can be just felt, a very
innovative idea of gifts for invitation by Beyondesign.
Credit : Beyondesigns
---
# A simple yet most beautiful gift featuring black frame and rose gold foil is just amazing
to look forward for that great wedding invitation, created only by Paperi & Co.
Credit : Paperi & Co
---
# A never forgettable gifting option that includes a healthy hearty option of Lush
Gourmets Nuts for your loved ones packaged in elegant boxes especially by Izhaar
Invitation & Gifting.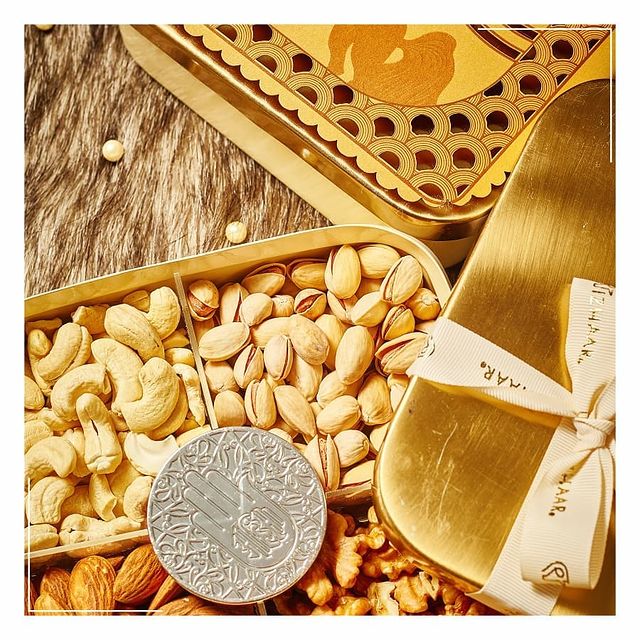 Credit: Izhaar Invitation & Gifting
---
Checkout more link: Give Your Loved Ones A Great Gift Of Love And Affection Unwrapping Immense Happiness In Their Life! | Needledust and Rani Pink Gifts in collaboration Launches Their Diwali Festive Collection!