Go To Instagram Stores For Handcrafted & Unique Jewellery
If your style belongs to the 'Stand Out' mass then you just can't miss these unique and one-of-a-kind Instagram stores. They offer an exquisite jewellery collection for all your needs from office wear to wedding celebrations. And you know what the best part is? They are homegrown and local labels, thus with every purchase it's not just you who gets a unique piece of jewellery but our local artisans and art also get promoted.
RAY collection from Parishri Jewellery has inexplicably beautiful pieces designed in the pandemic that represented great hope in an utterly hopeless time. Look at these sleek bangle bracelets from the collection.
Instagram @parishrijewellery
---
'Magnum Opus' necklace from The Slow Studio consists of a magnificently ornate oversized pendant, strung with delicately handcrafted filigree circlets. The alternate upside-down arrangement of the units gives the product an interesting and unmissable reflective detail. Definitely a head-turner, and one for that box of heirlooms.
Instagram @theslowstudioofficial
---
Noupelle Studio is another sustainable brand that curates unique and upcycled leather jewellery. The eye symbol amulet neckpiece is handcrafted in matt gold leather with the other side in a classic tan. The piece is super versatile which can be wrapped around as a choker, be worn as a long necklace, tied around as a bracelet or the pendant can be detached and used as per your wish.
Instagram @noupellestudio
---
Gold statement rings are the perfect addition to your festive wardrobes. Knick Knac Knook's Nadira statement ring signifies Mughal Princess Nadira Banu Begum's strength, beauty, and power, embodied through the motifs of an elegant elephant pair. The neutral gold tone makes it perfect for all festive outfits!
Instagram @knickknacknook
---
Curated Curiosities offer pieces with the perfect blend of traditional & modern silhouettes. Ridhi Arora in Teal & Yellow 'Beach Riot' earrings. They can be paired with both Indian and western outfits and are feature light in weight.
Instagram @curatedcuriosities
---
Playing with distinctive and quirky pieces is indeed eye-catching. So here's 3 in 1 Kundan ring by Miah, just right for your festive outfits.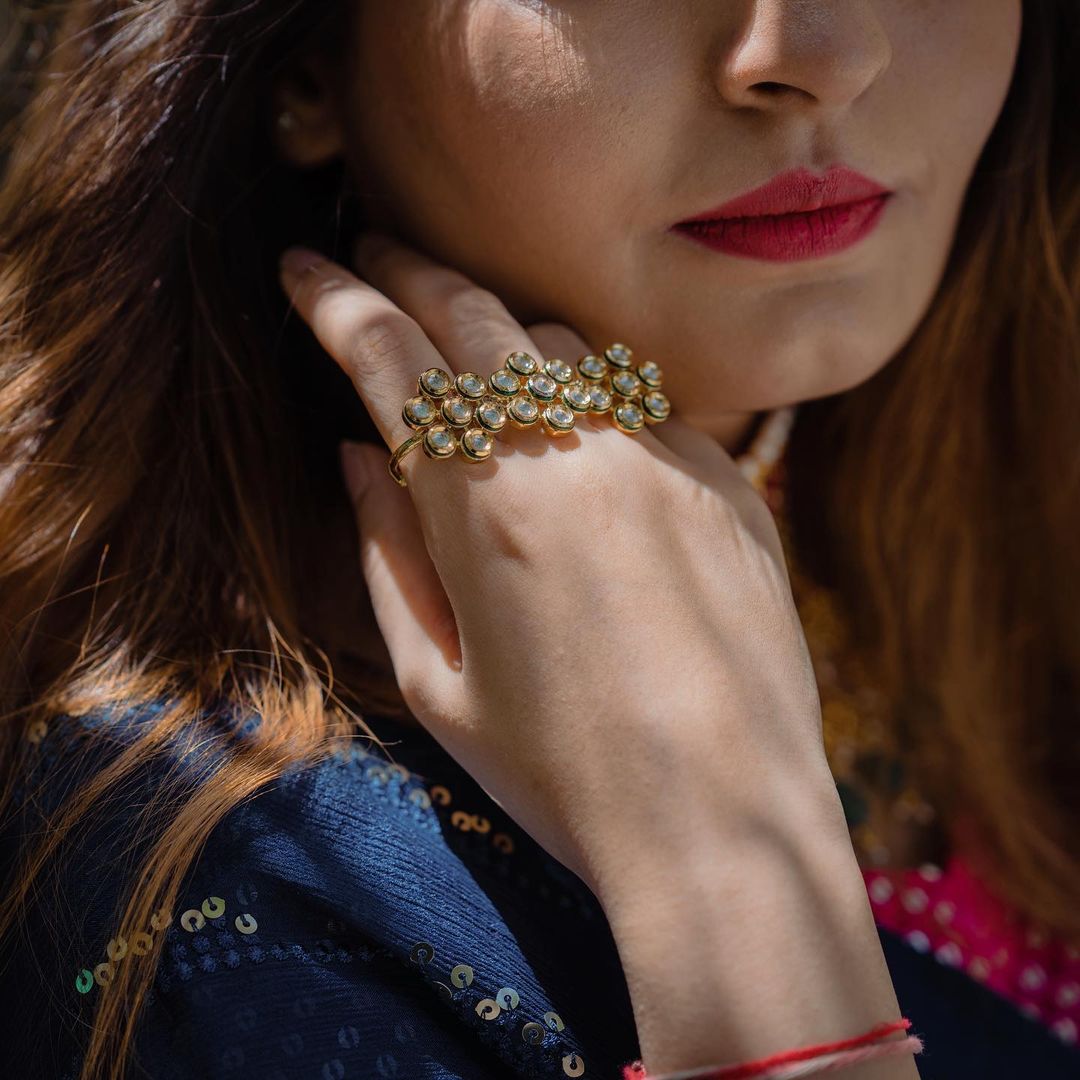 Instagram @miahthestore
---
Another sustainable brand, Hype Devi led by women, creates extremely one of a kind jewellery pieces. So if don't want someone else to possess what you have, this is your go-to place.
Instagram @hypedevi
---
Have you seen something like this before?
Gonecase Store's Zewar collection has pieces intricately handcrafted with pure silver wire inspired by ancient Indian craft.
Instagram @gonecase_store
---
Check out more links: In Demand Bridal Trends Winter-Festive 2021 Will Witness| Yellow Is The New Pastel: B-Town Celebs Giving Major Festive Inspiration| Bridal Edit Featuring Papa Don't Preach By Shubhika| Local Indian Brands You Can Add To Your Visiting List.| Colour Trend Wedding Season 2021 Will Have