Bridal Lehenga Tips For Different Body Shapes
The plus-size happens to be the new trend in Bollywood with the likes of actresses such as Vidya Balan, Sonakshi Sinha, Huma Qureshi, Zarine Khan having taken over the movie industry with their curves. The typical indian bride of modern day looks as sassy with her curvy figure. However, It is very important to know your body shape before you pick on your perfect Wedding day dress.
What is your body shape?
There are four main body shapes in the plus size category:
The Apple Shape or the Top-Heavy shape
The Pear Shape or Bottom-heavy shape
The Hourglass shape with toned waist area
What to Wear when you have Apple Shape: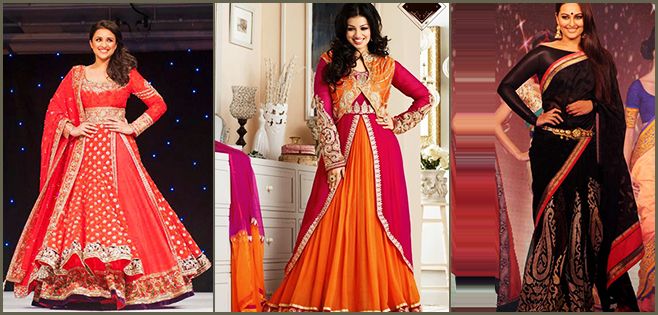 Key Idea: The key idea in choosing clothes for this shape is to draw attention away from the upper body.
Lehenga: Wear a lehnga with ample pleats and thin waistline that evens out the shape.
Saree: Go for Light shaded sarees and dark colored blouses to match them. A sequin embellished black blouse can never go wrong, matched with a Golden or Silver net saree.
Anarkali Suit: In choosing an Anarkali suit, try to get a custom made dress with the pleats or Kali starting from half-way across your bust-line.
Neck-line: Choose neck-lines that are plunging; go for V-shape and U-shape neckline.
Color: Wear Darker Colors on top and light colors in bottom. Wear contrasting colors and do not go for same color lehenga-choli.
Embroidery : Get the blouse with minimum embroidery and lehenga with maximum embellishment, embroidery, Zardozi work.
Fabric: Choose fabrics that are smooth and have a fall in them, go for Georgette, Chiffon, Soft silk, Crepe etc.
Sleeve: Never go sleeveless; go for 3/4 sleeves or 1/2 sleeves.
Jewelry: Wear light jewelry on the neck and instead try to draw the attention towards the waist by heavy Kamarbands.
What to wear when you have Pear Shape: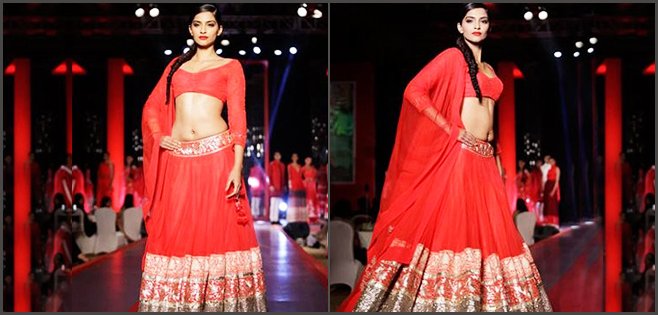 Key Idea: The Pear shape is basically with hips and thighs having more mass on them. In this scenario the focus ought to be drawn towards the torso and the upper body.
Lehenga: For this shape a straight fall lehenga or an 'A-cut' lehenga must be worn. Try to avoid pleated lehengas.
Style up the Saree: When it comes to saree, try to wear lighter shades in blouse, such as Gold and Silver and wear darker color sarees to match them.
Anarkali Suit: When designing the Anarkali, make sure that the pleats are few and start from just below the bust-line.
Neck-line: Go for neck-lines that widen your shoulders visually, such as Scoop-necks, Sweetheart necks, Boat-neck or strapless necks.
Sleeves: Go for wide sleeves such as bell sleeves to draw the attention towards the arms.
Layering : Try to add layers to the upper body, this can be done by wearing designer embellished shrugs matching with your lehenga. Try to wear the dupatta pleating them across the torso and bust.
Play with Contrast: Try to wear light color blouses and lehengas of darker shades. If the color of the lehenga and choli is same, then go for a lehenga with heavy embellished top.
Jewelry: Wear heavy Choker or Mughlai style necklaces.
What to wear when you have the Hourglass shape:
Key idea: With narrow waist, hip and bust approximately of the same size, this is an ideal size among women. In this shape the idea is to draw the attention towards the waist.
Lehenga: In choosing lehengas try to go for ones with slight nip in the waist, go for wrap-style blouses to draw out the focus towards the waist. Try to go for lehengas with voluminous pleats so as to even out the shape of the hip and thighs.
Saree : Go for the sarees with heavy borders at the lower end, and a heavy Pallu.
Anarkali Suits: While opting an Anarkali suit, go for the ones with heavy embellishment and embroidery on the waist area.
Neck-line:The neck-lines ought to be such as to slim down your bust. The V-halter necks and U-shape necks would go well.
Color: Go for solid colors and avoid sharp contrasting colors. You can also choose a lehenga set which is embroidered evenly on blouse as well as on lehenga.
Embroidary: Let the embroidery be vertically placed on the wedding dress than horizontal.
Fabric: Go for fabric that are not stiff, such as silk blends and knits that drapes gently over your curves.
Also Read : Bridal Lehnga:5 Incredible Tips For Your Body & Complexion|7 Shopping Tips To keep In Mind Before Buying Your Wedding Lehenga| Ideas for Celebrating Your First Wedding Anniversary