7 Beautiful Bridal Bun Hairstyles!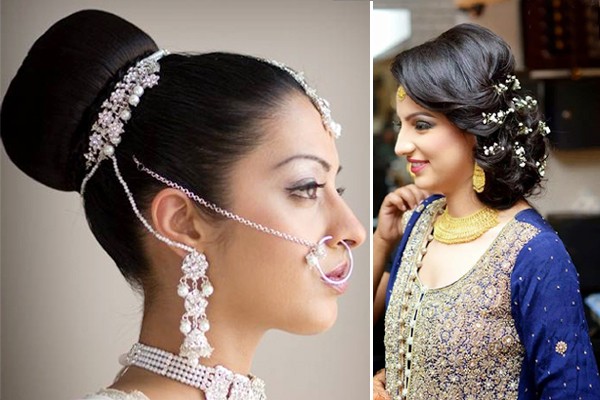 Brides, it's your special day! Gear up with an exotic bun hairstyle for your exclusive summer wedding fiesta.
The perfect Bridal hairstyle is designed to decorate with gorgeous and exotic flowers to make her look more gaudy and heavenly for the occasion. The bun hairstyles are considered to be the most appropriate styling in order to complete the bridal makeup.
Here are a few types of Bridal bun hairstyles for summer:
1. Conventional bun hairstyle:
For this kind of hair styling, you have to gather the hair strands together and tie them up while twisting them to form a bun. Once, the bun is secured with hairpins, you add flowers to decorate them and make them look beautiful.
2. Soft n messy bun hairdo: 
The soft bun hairstyle reflecting a messy but sophisticated look to your overall makeup is perfect if you are going for an exotic wedding with a tight fitted lehenga and dupatta. To start with, brush your hair and apply some mousse at the end of the hair strands. Tease your hair strands to create a good amount of volume. Flip the hair strands and make sure that they are not tangled. Tie a ponytail and smoothen the crown. Pull your ponytail to form a loop. Fix your bun with hairspray and pins. Loosen your hair strands to form a loose bun.
3. Stylish Side-bun:
The bun on the side is a modified form of traditional bun. Keeping the usual style same, you need to create the bun on the side. For this hairstyle you need to do a thorough blow drying of your hair. You can make it into a low placed and puffed bun. This hairstyle is perfect for the brides with a definite cheeky appearance and big eyes that get clearly highlighted through their hairstyle.
4. Traditional bun with an alternative curling effect:
The traditional up-do bun is another variety of the bun hairstyle only with a difference. In this modernized version, the hair strands are created into segments and curled up to be pinned. Together these curls are tied to form a bun and undoubtedly this looks very chic and fashionable for the modern urban bride.
5. Exotic Spanish Up-Do Hairstyle:
This kind of bun styling is perfect for you if you have long and thick hair. Blow drying of your hair is a must if you want to make it look voluminous. Part your hair horizontally and create exquisite curls for the upper segment of the hair. Leave the lower portion to form a normal flow. Adorning the bun and the lower portion with flowers and colored hairpins adds to your classy looks. This hairstyle is perfect for the bride's with a round face.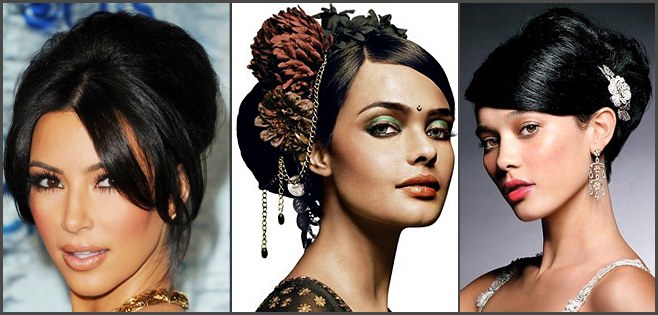 6. Elegant twisted top knot bun:
This hairstyle is very simple and doesn't take much time either. You need to start with brushing your hair and make it into a high ponytail and tie it up. Apply some hairspray to the ponytail and twist it to form a coil like structure and continue to twist it around the ponytail. Place a pin in the centre and continue twisting around the pin. You might want to use bobby pins to make the bun look beautiful.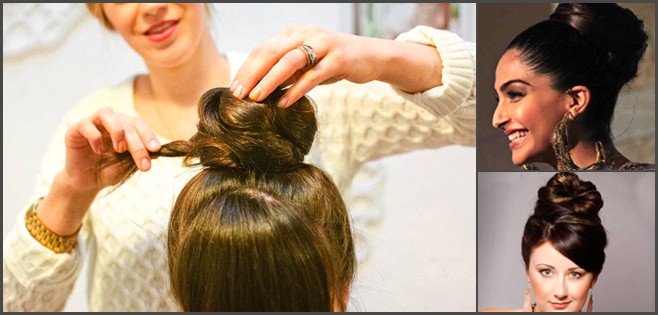 7. Ballerina bun:
The ballet bun is very easy to make and you can start with a bit of dampening with water. Make sure to apply very little water so that it doesn't get too slippery. Tie a ponytail and twist your hair tightly around the bun and you might leave some lose locks for that exclusive messy look.
Once your hair is done you can add flowers like Jasmine, orchids or roses to make them look perfect and give your bridal makeup a more complete look.
---
Checkout more links like these: Beautiful floral bun for your wedding day|Trending floral braid this wedding season|10 Ultimate bridesmaid gift ideas|10+ breathtaking mandap decoration ideas