Bridal Comfort With Heels!
If you are a bride-to-be who wants to float down the aisle with a blushing face, dance your heart loud and kiss your family goodbye with happy feet then you surely have to be very heedful while choosing a right pair of footwear for your wedding dress.
From high heels, peep toes to flats and sneakers, there are so many options available in the market that undoubtedly selecting perfect slip-ons can sometimes be more difficult than short listing your bridal dress. So, there's no excuse for your bridal shoe shopping to be a bland – afterthought because after all, you are going to stand for photographs for an awful long time.
Be sure to consider not only your outfit for the day but also your comfort level, venue and personal style before you pick a perfect pair of shoes. For every type of bride and wedding we have listed some most stylish and comfortable pairs.
Elegant, sophisticated and just so girly! You can never go wrong with this classic pair of sparkling block heels.
Photography by AbhiSakshi Photography, Ghaziabad
---
Steal the show in these dazzling high heels. It's a perfect option to represent every girl's dream shoe.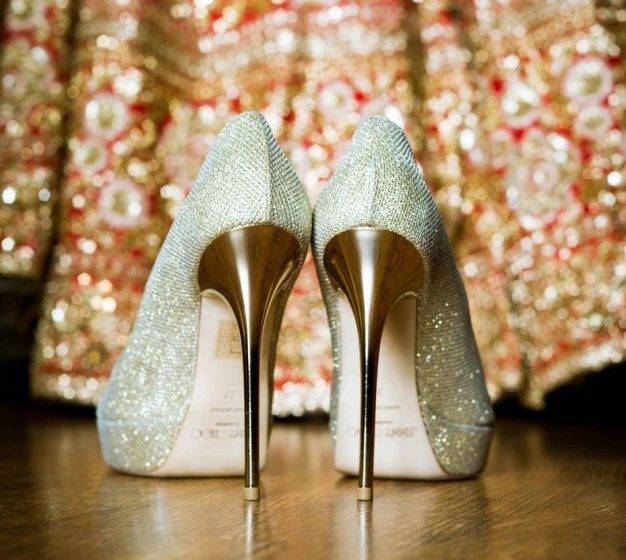 Photography by Happy Flashback Photography
---
If you prefer comfort over style then these heels are just right for you.
Photography by Through The Barrel
---
People with broad feet are generally not comfortable with heels. So if you are one of them then, this pair is just right for you.
Photography by Clicksunlimited Photography
---
High heels were invented by a woman who had been kissed on the forehead !
Footwear by Papa Dont Preach
---
Loved it! 
Photography by The Story Weavers
---
Give her the right shoes, and she can conquer the world !

Photography by Tarun Chawla Photography
---
Imagine getting a pair of heels from your hubby-to-be with the sweetest message on its sole. Trust us this surely be one of your teary-eyed aawwww moments.
Photography by jessica_dibella
---
Bling it like you mean it with these decent sparkled high heels.
Photography by White Frog Productions
---
Checkout more links like this : | Needledust Juttis Launched Springfields, for Beautiful Summer Brides! | 10 Awesome Wedding Decorators To Fit In Every Budget | Top 15 Event Management Companies in Delhi Ncr | A Beautiful Peachy Wedding With The Most Unique Bridal Entry