Bollywood Stars Giving Us Major Bridesmaids Inspiration With Trendy Designer Lehengas
Bridesmaids are the most excited people at your wedding no matter what one says. And we believe if the bond is special then so should be the celebration and its outfits. With this view in mind, we have tried to lay our hands on trendy lehengas inspired by the B-Town divas!
The new, fun and exciting collection of Abhinav Mishra is called " Postcards by Sanjana" and they are no less than love letters that show the classic old-age charm of a utopian past.
The outfits have been carefully crafted with intricate designs that captivate us with his sheer brilliance of the old world charm with the modern era twist.
It is an ode to the magic of handwritten notes and love letters, which Abhinav Mishra has phenomenally encapsulated through a series of postcards inscribed by Sanjana. Each postcard that is addressed to a person who has touched her life in an unimaginable way represents a different emotion she feels and has been beautifully depicted in the form of poetry and meaningful words. One of the most powerful and iconic women of the past, Gayatri Devi has also been kept in mind while designing the collection, as it is her charm, grace, elegance, and strength that today's women possess. The pieces are charming and timeless and the inspiration behind the collection is to blend the elements of classic and modern in a beautiful manner, which are portrayed through the designs. The pieces are artwork and an amalgamation of his various inspirations and the components of the picturesque classical British era and the new-age girl have exquisitely come together and created this sensational campaign.
Designed by Abhinav Mishra
---
Alia Bhatt
This bright embroidered lehenga by Manish Malhotra is the perfect combination of contemporary with just the right touch of traditional elegance perfect for a lovely bridesmaid look. It is described as infinity to treasure and an eternal dream to adorn for your absolute moment of spotlight.
Designed by Manish Malhotra
---
Shweta Tripathi Sharma
If you are looking for something light yet stylish then outfits by Karan Torani are perfect for your bridesmaid look. His work is a Potpourri of nostalgic memories of fables that his grandmother told him while growing up.
His collection Jhooley- 'Swinging Through Life' and the story behind it will definitely charm you into selecting this lehenga for your look. The story is about sisterhood and how they can lean on each other. All those memories of growing up pulling each other's hair and stealing clothes have left them with an impeccable bond. It will make you fall in love with not just the clothes but the creative direction as well. Every piece is bright and printed and has a different detail or element raining from scallop borders to floral motifs. The details are well established and the colour of this collection is fabulous.
Designed by Karan Torani
---
Kiara Advani
A vibrant Raspberry pink and cream organza set with mirror hand embroidery lehenga like hers will suit well for your friend's bid day.
This lehenga is a three-piece set embellished with floral thread work and mirror hand embroidery in a contrasting ivory shade consisting of a voluminous skirt, dupatta and a blouse. The highlight of this set was the strappy blouse that gave the look a sultry spin. Arpita Mehta's collection encompasses a stunning display of hand embroideries and soft prints with a burst of colour for the young Indian bride and her tribe of BFF's that play muse to this collection designed to represent 21st-century playful femininity.
This collection features four distinct prints that have been curated specially for this association; floral, a classic that represents the versatile women; the abstract print that is meant for a woman that is bold and strong; the leaf print for the whimsical boho woman, and lastly, the butti print for the understated women.
Designed by Arpita Mehta
---
Akansha Ranjan Kapoor
If you are someone who is an eco-friendly fanatic then this serene Terra Tropica blue lehenga is worn by this diva for her sister's function would make a great outfit. The set has asymmetric fall and cascading prints which are perfect for you as it is biodegradable and made of earth-friendly fibres. Guided by a carefully cultivated vision that sees sustainability as a tool of empowerment, Anita Dongre has set forth several initiatives that benefit rural women and local artisans while reviving and sustaining Indian handcrafted traditions.
She has also helped with the transition to a more sustainable industry and to realise the goals of adding consciousness to couture.
Designed by Anita Dongre
---
Alaya F
This bright pleated lehenga is for the new age bridesmaid with different hues of blood orange, blue and gold this is a great fit for a modern and trendy bridesmaid. Ritu Kumar's work is a bag full of love, passion and luxury. With a blend of traditional Indian sophistication and western influence.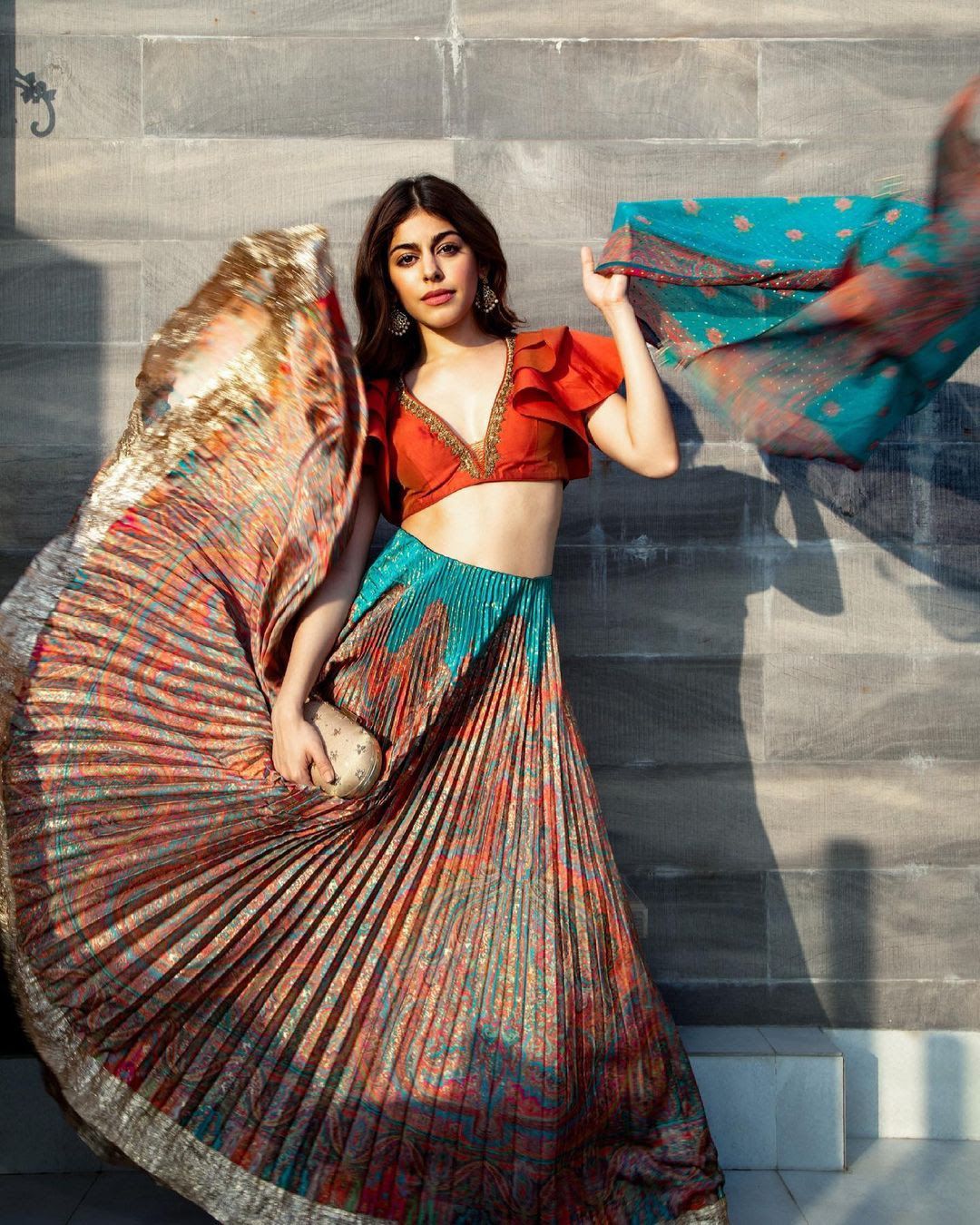 Designed by Ritu Kumar
---
Athiya Shetty
Go vintage with this floral print lehenga set by Shehlaa Khan with lace, crystal and sequence design. The baby pink colour is mesmerising, the pieces of this designer are all about embracing the inner woman and your feminine side and is sure to give you a picture-perfect look. The philosophy is taken to design this lehenga is one of simplicity and the label otherwise comprises of feminine designs and sheer fabrics.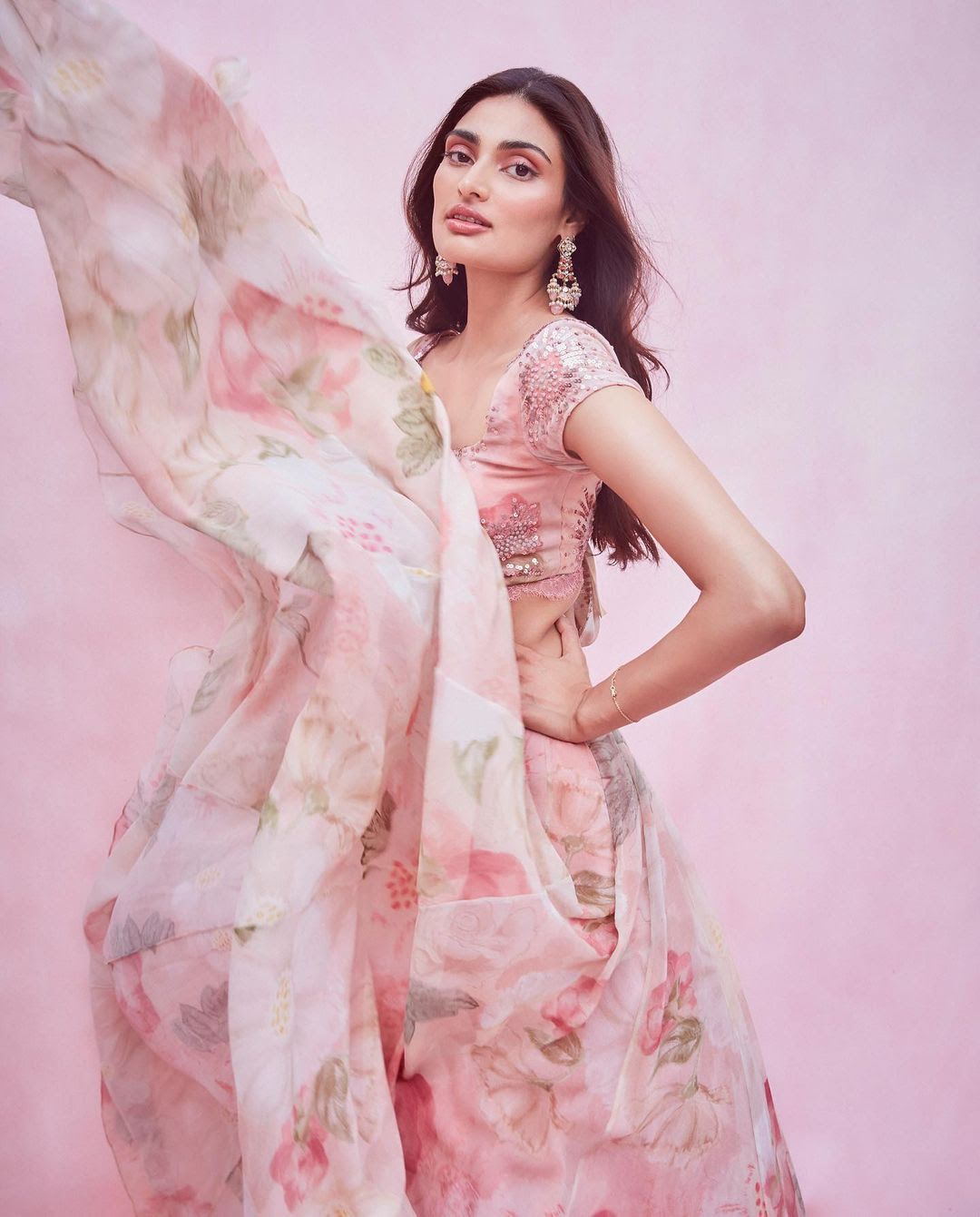 Designed by Shehlaa Khan
---
Tamanna Bhatia
If you are looking for a delicate yet comfortable affair for the night then this should be enough to give you what you want and make you look stunning like a showstopper bridesmaid. Ohaila Khan has a contemporary take on this with a monochromatic effect uplifted by the appliqué embroidery and clean degradae lines. Her outfit designs are inspired by elegance and modernism and her remarkable capacity to blend western and ethnic. By blending ancient Indian craftwork and modern techniques, she creates something spectacular every single time.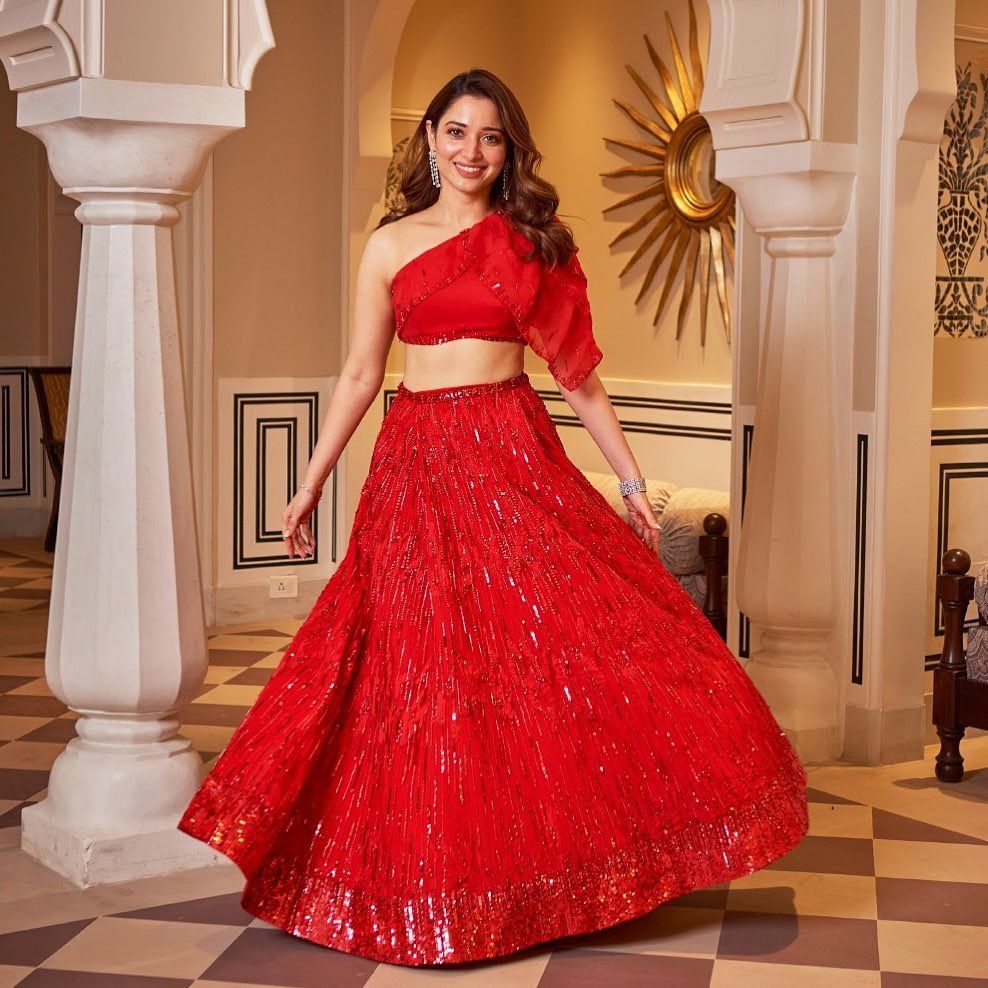 Designed by Ohaila Khan
---
Check out more links like this: A Lookbook of Katrina Kaif & Vicky Kaushal's Palatial Wedding Festivities! | All About Wedding Shenanigans Of Shraddha Arya & Rahul Nagal! | Yuzvendra Chahal And Dhanashree Verma, Got Hitched In An Intimate Wedding Affair! | Get Inspiration Directly From The Newly Wed Couple Wedding, Gauahar Khan And Zaid Darbar! | Neha Kakkar And Rohan Preet Singh Musical Wedding! #NehudaVyah