Abu Jani Sandeep Khosla Celebrates 1 year Anniversary with Needledust!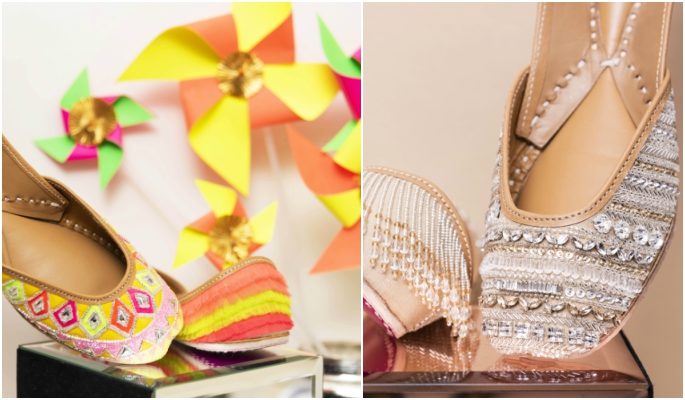 Legendary couturiers, Abu Jani Sandeep Khosla and India's first designer jutti label, Needledust celebrate one year of their design collaboration with their 4th collection, The Anniversary Collection, which celebrates this special milestone. The two coveted brands mark their one year anniversary with this limited edition collection of juttis featuring the exceptional designs and embroideries of AJSK and the unparalleled quality of Needledust. The design philosophy of both labels is to create timeless designs which feature impeccable craftsmanship and are perfect for occasion wear especially the big fat Indian wedding.
This AJSK X Needledust Anniversary collection offers luxe footwear at its finest with its high-voltage contrasts that impart character to the collection,  introducing new trends this season with techniques like pleating and overlapping, Abu Jani Sandeep Khosla's hallmarks including  leather patches, braided pearl designs, mirror motifs feature extensively in this collection. The signature tassel juttis go a glamorous notch higher with crystal back tassels. For the first time they launch a mule, a new international silhouette.
The colour palette of this collection ranges from warm and sparkling tones of beiges, greys and creams to absolute pop colours like neon, lime, pink, orange, watermelon, and finally, the monochrome glamour of black and white.
The flamboyant and absolutely glamorous sensibilities of Abu Jani Sandeep Khosla combined with the unparalleled craftsmanship and whimsical designs of Needledust make the collection perfect for weddings. Mehndi(neon candy), for a Cocktail/ Reception(Chandelier jutti) also for your wedding inspired by  Deepika Padukone's iconic finale outfit at Abu Jani Sandeep Khosla's 33 year anniversary show (Ivory Pearls) amongst others!
The impeccable and diverse choices are also designed to make these juttis the perfect choice for the festive and party season.
---
The legendary duo, Abu Jani and Sandeep Khosla say "We are very excited to celebrate the 1st anniversary of our collaboration with Needledust. We have some fabulous juttis coming your way to put some serious style into your footwear.  Our anniversary collection is an absolute labour of love and the result of a shared devotion to  unparalleled style and exceptional quality."
Founder & Creative Director of NeedleDust, Shirin Mann Sangha adds, "We are truly delighted to celebrate the beautiful, successful collaboration with the legendary couturiers Abu Jani Sandeep Khosla marking our first anniversary and so this collection had to extremely special and outstanding. The new collection is experimental and quirky while being beautiful, there is an element of fun to it as well. The collection embodies the couture sensibilities of AJSK while incorporating our quality standards and craftsmanship. We cannot wait to launch many more styles in the near future and look forward to presenting this to everyone!"
The new collection will be available across NeedleDust & Abu Jani Sandeep Khosla flagship stores as well as online on NeedleDust.com.
---
Checkout more links like this : Anita Dongre Collaborates With Paperless Post To Launch Beautiful Bespoke Digital Invitations This Wedding Season! | Looking To Recreate Your Mom's Wedding Look? Here's A Sneak Peek Into Vintage Jewellery With A Modern Twist! | Top 15 Candid Wedding Photographers In Mumbai To Capture Your Unforgettable Moments! | Trending Invitation Card Designs