Anita Dongre Collaborates With Paperless Post To Launch Beautiful Bespoke Digital Invitations This Wedding Season!
Helming conscious living at its core and seeking to preserve the age-old arts, crafts heritage of India, Anita Dongre has recently collaborated with Paperless Post to bring the artistry of her beautiful wedding designs to life. This exciting partnership brings to life a bespoke collection of digital invitations for all the ceremonies involved in traditional Indian wedding celebrations. Paperless Post has collaborated with international design maestros such as Oscar de la Renta, kate spade new york and Kelly Wearstler. However, this marks the first time the brand has partnered with an Indian designer.
The collection entails 11 sets of gorgeous invitations showcasing a mélange of stunning floral and botanical motifs in pretty hues of muted pinks, powder blues, mint greens, fresh peaches, chirpy yellows and bold tangerines. Each set includes specific invitations for each event that makes the Indian wedding tradition so special. As with all Paperless Post's designer collections, these invitations by Anita Dongre are versatile and customizable. Using the easy-to-use online design tool, one can personalize the design, send invitations, and collect RSVPs for each of the events in their wedding effortlessly—albeit, all in the distinctive style of Anita Dongre.
Since the collection is digital, it is in line with Anita Dongre's core values, making this an environmentally conscious way to share that special milestone in your life with friends and family from near and far. Adhering to her core belief, Anita Dongre had also chosen digital invitations for her son Yash's wedding earlier this year.
The digital collection, available only on Paperless Post, will launch on November 1.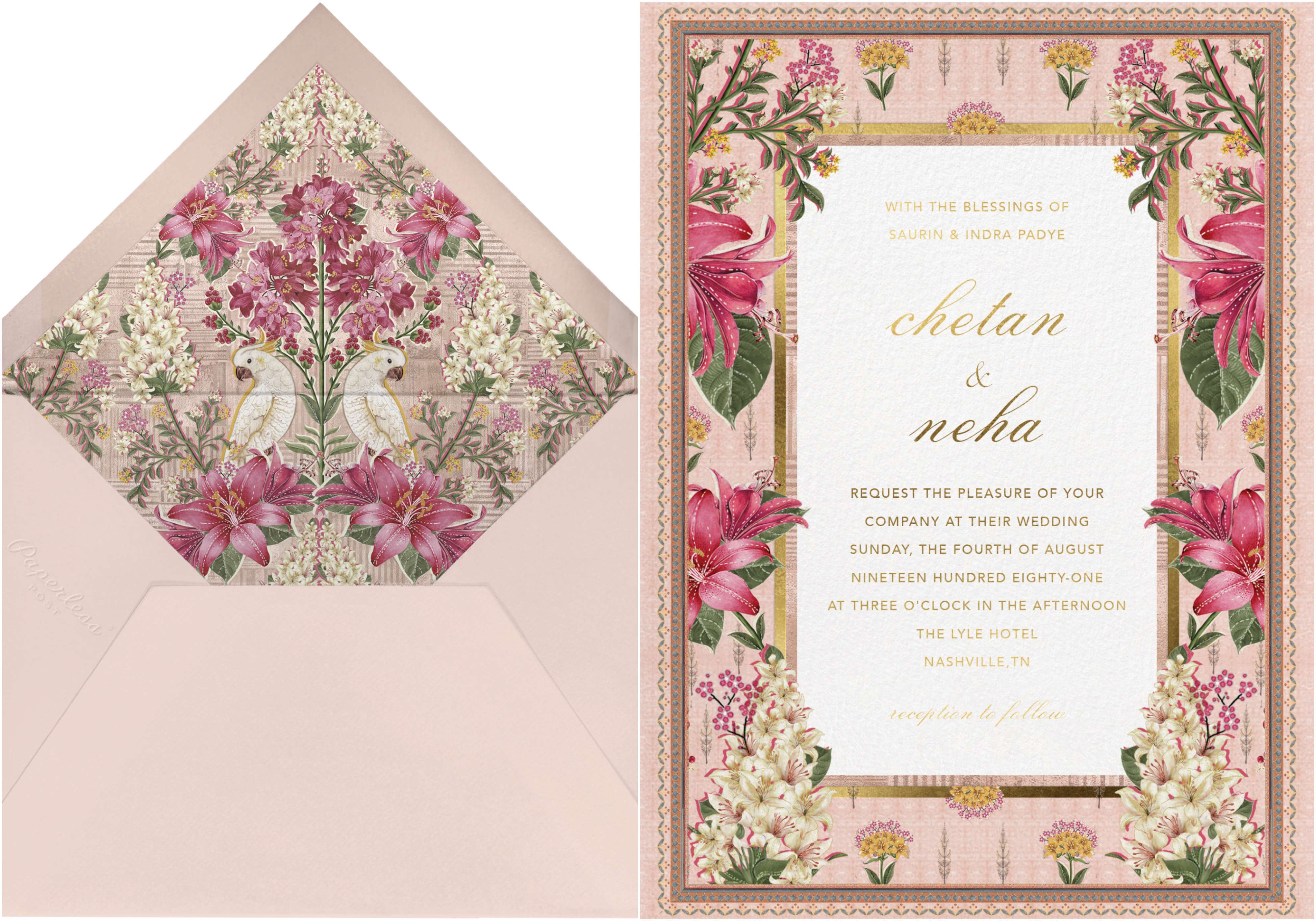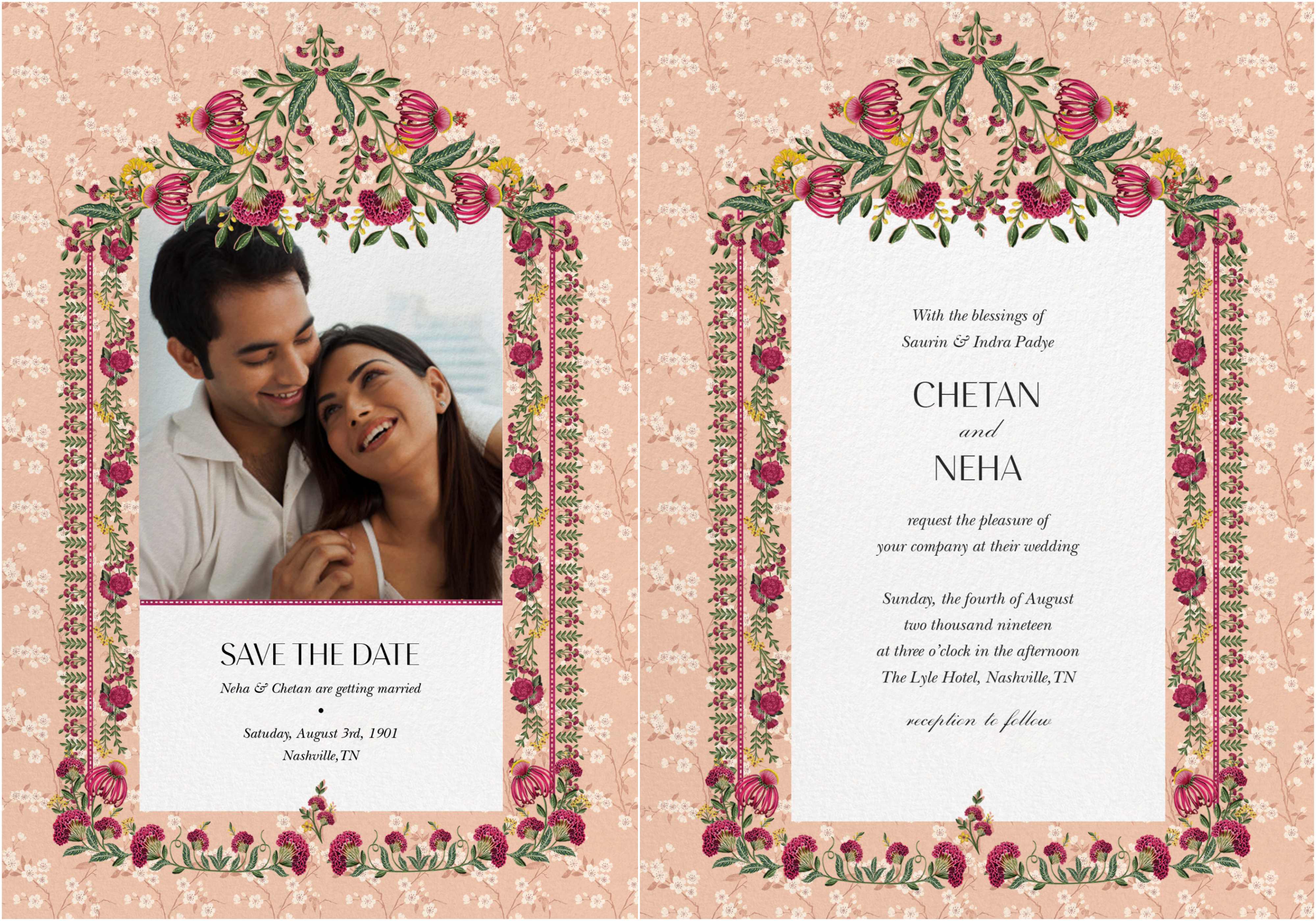 About Paperless Post 
Paperless Post is reimagining online invitations to make gathering easier, allowing users to communicate expressively without compromising on design or functionality. Paperless Post collaborates with leading designers, including Oscar de la Renta, Rifle Paper Co., and Kelly Wearstler. Since launching in 2009, Paperless Post users have sent over 200 million invitations.
Their two products, Cards and Flyers, can be created and sent online, and tracked with ease using sophisticated digital event management tools. For elegant events, their stationery-inspired Card invitations come in a variety of beautiful, customizable designs with envelope, stamp, and liner options. Sending a Card invitation also allows you to import .csv contacts, export your guest list, add your own logo(s), and individually message guests. For casual parties, Flyers come in a wide range of templates you can make your own in minutes. Add your own photo or GIF, and add animated stickers and text effects. Plus, Flyers are free to share with a link via text, social media, or your own email. Whichever product you choose, send your invitation completely ad-free.
About Anita Dongre 
A trailblazer, Anita Dongre has been at the forefront of Indian fashion for over 20 years, having created one of the most successful fashion houses in India which today employs over 2,700 people directly and provides employment opportunities to thousands more. Launched in 1995, born out of the need to create and cater to the fashion choices of an Indian woman at a time where not many brands existed, today the House of Anita Dongre proudly boasts of a multi-dimensional portfolio with brands such as AND (sophisticated formal and evening wear for women), Global Desi (India inspired young and colourful boho
chic fashion for women), Anita Dongre Bridal Couture (offering luxury and artisanal bespoke bridal, couture and ready-to-wear).
A vegetarian and animal-lover, she lives her personal philosophy through conscious efforts as a fashion designer thereby designing sustainable, cruelty-free clothing and accessories, representing fashion with a conscience. Under the Anita Dongre Grassroot initiative, we have been able to revive various dying crafts in India with intelligent design intervention and create opportunities for hundreds of artisans in the rural villages of India in the comfort of their homes. Furthering Anita's belief that employment should be taken back to the villages of India, currently the Anita Dongre foundation provides vocational training and sustained employment to six village centers comprising of 300 women and are on track to set up 30 centers in the next 2 years thereby impacting the lives of over 1,500 women.
Nestled in the quaint hills of Navi Mumbai, the beautiful and green House of Anita Dongre headquarters has been ergonomically designed keeping the brand philosophy alive. Apart from optimising the use of natural light, various sustainable practices such as composting and recycling water have been implemented.
A connoisseur of craftsmanship, Anita Dongre's designs showcase Indian aesthetics for the global woman of today, keeping comfort at its core. Internationally, her designs have been worn and appreciated by noteworthy women such as Kate Middleton, Hillary Clinton, Queen Mathilde of Belgium, and Sophie Trudeau to name a few.
For Anita, the business of fashion should be conducted the way it was always meant to be—looking towards the future, practicing and building processes that are sustainable, respectful of the people involved and environmentally conscious.
---
Checkout more links like this : Designer Blouses For The Stylish Bride! | A Parisian Symphony By Shyamal and Bhumika At Amazon India Fashion Week! | Designer Vasavi Launches Encanto – Bridal Collection '17 | RUNWAY RISING, Fashion & Lifestyle Exhibition | 16th Edition by RAMOLA BACHCHAN