5 Best Ways to Re-use your Wedding Lehenga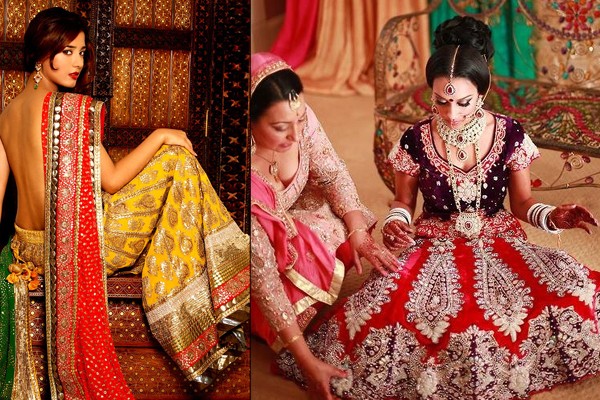 After scrutinized research and great deal of efforts you finalize your wedding Lehenga but it's really disheartening to see that lot of your money is blocked in that heavy bridal Lehenga which you have kept safely for years in your wardrobe. You often don't find a suitable occasion to wear it again as the family members have already seen it and it will be too loud for a friend's or relative's wedding. We have some really creative ideas which will guide you to re-use your Lehenga in different ways to add more style, grace and uniqueness to it.
1. Go Creative: Convert Dupatta into Spectacular Blouse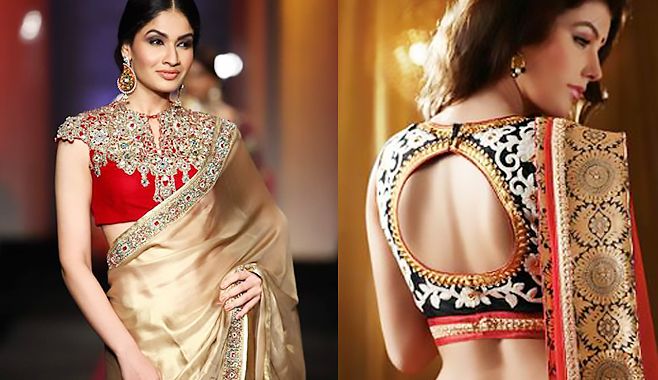 You think your Lehenga has become outdated and there is no scope of wearing it again? No worries! You can use your heavy dupatta to get a beautiful embroidered blouse stitched out of it. You can wear this eye catchy blouse with plain saree to look classy and fashionable in weddings and functions. You can also reuse your bridal choli by pairing it with contrasting saree or plain saree with border.
2. Set a Trend Statement: Club Your Lehenga with Long Jacket
Sheer long jackets are so much in trend. You can wear them with anything and everything. Go for a light colour or nude sheer jacket to cover up the gaudy Lehenga aptly and add the indo-western touch to your over all look. This trick is one of best ones where you establish a balance between grand and simple by hiding the bling of your Lehenga without concealing the beauty of its work.
3. Look Modish: Transform Lehenga into Anarkali Suit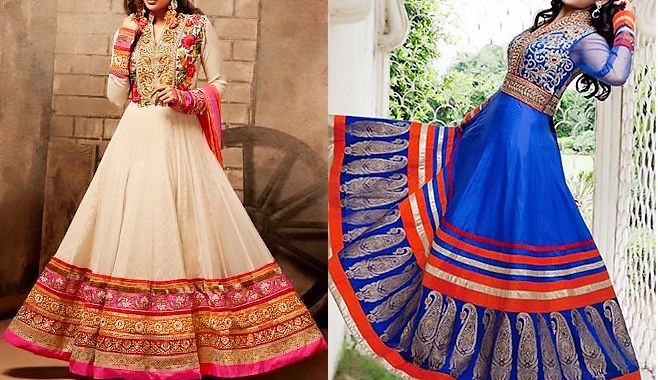 Give your Lehenga a makeover by getting it attached with the blouse to convert it into a stylish anarkali silhouette. For the connecting part, go for see through fabrics if you are still that slim or some zari work fabric if you want to conceal your waistline. Pick up plain matching salwar or legging to enhance the look of upper part.
4. Style with Elegance: Making Saree out of Dupatta
The most beautiful and eye-conic part of your bridal dress is your dupatta which you can re-use to make attractive saree that can be worn in other wedding functions. Plain saree with heavy pallu is in vogue this year. All you need is some extra three meters fabric to add to your heavy dupatta which will form the base of your saree. Wear it with long sleeve plain blouse to enhance the look of the loose and most attractive end of your saree. Dupatta can also be draped over a plain skirt to give it that half-saree look or it can be worn over a normal plain suit.
5. Grab the Attention: Replace the Heavy Blouse and Dupatta with Simpler Ones
Make your Lehenga more wearable by pairing it up with a single tone plain blouse and dupatta. Go for something that looks less flashy yet royal. Silk, jute, chanderi and brocade are one of the best choices for fabrics and emerald green, dark grey and navy blue for colours. Instead of draping the dupatta, let it rest on your shoulder for that trendy chic look.
Don't let your priced possession get lost in your closet. It's time to flaunt it in the most stylish way. Follow these tips and transform your wedding dress into something more wearable.
Also Read : Bridal Lehenga Tips For Different Body ShapesLet Go Off the Jitters of Wedlock Once More – Tips For Marrying The Second Time | 5 Tips to Make those Wedding Day Jitters Vanish | 10 Tips For Indian Brides to Shed Those Extra Kilos Before the Wedding | 5 Essential Tips to Take From Wedding Invites of Bollywood Celebrities| | 7 Shopping tips to keep in mind before buying your wedding lehenga