10 Mehndi Favours For Your Bride Maids !!!
The mehndi ceremony is a colourful and joyful event of wedding. Just like your function, to make your mehndi favours colourful and quirky, you need to be creative and something that your guests will remember your mehndi ceremony forever. The gesture of acknowledgement to show your appreciation to your guests for making their immense presence on your special day is a matter of great gratitude for them.  Let them just feel incredible by your spectacular favours.
Since mehndi ceremony is all about colours, tradition and having fun. Staying in tune with the ambiance of the function, you can choose from these beautiful gifts and make your guests feel extraordinary on your special occasion. Buy them mehndi favours to remember your ceremony forever! So, for some creative inspiration, check out some these fabulous ideas as they are useful too:
#1. Bracelets: Let your guests pick their favourite colour of bracelets as these will surely pull their attention which make them feel happy.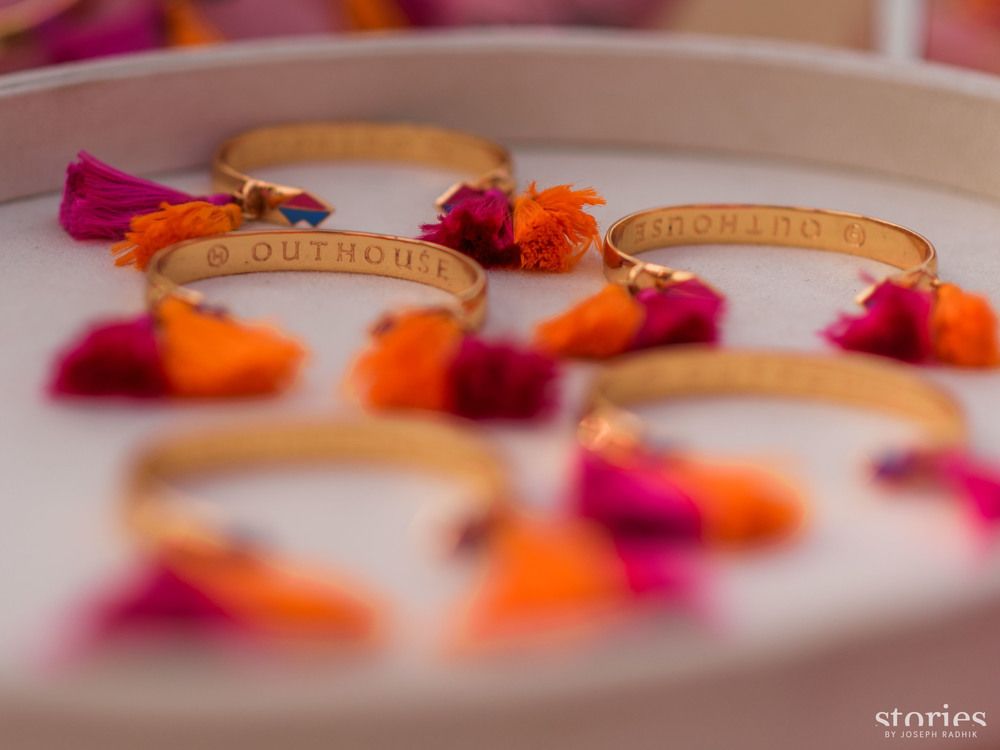 Photography by Stories By Joseph Radhik
#2. Lac Bangles: Lac bangles are traditional and beautiful gift idea as they are available in a whole lot of varieties. These colourful and ethnic bangles will surely make your guests happy.
Photography by Weddingnama
#3. Saree Borders: One of the most elegant and personalized favours of all time as these saree borders are surely going to be used by your guests in a most elegant manner.
Photography by The Wedding Salad
#4. Traditional Potlis: Ethnic and esignsl potlis have a plethora of beautiful esigns with intricate embroidery which you can get your bridesmaid's matching ones to keep their necessary items in.
Designer Handcrafted Potlis by The Pink Potli
#5. Colourful Dupattas: Colourful bandhani or phulkaridupattas are perfect gifting option for  the bride's maids as they are useful too. They can from a variety of colours and designs.
Wedding Planing by Mpire Luxury Planners
#6. Jutti: Gifting your guests a jutti or mojris is a great option as they would love to wear it.
Juties by Needledust
#7. Mehendi Inspired Cookies: If you want to leave an ever-lasting impression on your maids, try giving out a mehendi-inspired gift to awe your guests. These are just simple sugar cookies with icing and frosting designed in mehendi like patterns which is delicious way of gifting.
Cookies by HennaLounge.com
#8. Maang Tikka: To gift a Maang Tikka is a unique yet useful since your guests will surely feel happy to have such a great favours.
Photography by Frozen In Clicks
#9. Earings: They look great and are perfect gift items to give as mehendi giveaways. These funky western earrings are common of all but most useful as well.
Photography by Fotowalle
#10. Parandis: Please your friends by gifting them these ethnic and colourful parandis so that when they dress up for an event, they get rejoiced by your appreciation which is precious for them.
Parandis Design by Khanne DI Hatti (Patiala)
Checkout more links like this : Trendiest and Beautiful Jewellery For Your Mehendi N Sangeet! | Mehendi Designs Zara Hatt ke !!! 🙂 | How To Look Stylish On Your Mehendi Ceremony | 5 Question To Ask Your Mehndi Artist Well In Advance