5 Question To Ask Your Mehndi Artist Well In Advance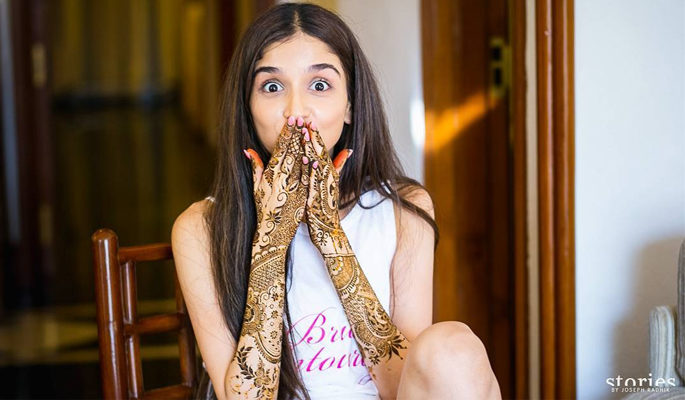 Mehndi ceremony is one of the most significant events of wedding. It is a pre-wedding ritual  that is organised following with  sangeet ceremony. Wedding ceremony is colourful moment full of different colours in which the colour of mehndi add beauty in it making more auspicious. Mehndi ceremony has been our tradition since very early as it signifies the bond of marriage. When it comes to select the designs to be applied on palm and feet, since every brides aspires to get perfection on the day very special to them, Mehndi artist is the one who can better understand the quest of brides and make them feel unique by their intricate and decorative designs.
At the same time there is chaotic feeling in selecting best artist to get perfection and desired dream to be fulfilled. Therefore selection of best possible mehndi artist is quite tough decision for bride-to-be who would be helpful in achieving of what they had been dreamt of. But dear bride wait for a moment and think intensely that how you are going to select best artist for your great moment. What would be the criteria on which you will make your decision. So in lure of getting the best, don't forget to keep in mind the minutes things. You must ask to get a prior view of mehndi artist before selecting him/her. Here are the list of five questions that must be asked to your artist before the event. These questions will form base on which you will take decision and feel your moment with the fullest.
#1. Is this real heena?: You must ask about the type of mehndi as it is the key factor of the mehndi. Yes type of mehni as heena is thought to be of the best quality. You should never compromise with the quality. No adays some chemically prepared mehndi cones are also being used by artists. Therefore you must keep attention of this fact and understand the probable hazards to the skin it can cause. The colour and aroma of mehndi will give you a hint of about the originality of the mehndi as this quick way will help you in differentiating a skilled henna artist.
Photo by DotDusk Studios
#2. What are the charges for the guest?: Get clear about what mehndi the artist is going to offer to the guests. You should get an stipulated idea about the fee the artist will charge whether charge extra for the guests so that it do not get lead to confusion. Every artists have their own package of charges. They can charge on the basis of number of hands or persons or the kind or design of mehndi that you have selected.
Photo by Cupcake Productions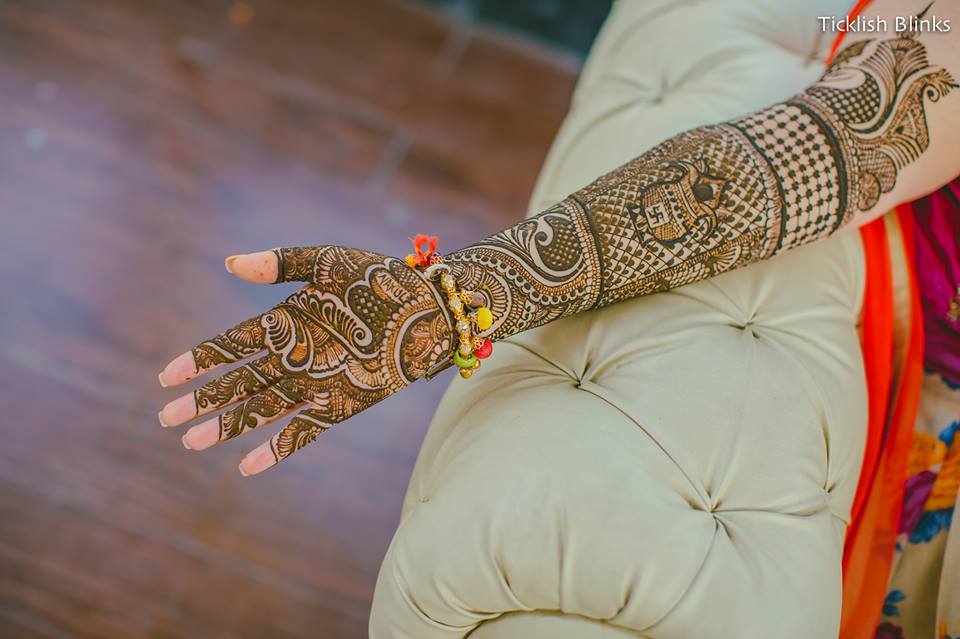 Photo by Ticklish Blinks Photographer
#3. Can you full off these designs? You can even ask for trials: Most importantly, discuss that whether the artist can be succeed in recreating the designs that are complex and tough to replicate. If your mind and heart is moved by some unique designs and you desired that the similar design be re-created on your palms then you must ask for trial. You must check with portfolio of the artist and have a deep study about his/her work. Fixing a day prior to wedding for trial of mehndi would be quite good decision as it will help you to know about the uniqueness and qualities of artist as it will give indication about how much he/she is advanced or skilled.
Photo by Morvi Images
Photo by Stories by Joseph Radhik
#4. Any special sitting or lighting arrangements you need for bridal mehndi?: Some mehndi artists have very specific way of showing their art for which they need some special arrangements. They require more focusing lights sometimes. Since making comfort for artists is also something that must be taken care of so that they can showcase their designs and creativity with full zeal. Therefore it is a good idea to know about the requirements of the artist priorly.

Photo by Kismet Jewell Nakai Photography
Photo by The Story Weavers
#5. Do you have any other event to cover on the same day?: Yet another important query that you must get clear about i.e. whether the artist have some other plans for the day or he/she is free whole time so that it become easy for you to manage timing.
Photo by The Story Weavers
Checkout more links like this : Mehendi Designs Zara Hatt ke !!! 🙂 | Trendiest and Beautiful Jewellery For Your Mehendi N Sangeet! | How To Look Stylish On Your Mehendi Ceremony | 7 Best Places for Bridal Mehendi in Delhi!