Top Bridal Looks for the Perfect Wedding!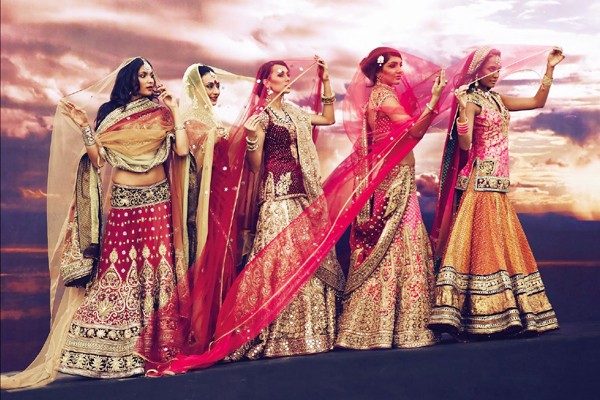 Wedding is a time that is full of fun, surprises, freak outs and epic fails one cannot help avoid. No matter what kind of girl you are – 'the girly girl' who has always envisioned her wedding since the time she was a teenager or 'a tom boy' who always despised the idea of wedding and now has to do some serious last minute wedding planning, every girl wants to look the best she has in her entire life on her wedding day.
The wedding shopping usually starts months or at least weeks in advance and usually results in desperate attempts to find the perfect outfit for the D-day and no amount of pacifying is ever enough. As the wedding day approaches, brides to be have a tendency to freak out, unable to assemble that perfect wedding look.
If you're someone who's getting married, know someone who's getting married, need to attend someone's marriage or just want to increase your fashion IQ, check out these amazing bridal looks you can pull off this wedding season and bravely flaunt it on your Facebook after the wedding, for the next weeks to come:
The Glitzy Golden Red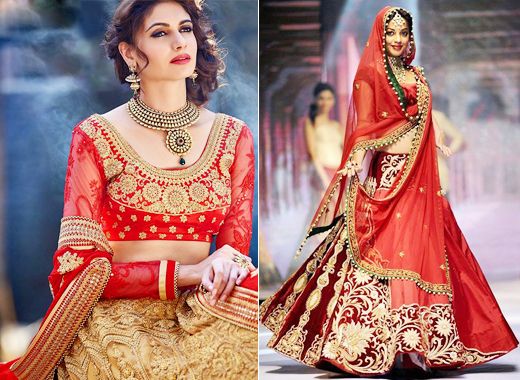 Gold and red are what truly define the wedding look. It might be old school and traditional given all the new looks and colors that are catching up, you can't go wrong in a gold and red lehengas for the wedding. It's classy, regal and royal and you can team up a golden Choli with a heavy embroidered red lehengas with traditional motifs and hand spun patters to really add to the essence. This look will make you feel like a princess for sure.
The Zardozi Dose
If red is too bright and you want something a little "hatke", you can use this lehengas style if not on the wedding, then in one of the occasions preceding the wedding like the Sangeet and Cocktails. You can go for a light base for the Choli and team it up with a heavy, zardozi patterned lehengas in two or more colors to really make the outfit pop. Drape a heavy dupatta and you're done! This look can also be teamed up with the hair in a neat bun and statement earrings that perfectly match the colour of the embroidery. Let this Lehenga help you stand out!
You can avail amazing offers using Jabong Coupon exclusively from cashkaro.com to get never seen before discounts and Cashback on your purchase to make the wedding shopping even more special!
The "Crop Top" Stopper
With newer styles of lehengas coming out and paraded around at fashion weeks, girls are left spoilt for choice. A new look that has caught up and taken the wedding fashion by storm is the crop lehenga which works great even without a dupatta. It'll nicely frame your figure and leave you free without the hassle of handling a dupatta so you can break out those well-rehearsed dance moves on the dance floor without a care in the world!
The "Jacket" of all Trades
Another look that has been all the range since Aishwarya Rai Bachchan hit the Cannes Red Carpet is a nice mix up of a lehenga with a jacket look. This look will look ultimately regal if the jacket has embroidery on it from top to bottom and if it works in contrast with the colour of the lehenga it'll really stand out and you will feel dressed to the nines! You can wear this look for the reception as well!
The Lehenga Saree
You can also drape your lehenga as a saree if and when the occasion demands. Go in for a not so heavy lehenga as you can use and recycle it for other events post the wedding as well. This would be a great way to use the wedding attire which otherwise remain in the cupboard once the wedding day is over. This look will look elegant and sophisticated and will surely keep everyone glued to you!
With these amazing wedding ideas, stop freaking out and get these beautiful looks this wedding season to make your wedding the most unforgettable event of your life!