5 Excellent Tips To Take Care Of Your Bridal Jewelry !
Every girl grows with a dream of getting ready in exotic outfit with elegant jewelry on her wedding day. What all happens on that day is special, in fact, very special. All that lasts forever. Especially the bridal jewelry, because it is meant to be worn and passed on to future generations. So, here are some tips for keeping your bridal jewelry young forever, as young as your relation. Understand your jewel type and take care.
Do's of Jewelry Care :
1. Colored Gemstones
i)  Store gemstone pieces secludedly in soft pouches. These pouches can be the ones you get from the jewelers at the time you shop.
ii)  Almost every gemstone can be cleaned using soap (mild) and water solution. You can use a small brush for this.
iii)  Extra protection is required with certain gems. As an example, emralds are brittle in nature, so these should not be worn while doing household and harsh work. Most importantly, don't hit or subject emrald jewelry to shocks.
iv)  Cosmetics, sprays etc can also damage the gem jewelry to certain extent. So apply all these first and then wear the ornaments.
2. Silver Ornaments
i)  Silver jewelry gets tarnished easily. So take special care while cleaning silver. Use phosphate free detergent or a mild soap solution to clean. Use soft cloth and dry.
ii)  Silver ornaments should never be kept with other metals as it may react and lose lusture.
iii)  Like pearls, silver should also be kept away from cosmetics and perfume to avoid tarnish.
iv)  Keep the jewelry in air tight zip locks. Never store these in paper or cardboard containers.
3. Gold Jewelry
Gold does not tarnish as easily as silver but still it needs care to maintain its shine.
i)  You can clean your gold jewellery twice a month with a cotton cloth or a gentle brush.
ii)  Never use chlorine to clean gold ornaments. Chlorine has a harsh reaction on gold.
iii)  Gold jewelry should be stored in soft pouches.
iv)  Keep gold chains in separate boxes or containers so that they do not get entangled.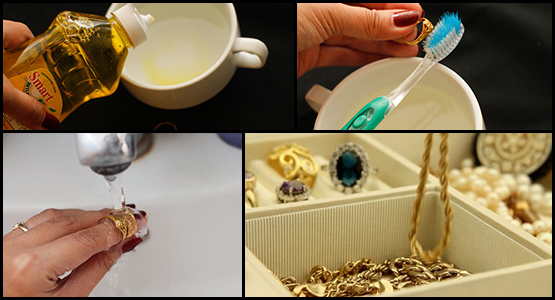 Don'ts of Jewelry Care :
i)  Don't use toothbrush for cleaning your ornament. It doesn't matter how soft the tooth brush is, it has adverse effect on the jewellery pieces.
ii)  Always keep the jewelry away from reactive metals.
iii)  While doing work involving excessive heat or exposure to extensive radiations, avoid wearing jewelry studded with stones.
iv)  Don't keep two different kind of jewelleries together in order to avoid reaction.
v)  Don't wear jewelry before putting your cosmetics or deodorants.
We hope the information in this blog proves to be useful for you. So keep your jewellery young and beautiful to look beautiful as ever.
Also Read : 5 Best Ways to Re-use your Wedding Lehenga