Pocket Friendly Stores In Karol Bagh For Bridal Lehenga!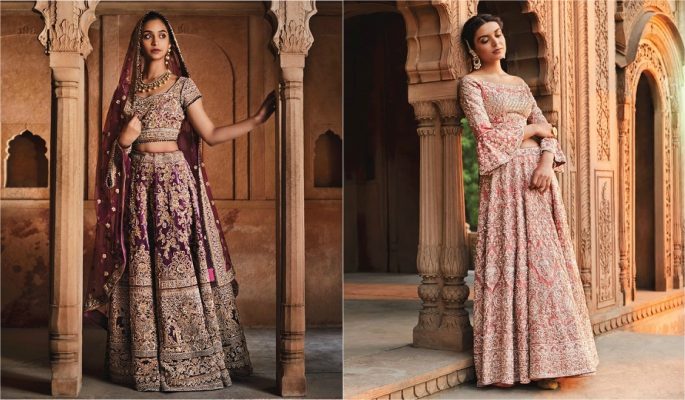 Karol Bagh one of the most famous markets in Delhi is known for its wide range of western and traditional attires. Karol Bagh is worth the fame because it's a one stop shopping destination for all you
shopaholics out there at an affordable price. Always desired to ace a Manish Malhotra, Sabyasachi, lehenga on your d-day. All your designer designer lehengas for an upcoming wedding can be found here without feeling a pinch in the pocket.
Lets take a stride at the most famous and lehenga stores in Karol Bagh for you brides to be under a budget of just 50k.
Over the years Kala Shree has endeavoured to bring out outfits that speaks ethnicity, craftsmanship & heritage.They have our own design house and have fine weavers from the lanes of Benaras, Kanchipuram and Bangalore. Also they have special hand work units in Lucknow, Jaipur, Bareilly, Farrukhabad, Kolkata and Delhi, where special care is observed in the making of exclusive piece while maintain its quality and elegance.
Price Range : 35k-55k | View Complete Details Here
---
 Meena Bazaar has become a premier brand in Ethnic Indian wear for women. With its roots in New Delhi, it has retail outlets in major markets of India, and is rapidly opening stores in other cities.
With a firm hold in the retail sector, Meena Bazaar is well known for its exquisite collection of Sarees, Suits, Suit Pieces, Lehngas and Kurtis.
Price Range-20k-60k | View Complete Details Here
---
The house of Sahil is a couture crafter from Delhi, India, producing the finest in bridal and ocassion couture. Having its presence in karol bagh with a 25000sqft store. At Sahil you can find the latest in fashion at affordable prices.
Price range: 10k- 1 lac| View Complete Details Here
---
Specializing in Bridal Couture, Frontier Bazar-Karol Bagh successfully blends the thread of traditionalism and in with the perfect combination of style. Intricacy and opulence. As timeless elegance on the wedding (lay is the secret desire of every bride. Frontier Bazar-Karol Bagh has crafted a unique and unparalleled $ignature style of their own which is a fusion of In karigari $uch as zardozi, bandhani and dabka work. Embellished by modern Swarovski and semi-precious stone detailing. Combined with contemporary flair. European structuring and drapes to create spectacular ensembles that brings to life every woman's most coveted dreams.
Price Range: 25k-2 lacs| View Complete Details Here
---
Anarkali is a showroom for bridal wear and is based in Karol Bagh, Central Delhi. Mr. Mahesh the owner of the showroom has some exclusive verities of bridal saree, heavy bridal suits and bridal lehenga for every special bride. He knows that the bride's attire is the main highlight of the wedding day hence his collection is very unique and classy in every way.
Price Range: 35k-2.5 lacs| View Complete Details Here
---
Frontier Raas at South Extension, India is the perfect place to shop at.Bridal wear needs to be chosen with great care for it enhances the romance and beauty of this special occasion. Frontier Raas, South Extension presents to you an enchanting collection of Indian bridal couture in a kaleidoscope of colors, hand embroideries, embellishments and craftsmanship catering to all occasions be it a cocktail, engagement or wedding.
Price Range:  25k-3 lacs| View Complete Details Here
---
Designer clothes are every bride's dream. Amit Sachdeva, the house of premium designer wear, has some of the best ensemble pieces for a grand wedding. No bridal trousseau can be considered complete without a spectacular designer attire. Choose Amit Sachdeva for the best bridal wardrobe. Available in a wide price range, pick out the ones that best suits you.
Price Range– 25k-50k| View Complete Details Here
---
Checkout more links like these: Unique Lehenga Colours This Wedding Season | Bridal-Lehenga Tips For Different Body Shapes 17 images that stole everyones heart in 2017 | 10 couples who coordinated their  outfits like a pro | trending wedding decoration ideas | 10 dream brands and their flagship stores in Delhi