Get the bridal glow- Wedding Skincare by Lotus Professional!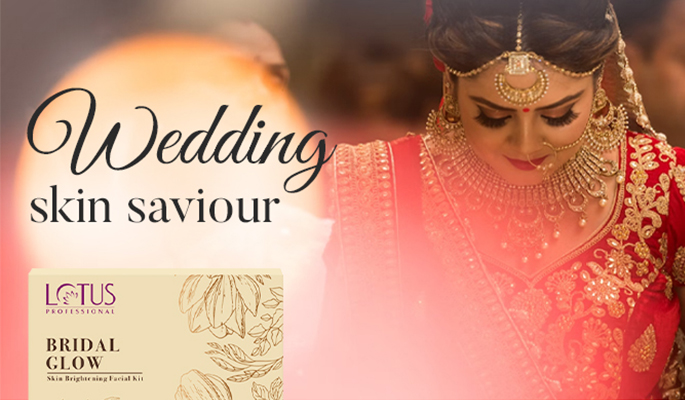 Weddings are wonderful and awe-inspiring!
Your special day is on the horizon and the planning is well underway. You've found the perfect dress, your Pinterest is full to the brim with hair and makeup ideas, and now all that's left to do is ensure your skin is looking it's very best when all eyes are on you. It's very natural to get wedding jitters and worry about the things you have never wondered about before. But there's one significant detail that you can't afford to miss among all the chaos: your bridal glow regime. So now the question comes: how do you get that bridal glow while ticking boxes on your pre-wedding to-do list?
The ideal time to begin your wedding skin prep isn't in the days or weeks leading up to the big day. It's months. Six months, in fact. In her quest for flawless skin in every function and every frame, there's nothing a bride wouldn't want to try. But ask any beauty expert, and they'll tell you that the secret to acing radiance lies in persistent skincare, coupled with a gold bridal facial. So, here's the ultimate guide to getting the best bridal skin care for the big day and the perfect bridal glow facial kits offered by our trusted and tested brand.
Lotus Professional. Lotus Professional is a Professional Beauty Division of Lotus Herbals Pvt. Ltd., a leading Cosmetics Company based in India, providing Premium Natural skin care products and top-notch Beauty Services across the country and overseas. So best products for our brides-to-be!
Their concept is centered around formulating potent plant-based skincare solutions using high-quality natural actives. They are sincere in their commitment to creating safe and effective products, using vegan-friendly and clinically proven ingredients. As a Professional Skincare brand, they offer special in-salon treatments and personalized home-care programs with carefully crafted, natural skincare products, like the PHYTORx range.
---
If you are a bride-to-be don't forget to:
Exfoliate regularly – While it may not be visible to the naked eye, dead skin cells will leave your complexion dull and lackluster! So, exfoliate periodically (twice a week), and don't forget to wear sunscreen.
Drink lots of water don't forget to drink ample water as it has glow-enhancing ingredients and antioxidants. Dehydrated skin looks dull and tired.
Cleanse twice a day  Cleansing the skin removes all the dirt, makeup, impurities, and sunscreen so that the skin can repair itself in the best way possible. It's important to cleanse both morning and evening so that you can prepare your skin for the products that will follow.
Stress less It's easier said than done especially when you're planning the biggest day of your life but keeping focus to a minimum is key to a healthy complexion. Try anything that helps you to destress, from a walk in the fresh air to meditation or reading a book in between the wedding planning.
Apply natural ingredients in the bridal glow facial Do not experiment with your skin right before the big day. Go for natural ingredients (Lotus Professional has some great options) as it gives an illuminating radiance to the skin by accelerating the skin's natural regeneration process. Also works on pigmentation, blemishes, and spots enhancing the complexion to provide the perfect flawless glow and giving you the skin of your dreams for your special day.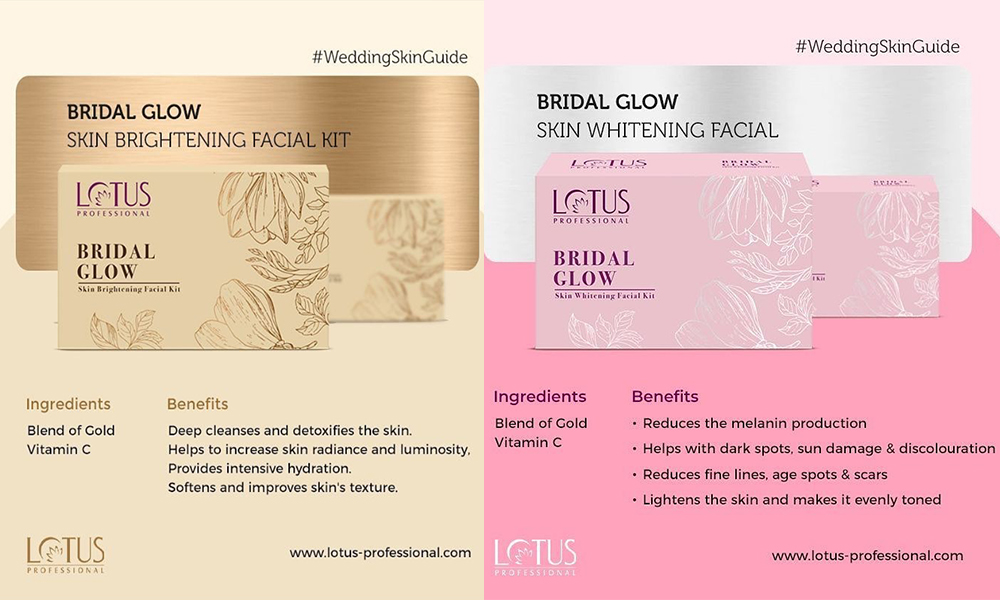 ---
Bridal Glow is a seamless blend of Gold and Vitamin C which is a perfect option for deep cleansing, exfoliating and moisturizing skin in the run-up to the big day. Gold particles easily permeate into deeper layers of skin, working to retexture, repair, and rejuvenate skin cells from within. It also has the potential to fight bacteria off the surface of the skin. It benefits in slowing down aging, boosts collagen production, prevents sun damage, heals acne, and lightens skin tone.
Vitamin C is the holy grail for all things skin-related, and for good reason. This incredible antioxidant, anti-inflammatory nutrient offers many benefits for the skin, including the potential to:
It Makes collagen to keep skin youthful and plump
It heals wounds
It maintains and repairs damaged skin and cartilage
It diminishes the appearance of fine lines and wrinkles
It reduces the appearance of dark spots
---
We understand it's arduous to choose from a plethora of options available, especially when it comes to your skin. To sort this concern for our brides-to-be and having understood the benefits of Gold particles and vitamin C. We recommend you Pamper your skin with the Bridal Glow Skin Whitening Facial by Lotus Professional and here's why:
It reduces the melanin content of the skin
It can help with dark spots, sun damage, and discoloration
It also reduces fine lines, age spots, scars, and other marks
It lightens the skin and makes it evenly toned.
---
As important as it is to do skincare, it is even more important to know the right product for your skin type. For our brides-to-be, who have dry skin we recommend getting this Bridal Glow Skin Brightening Facial Kit as it helps in increasing skin radiance and luminosity, provides intensive hydration, deep cleanse and detoxify, improves the appearance of hyperpigmentation and dullness, softens and improves the skin's texture, and helps diminish fine lines and wrinkles.
So brides-to-be! Take a deep breath, get ready to pamper your skin, and let Lotus Professional take care of the rest. They trust nature and give the best of nature, so all their products are formulated using scientifically balanced combinations with fast-acting and non-irritating natural ingredients that can totally transform your skin. Getting a bridal glow was never this easy, so why not make the most of it?
To know more check out their entire range of beauty and skincare products and get that dream skin you always wanted!
---
Check out more links: Important Pointers For A Flawless Summer Bridal Makeup| Wedding Blues And Wedding Anxiety That Are Common And Rigorous Need To Be Beaten Off To Enlighten Your Relationship.| Manish Malhotra's 'Nooraniyat' is Every Bride's Dream Come True| Sabyasachi Lehengas That You Need To Bookmark Immediately