7 Bollywood Weddings That Were Unique!
Bollywood and weddings have always had a special connection. In addition to the juicy gossip about who married whom, Bollywood weddings set a few trends and show-stopping looks that are remembered for decades. From the lehengas to the mandap decoration, Bollywood gives a lot of inspiration for a grand wedding. And lately, these Bollywood weddings have been on trend. Deepika Padukone and Ranveer Singh, Priyanka Chopra and Nick Jonas, Katrina Kaif and Vicky Kaushal, and Alia and Ranbir have all married in the last decade.
 These wedding photos nearly broke the internet because they were all over your Instagram feed. But it was the uniqueness and edginess of these Bollywood weddings that drew the most attention. So, here are five Bollywood weddings that were one-of-a-kind and set a trend for the audience.
---
Anushka Sharma and Virat Kohli
Virat and Anushka's wedding, which cost 100 crores, is still remembered as the gold standard for the most high-profile celebrity weddings. Their wedding really made and broke many trends, and the fans were in awe of how beautiful both were looking.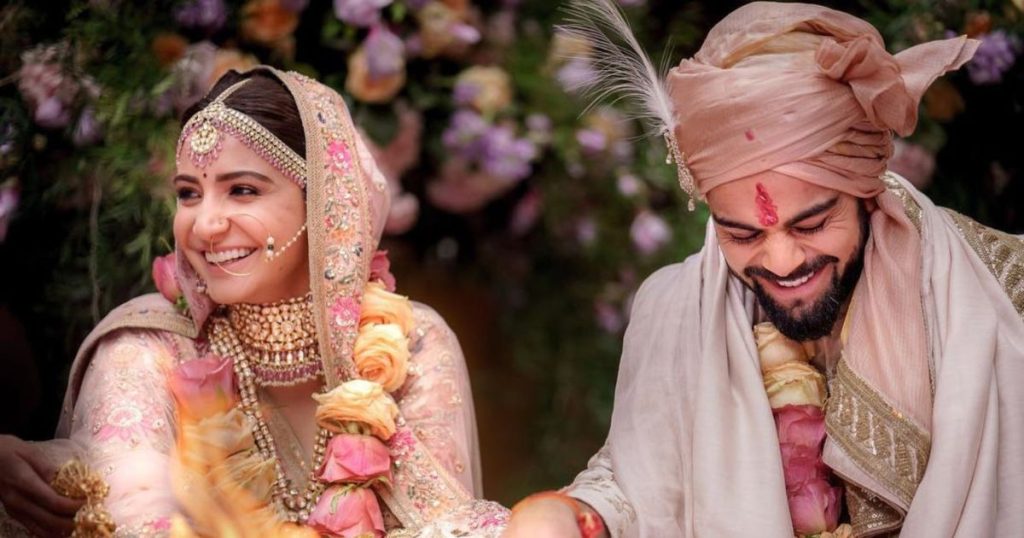 They married on December 11, 2017, in Borgo Finocchieto, Tuscany, Italy. Whenever there is a discussion of Virat and Anushka's wedding, it is impossible not to talk about the lehenga she wore on D-day. Anushka's Sabyasachi pale pink lehenga set a new trend for brides wearing towering pink lehengas to their weddings. The Lahenga took 67 Karigars 32 days to complete.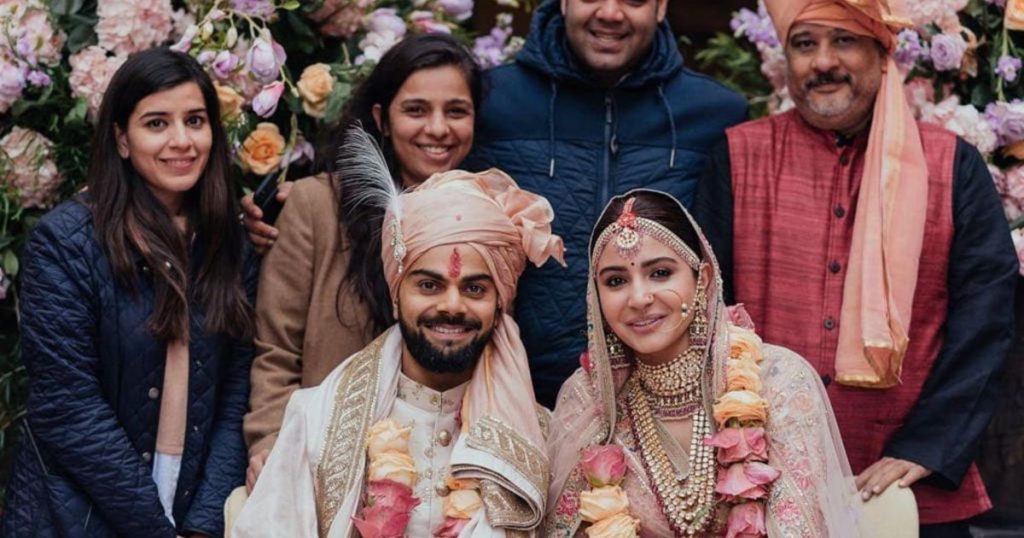 One of the major elements of their wedding was keeping it private. To take care of this completely, only 42 people were invited, which included family and close friends. However, this wedding remains one of the most popular celebrity weddings.
---
Deepika Padukone and Ranveer Singh

` 
Deepika and Ranveer's wedding was one of the year's highlights. On November 14–15, 2018, the couple married at Villa Del Balbianello on Lake Como in Italy. The wedding had a strict no-phone policy, and only selected guests were called for the main Shaadi function.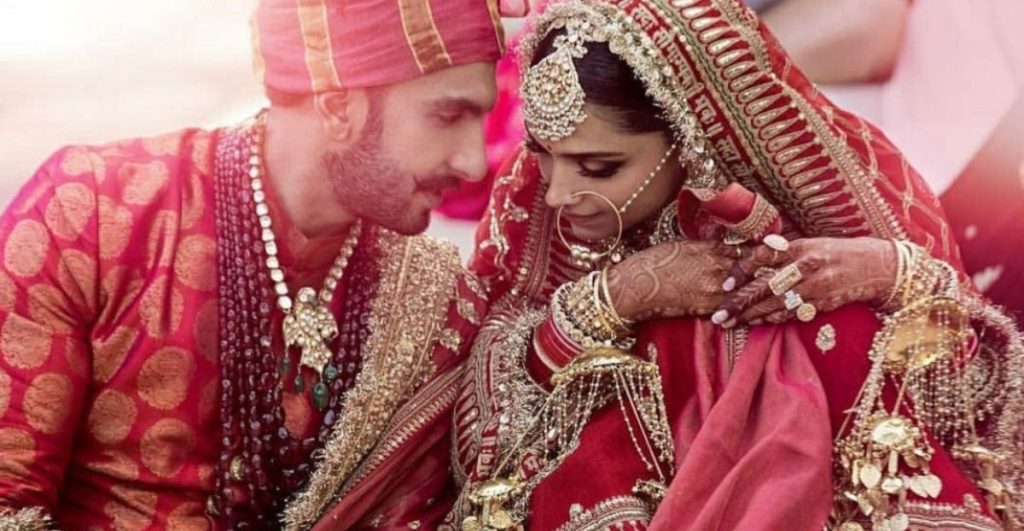 But once the pictures were revealed, it was no secret that the attire of both the bride and groom was just spectacular. Almost every attire was designed by Sabyasachi, and Deepika's golden white sari at the reception was in fact a boom. To take care of the different cultures of the bride and groom, the marriage was conducted in both Konkani and Sindhi styles. Isn't it lovely to enjoy D-Day twice with different rituals?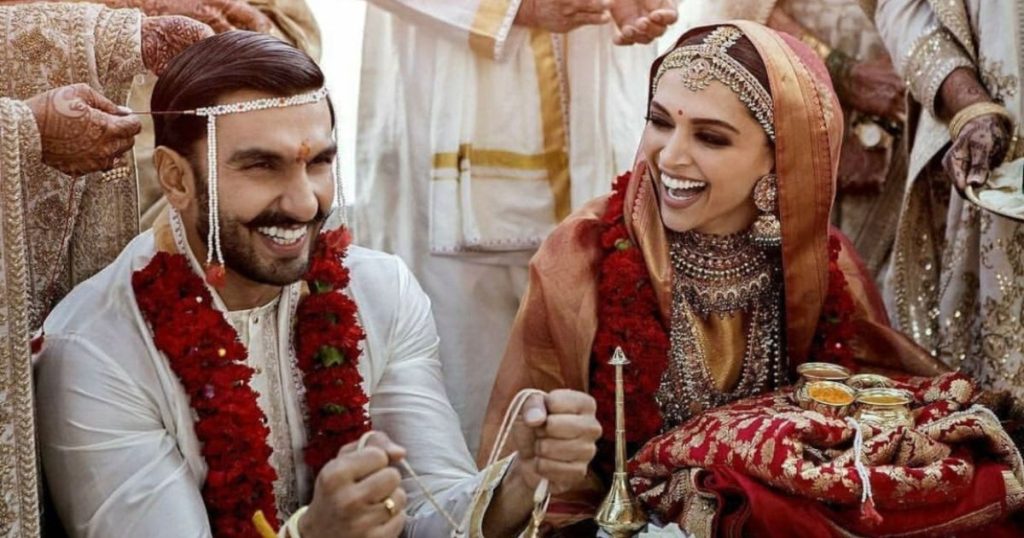 A makeshift Gurudwara was also built at Villa Del Balbianello to accommodate the Sindhi ritual Anand Karaj. Because Ranveer Singh is known for doing things differently, the Baraat will arrive by seaplane at the wedding! Their wedding was in fact the perfect definition of a royal grand wedding, and did you know that both Ranveer Singh and Deepika Padukone customized their footwear for D-day?
We have to say that it took us a while to get over the Vibe!
---
Priyanka Chopra and Nick Jonas
This global wedding of our Desi girl created a lot of buzz around the world. Nick Jonas was a pretty well-known singer, and obviously, our Miss World is an icon, and so was their wedding. The couple tied the knot on December 1, 2018, at Umaid Bhawan Palace, Jodhpur.
Just like the venue, the whole wedding was grand and royal. The wedding was done in both Hindu and Christian rituals, and Priyanka definitely stole the show with her Sabyasanchi's red lehenga and white gown on the respective days. The guest list had approximately 200 members, including family and close friends. The famous TV show host Lily Singh was also spotted in Haldi, along with cousin Pareeniti Chopra.
The wedding was actually of the Bollywood type, as on the sangeet, the whole family rehearsed and enacted how Priyanka and Nick met. The Sangeet was grand and had live performances from the Jonas brothers.
The Christian wedding ceremony was officiated by Nick's dad, Paul Kevin Jonas, making it an especially auspicious moment for the couple.
Priyanka Chopra and Nick Jonas are the perfect examples of love with no boundaries, and the fact that they look so good together is amazing.
---
Vicky Kaushal and Katrina Kaif
Katrina and Vicky's wedding has been one of the biggest buzzes in Bollywood. Because of the tight security and the wedding's secrecy, fans were even more excited.
Do you guys believe in manifesting your dream partner? If not, then you should give it some thought. Because we all remember how Vicky Kaushal actually manifested Katrina Kaif on KWK.
The couple, amidst dating rumors, finally got married on December 9, 2021, at Six Senses Fort in Barware, a resort in Sawai Madhopur, Rajasthan. According to reports, the couple had a civil wedding first at Vicky Kaushal's home before proceeding to the lavish wedding. The bride and groom were treated like king and queen, with a suit of armor costing 7 lakhs per night.
Katrina has been known for her beauty and is considered one of the best actresses of the decade, but she literally killed the bride look with her Sabyasachi lehenga, which was simplistic but made a statement. But the highlight of the wedding was the tough security that was put in place for it. There was a specific rule book for the 120 guests invited to the wedding. Along with that, there was a strict warning that any drones found would be shot.
Well, we can say that this all turned out to be fruitful, as both the groom and bride looked stunning.
---
Rajkumar Rao and Patralekha 
We adore Rajkumar Rao for his outstanding acting, but he is also successful in other fields. Rajkumar Rao and Patralekha have an 11-year-old love story. Yes, almost a decade!
 The couple got married on November 15, 2021, at the Oberoi Sukhvilas Spa Resort in Chandigarh, India. Rajkumar Rao planned to marry Patralekha the very first time he saw her on LSD sets. We can say that few dreams truly come true.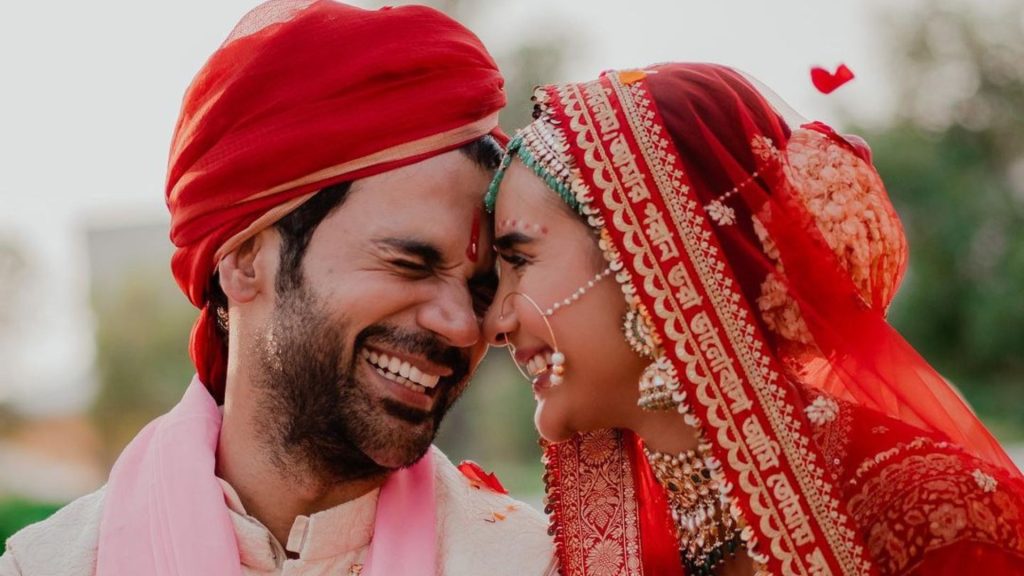 Their wedding totally broke the internet with an amazing gesture by Rajkumar Rao, where, breaking tradition, he asked Patralekha to do the Sindur ceremony. which totally melted our hearts.
---
Vikrant Massey and Sheetal Thakur
 Vikrant Massey and Sheetal Thakur, a beautiful couple, make the list. On February 18, 2022, the couple married. Unlike going to some massive international destination, the couple chose to have the ceremony in the bride's (Sheetal Thakur's) home state. -Himachal Pradesh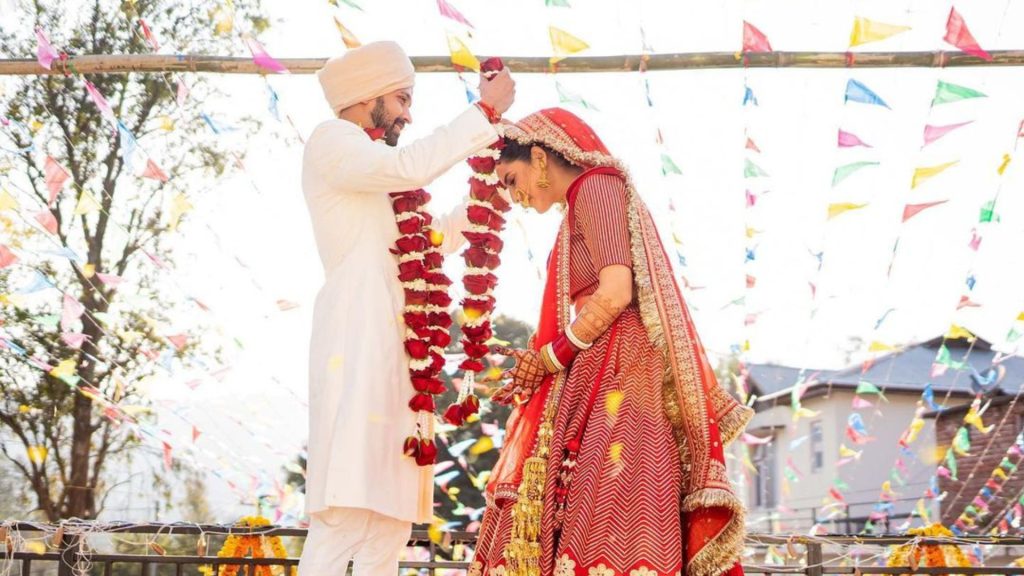 But the couple actually registered their marriage on Valentine's Day, which is February 14. And there was an approx 3-year gap from their roka to their wedding. 
The wedding outfits of both the bride and groom make them look like real royals. Sheetal actually went for some traditional Himachal work on the lehenga with Rani Haar and Nath.
They totally stole our hearts with their awesome wedding moments.
---
Alia Bhatt and Ranbir Kapoor
The cute and long-awaited Bollywood couple married after a long relationship. There was a lot of speculation about whether or not it would happen, but Alia and Ranbir were the most beautiful bride and groom of the year in the end.
Unlike other Bollywood weddings, this one was at a simplistic but thoughtful venue. The wedding took place on the balcony of Ranbir's Vastu Apartment on April 14, 2022. Alia wore a beautiful off-white saree by Sabyasachi, but something that stole the show was the subtle no-makeup makeup look.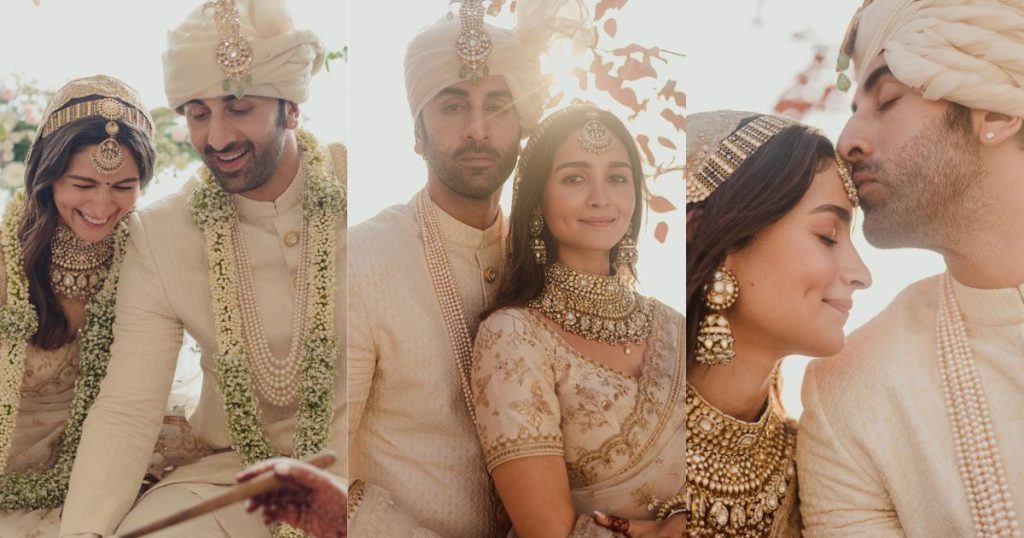 The wedding was attended by only a few close friends of the couple, but the celebrations were just as grand as the big ones.
---
So readers, here are the top five Bollywood weddings and things that were totally unique to them. Tell us in the comment section which one you found to be the most unique and special. To check out more such amazing wedding moments, follow our Instagram at weddingplz.
---
Read more about Bollywood weddings and beautiful brides: #Kargothervar as Karishma Tanna Got Married To Varun Bangera In A Dreamlike Affair | Details Of The Most Awaited, Star-Studded, Regal Wedding Celebration Of Vicky Kaushal & Katrina Kaif! | All About Wedding Shenanigans Of Shraddha Arya & Rahul Nagal! | Yuzvendra Chahal And Dhanashree Verma, Got Hitched In An Intimate Wedding Affair! | Get Inspiration Directly From The Newly Wed Couple Wedding, Gauahar Khan And Zaid Darbar!