Classy Gujarati Wedding – Customs and Rituals
Gujarat – One of the prosperous states of India has a very varied n wide culture. Gujarati Wedding is very different from other Indian Weddings. In this article, we have described what makes this wedding unique from others and the customs followed by Gujarati's during this important occasion.
Let's discover what happens before wedding, after wedding and during the auspicious day in Gujarati Families:
Pre Wedding Rituals:
After the girl and the boy decides to tie a knot and bind themselves in a new relationship and their family members also agree with this bond, then starts the process of rituals where first is:
a) Sagai (Engagement) : In order to officially announce the relationship between the boy and girl, Engagement ceremony is arranged at groom's home where few relatives are invited and bride's family offers gifts and sweets to the groom's family.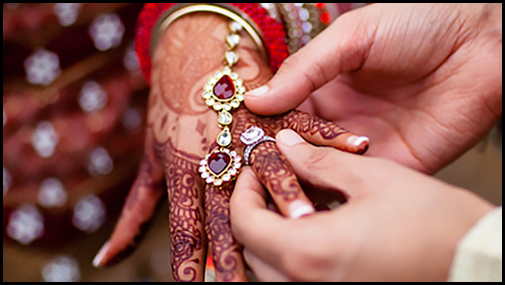 b) Mandap Mahurat : Gujarati people worship lord Ganesha before any auspicious occasion. Before commencing this new accord, Ganesh puja is arranged and a date is fixed regarding mandap fixing. This is known as Mandap Mahurat.
c) Gruha Shanti : A kind of puja (prayer) is arranged at bride's as well as groom's house. This ritual is performed to seek blessings from God for the newly engaged couple.
d) Peethi chodvi (Haldi) : Peethi is known as the mixture of turmeric powder with chandan and other ayurvedic herbs that is applied to bride and groom before their marriage as it is considered that applying peethi some days before the marriage gives a glow on the face.
e) Mehandi : Especially for females, this is the most awaiting ritual. All the relatives and friends of the bride are invited to apply Mehendi and little bit of dance & music makes the atmosphere worth enjoying.
 f) Garba : The well known Gujarati folk dance as well as an important marriage ritual arranged between the bride's and groom's family where they can know each other in a better way. Dance is performed with Dandiya sticks. This is known as Dandiya raas.
Wedding Rituals:
a) Jaimala : The wedding starts with this ritual where bride and groom put on beautiful wedding garlands to each other.
b) Madhuparka : Next comes madhuparka, where the bride's mother washes groom's feet with milk and he's given a mixture of milk and honey to drink.
c) Juta Churai :  An interesting yet funny ritual that is carried out by bride's sisters where they steal the groom's shoes just for fun and then return at the end of wedding for some monetary reward as agreed by both the families.
d) Kanyadaan : An important Indian ritual as it is believed that those who get a chance to perform this ritual are really lucky. Here, after the chant of some mantras or shalokas, the bride's father gives her hand to the groom with a faith that now he will take care of her and be with her in odd and even times.
e) Hasta Milap and Saat pheras : After kanyadaan, the actual wedding starts with Hasta milap. Here, a knot is tied between bride and groom and symbolically this knot is tied for ever. Then starts the ritual of saat pheras. (Seven rounds in front of Agni dev) .These seven rounds are the seven vows given by husband and wife to each other to live together for seven births and face ups and downs of life together without any faults or disputes.
f) Vidai (Bidding Farewell) : A heart touching ritual as now it's time for the girl to bid farewell to her family, parents, brothers, sisters , relatives with whom she had spent her entire life and join her husband's family.
Post Wedding rituals – Knowing new Family
a) Reception : It is organized on the same day of the wedding mostly in the evening where all the well wishers, near and dear ones bless the newly married couple with gifts.
b) Gruh Pravesh : Daughter-in law is considered as Goddess Laxmi. Before entering her husband's home, the bride is asked to knock down a vessel full of rice with her right foot and then her feet are dipped in a flat vessel filled with water and kumkum ( a red colored substance used during pooja ). Now, she's asked to enter the new home. This means Goddess Laxmi has arrived.
c) Aeki Beki : The last ritual wherein a funny wedding game is played by the couple. Here, a vessel filled with water, milk and kumkum is kept and in that several coins are drowned. Then, both the bride and groom are asked to find it, one who finds the maximum coins is considered as a ruler of the house.
This entire phase from pre wedding to post wedding is really enjoyable where all relatives and friends meet each other, take a small break from their schedule and spend time to bless the newly-wed couple and be a part of their happiness.
Also Read :Pre wedding photoshoot by Noopur and AnishMuslim Wedding Rituals And Customs|Sikh Wedding Rituals: Vibrant Colours and Costumes| Simplicity with Ethincity-Mahrashtrian Wedding Rituals|Do me a a favour lets play haldi