Bridal Comfort With Jutties!
If you are a bride-to-be who wants to float down the aisle with a blushing face, dance your heart loud and kiss your family goodbye with happy feet then you surely have to be very heedful while choosing a right pair of footwear for your wedding dress.
From high heels, peep toes to flats and sneakers, there are so many options available in the market that undoubtedly selecting perfect slip-ons can sometimes be more difficult than short listing your bridal dress. So, there's no excuse for your bridal shoe shopping to be a bland – afterthought because after all, you are going to stand for photographs for an awful long time.
Be sure to consider not only your outfit for the day but also your comfort level, venue and personal style before you pick a perfect pair of shoes. For every type of bride and wedding we have listed some most stylish and comfortable pairs.
Aawww… Modern with a touch of tradition… we love them too ♥

Footwear by Talking Toe
---
A gorgeous pair of jutti is perfect for any type of ethnic wear.
Footwear by Coral Haze
---
Now you can easily dance, walk miles and even jump up high with this option as sore heels can never be a problem with these pretty sliders.
Photography by AbhiSakshi Photography, Ghaziabad
---
Can't deal with heals? Not a problem! A gorgeous pair of jutti is the trendiest solution for any type of ethnic wear.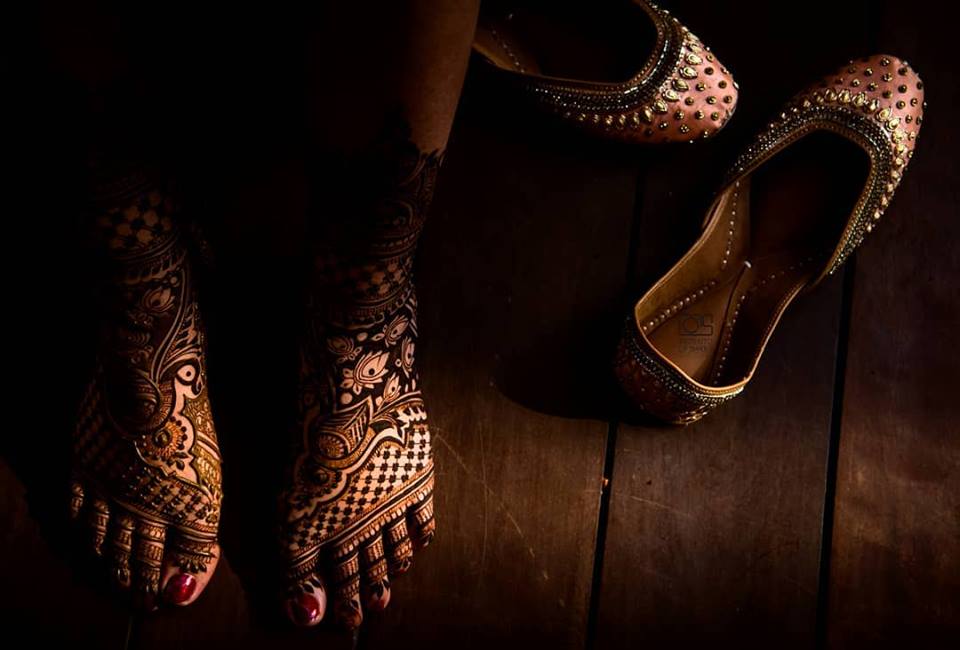 Photography by Memento of Shades Photography
---
Not in a mood to wear heels? How about a nude pair of hand worked juttis?
Juties by Fizzy Goblet
---
If you are very particular about wearing the exactly same color and work, you can get a pair of jutti customized to match with your outfit and complete your bridal look in the most perfect manner.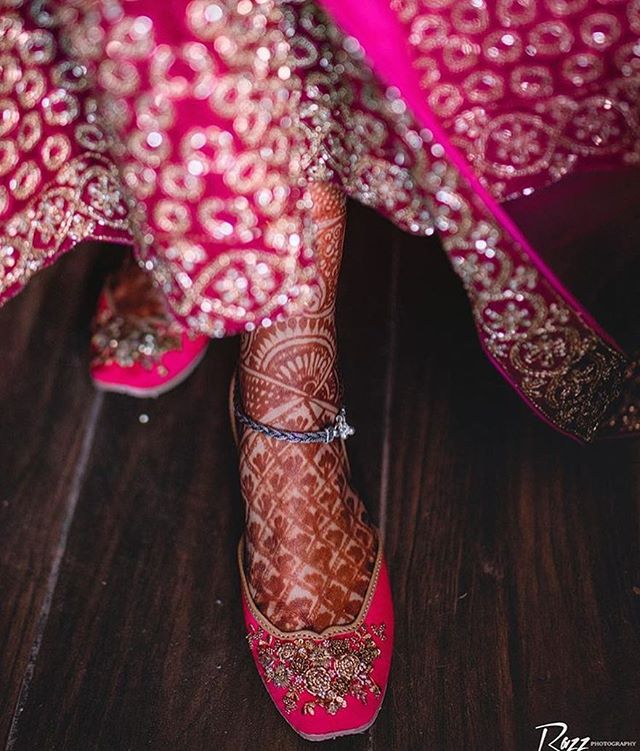 Juties by Needledust
---
Pretty prints are very much in trend this summer and a printed pair of mojari can give you maximum comfort even on the dance floor.
Juties by Fizzy Goblet
---
This one is surely for all the pataka dulhaniys who want to rock in their desi swag on their big day.
Footwear by Poshampa
---
Juttis or mojaris were extremely popular amongst the queens who belonged to the richest era of Indian history. How about getting the same feel on your big day?
Photography by CoolBluez Photography
---
'Shoes speak louder than words.' Yes! Let your shoes do the talking and you enjoy the show.
Photography by Oragraphy Photo And Cinema
---
 Checkout more links like this : When Shoes Speak Louder Than Words : Gorgeous Wedding Footwears We Couldn't Ignore! | Needledust Juttis Launched Springfields, for Beautiful Summer Brides! | Needledust Juttis Launches Special Capsule Line – Eclectic Mix of Festive and Contemporary | Indian Bride: Breaking The Cliches