Wedding Checklist – To Make Your Occasion Perfect!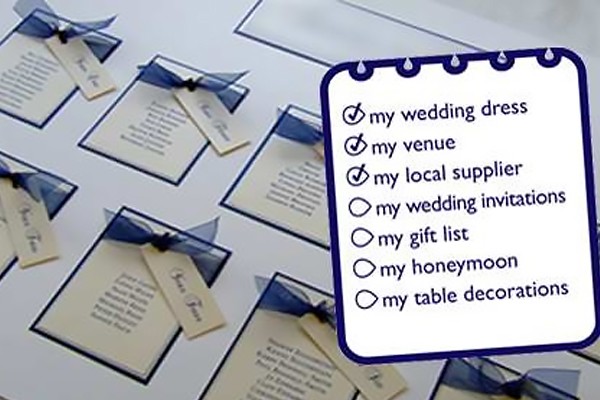 November 15th, 2013
2 Min Read
A good planning is the mantra to Success for almost everything. So for a wedding to be a complete success, planning needs to be started months in advance. Preparing a wedding checklist is the most precise and organized way to plan for it, and since it's a checklist that covers almost every aspect and every event of the wedding, 'Time' is the important entity that is to be kept in mind while making the Checklist more accurate.
The following things are the checklist points that are created with hypothetically taking marriage to happen after 6 months, and Time duration may exceed or may be less in different scenarios. So if you have six or more months in your wedding, here goes the list.
6 or More months Before Marriage
Decide the wedding date

Make a list of all the events that you want to have – Roka, Engagement, Cocktail party, Sangeet, Jagran… its your occassion, after all!

Decide your wedding budget

Prepare a list of all the guests and know the estimated count
5 Months Before Marriage
Finalize the wedding venue

Decide the wedding theme

Start looking at invitation card designs.

Make a list of all the items and quantity that you have to shop for, like Bridal Lehnga, Jewellery, Gifts for Relatives, Groom Sherwani….Etc

If you wish to settle out of India, find out about marriage registration and license
4 Months Before Marriage
Finalize the Caterers

Finalize the Florists for decoration of the venue and your home.

Select and finalize your wedding invitation card.

Make a list of all the out of town guests who will be coming and decide upon their accommodation setting

Choose a Honeymoon destination and make all the proper arrangements like renewing passports and getting the Visas.

Start shopping for the Wedding Dress including all the attires that are to be worn on Reception and other ceremonies like, Sangeet, Mehndi etc.

Shop for Jewelry, footwear and other accessories that are needed.

Start taking the pre-bridal sessions from your beauty parlor
2 Months Before Marriage
Make hotel booking at your honeymoon destination.

Book travel tickets (airfare/railways) for Honeymoon.

Finalize the photographer for your wedding, confirm by paying an advance.

Finalize the band that will play in marriage.

Decide on the meal menu of caterers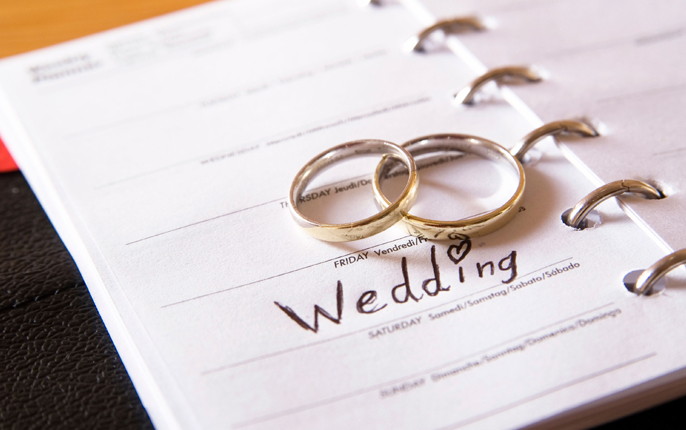 1 Month Before Marriage
Start distributing the wedding Invitation Cards

Make stay arrangements for out of town relatives/guests. Book hotels/guesthouses if required

Make travel arrangements for your guests – book their tickets if required

Decide the pundit ji / priest/ officiant who will perform the marriage rituals

Hire a choreographer for sangeet (optional)

Book the mehndi wala for 'Mehndi ki Raat'.

Book a beauty parlor / makeup artist for your bridal make up
18 Days Before Marriage
Decorate your home with lights and flowers

Book Mithai/fruits/dryfruits from vendors

Book lights or any other audiovisual equipment you might want to rent.

Decide the DJ and music for Bachelor party/mehndi/ sangeet ceremony.

Check all your clothes' fittings : Suits/Blouse/Dresses/Sherwani/Wedding Lehnga (case) etc and see if any of them needs alterations/exchange

Confirm all honeymoon travel plans (including hotel booking, transportation to airport etc)

Arrange and Organize your visa and passports, traveler cheque, foreign currency(if required)
One Day Before Wedding
Get the Facial, Manicure & Pedicure done.

Assign somebody as a Bride's maid and Groom's man to take care of the Gifts and envelops.

Check the last minute arrangements for Honeymoon.

Get the wedding dress ready
On The Wedding Day
Get the hair & make-up done by your stylist.

Get Dressed.

Get Married.
Also Read : The 9 Do's And Dont's Of Wedding Planning