Selecting Wedding Jewellery : 5 Things To Keep In Mind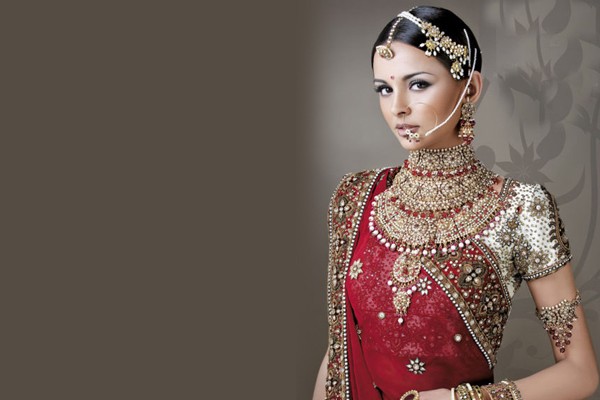 Things to keep in mind while selecting your wedding Jewellery
That special day is here and you want to look just perfect! After days, months or even years of dreaming about your wedding attire, there is one more task which is as important and that is the selection of your wedding jewelry.
The jewelry you would wear should echo the style of dress that you are going to wear, be it traditional, modern, simple, or contemporary.
Let us help you with some important things to keep in mind while selecting your wedding jewelry to go along with your wedding lehnga, saree, suit or gown…whichever you are planning to wear..
Color of the Dress
This is a major deciding factor for the choice of your bridal jewelry. The jewelry can either be in contrast or matching with the complete attire depending upon the color of the beading or lace on the garment. The Style, Pattern, and design are the major premise for deciding your accessories.
As far as my experience goes, I would suggest a contrast, i.e. choosing the less prevalent color in your dress and matching your jewelry with it , to give you a catchy and beautiful look!
Work' on the Dress
1) Let's say for traditional wedding attire you must never opt for modern edgy accessories like geometric necklace or smaller earrings and so on.
2) If your dress has Gems like Pearls, Stones, Sequins, then their color and design have to be kept in mind before picking out the jewelry.
Neckline of the Dress
1) Choker necklaces or wide necklaces go perfectly well with Deep necklines, while for higher necklines gorgeous head-pieces and chandelier earrings would suit well.
2) V-neck or sweet-heart neck would look great with a V-shaped or Y-shaped necklace that comes down to a drop.
3) For dresses which are strapless it is most suitable to focus on neck-wears and Arm-bracelets to give them a greater appeal.
Design & Pattern of Dress
1) Necklaces, Bangles, Rings, Anklets, Nose-rings and Earrings that matches closely with the design of the wedding attire are best option.
2) If the Pattern of the Wedding dress clashes with the jewelry then it would appear nothing but stuffy, so prioritize whether you want a flashy jewelry for plain dress, or plain jewelry for flashy wedding attire.
3) If you're wearing your hair down be careful of any dangling types getting caught up in your hair.
Also Read : 9 Jewels That Are Back In Trend For A Smashing Bridal Look