Trending Wedding Vows To Let You Express Your Heart Out On Your Special Day As Special You Are!
Weddings are meant for celebration, happiness, joy and good wishes that we share and cherish during the wedding celebration. So in the trends now a days doing something to make your partner very special on your wedding day and adding joy to the celebration to make it a memorable one for always. To celebrate your love and embrace your togetherness it is imperative to make promises by the help of weddings vows. Wedding vows are not only the promises but they are beautiful feelings for the one who is very special to you in your life that you can express to let him/her the importance and significance in life for now and forever.
And to guide and make things a little easy for you, here we have curated some wedding vows quotes that you can express as your feelings while specking your heart out to your life partner. You can quickly check out these lovely quotes and bookmark them for your wedding day.
Trending Wedding Vow Quotes For Groom-To-Be
Finding someone whom can spend your life with as your life partner is very special and the more special
thing is when you find a good friend in your love then your bond grows each day becoming stronger.  On
your special day, brides-to-be pour your love using these famous wedding vows quotes to make this day
more special for your man.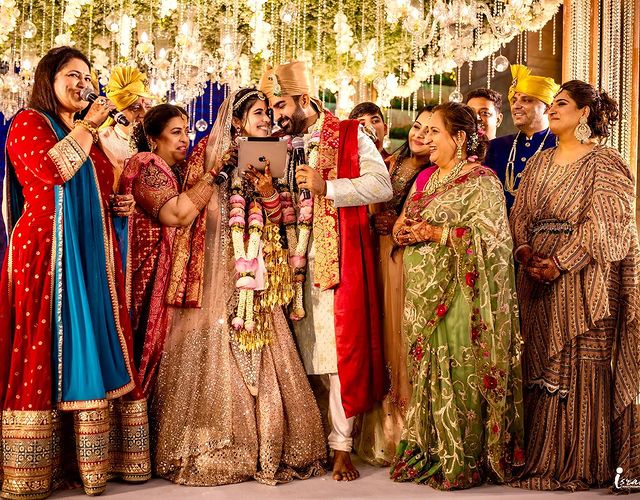 Shot By Israni Photography
"If you live to be a hundred, I want to live to be a hundred minus one day so I never have to leave without
you."—Winne the Pooh, A.A. Milne
"I look at you and see the rest of my life in front of my eyes." —Unknown
"And I'd choose you; in a hundred lifetimes, in a hundred worlds, in any version of reality, I'd find you and
I'd choose you." — Kiersten White, The Chaos of Stars
"He's more myself than I am. Whatever our souls are made of, his and mine are the same."—Emily
Bronte
"To love a person is to see all of their magic, and to remind them of it when they have forgotten."
—Unknown
Trending Wedding Vows For To-Be-Bride
Your girl should feel very special as she is for you, so let's your feeling come out in way that amaze your better half for knowing how much she is important and special for you in your life. Ever since she walked in your life, she is with you like a true friend, inspiration; she has been your love to share the best moments with her. Recite these amazing quotes to her, to make her like your princess on your wedding day.
Shot By Israni Photography
"It's amazing how one day someone walks into your life, and suddenly, you can't remember how you
lived without them." —Anurag Prakash Ray
"When you realize you want to spend the rest of your life with somebody, you want the rest of your life
to start as soon as possible." —Harry, When Harry Met Sally
"I have for the first time found what I can truly love. I have found you." — Charlotte Bronte, Jane Eyre
"I swear I couldn't love you more than I do right now, and yet I know I will tomorrow." — Leo Christopher
Some romantic Wedding Vows 
You as a couple are so special so you should feel like very special. Exchanging wedding vows must be a thing at your wedding ceremony for it is the only exchange of words between the bride and groom on a special day, but it can be so romantic as well. It's just how you beautifully express your feeling in front of your partner. So Include these romantic quotes into your wedding vows that will make you feel as a couple very special and adding strength in your bond being together.
Shot By Sunny Dhiman Photography
"You know you're in love when you don't want to fall asleep because reality is finally better than your
dreams." — Dr Seuss
"In all the world, there is no heart for me like yours. In all the world, there is no love for you like mine."
— Maya Angelou
"Thinking of you keeps me awake. Dreaming of you keeps me asleep. Being with you keeps me alive." —
Unknown
"Once in a while, right in the middle of an ordinary life, love gives us a fairy tale." — Melissa Brown,
Picturing Perfect
"Falling for him wasn't falling at all. It was walking into a house and suddenly knowing you're home." –
Anonymous
"I would not wish any companion in the world but you." — Shakespeare, The Tempest
Some  Funny Wedding Vows To add in more joy making them laugh their Hearts Out On Your
Big Day!
There are times when we want to feel delighted and to add only joy in your moment. Then these funny quotes will help to do that. Just make the ceremony lighthearted by incorporating these funny quotes for all fun loving people like you. These are some personalized quotes to add in more joy into your feeling thus in your moment.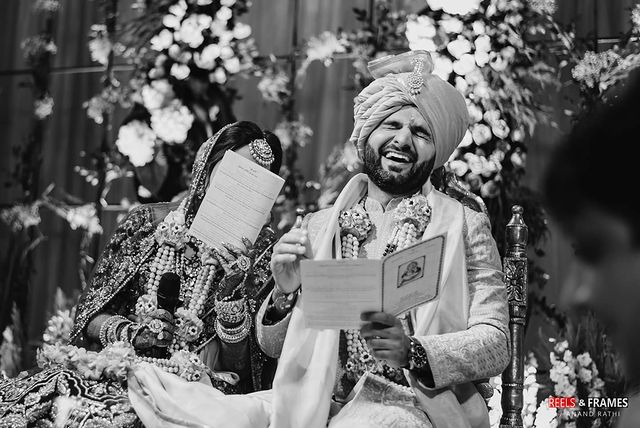 Shot By Reels And Frames
"I vow to be your spell checker, grammar friend and tell you when things need hyphens. I promise to be
your partner in exercise, even if I am much faster than you, and most of all, I promise to try things, even
though I am sure I will not like them, just because you say, 'Try this!'" – Unknown
"I vow not to carry on watching a Netflix series we started together without you. Or at least pretend it's
the first time I've watched it when we watch it again."- Unknown
"I vow to love you even when you're 45 and still play Xbox." – Anonymous
"I promise to be your co-pilot, your navigator, and to bring snacks on our road trip through life";-
Unknown
---
Checkout more links: Red Banarasi sarees: Epitome Of Grace And Beauty| Paint Your Outfit By The Color Of New Happiness, B'coz Hand Painted Lehengas And Sarees Are In Trend!| Shimmery Saree, A Perfect Option For Your Reception, To Get That Millennial Bridal Look!