Top 7 Locations Apt For Summer Weddings!
It's your wedding and dates are fixed, which we celebrate that. But you seem too confused to choose your wedding location. Don't you worry, as the curiosity about wedding planning and choosing the venue is obvious, you can't do it anyway? But what you can do is look for these amazing venues and pick the best one for your special day to make your lifetime moment a great one.
Here are the top best wedding venues to tie the knot in this coming season of weddings, as we know this is not an easy task or a cup of tea, your wedding location or venue should be chosen wisely considering the weather condition and minor elements that can either work out or can be tricky.
So, we have listed the different types of wedding venues to assist you in picking the right one!
Hotels:
Hotels are one of the best options that come to the millennial to-be-wed couples and the major reason behind this is the convenience. Hosting a wedding at a hotel includes many benefits in one package like easy accommodation for family & friends, food, and adding to it some extra luxury of beautiful decoration and spacious.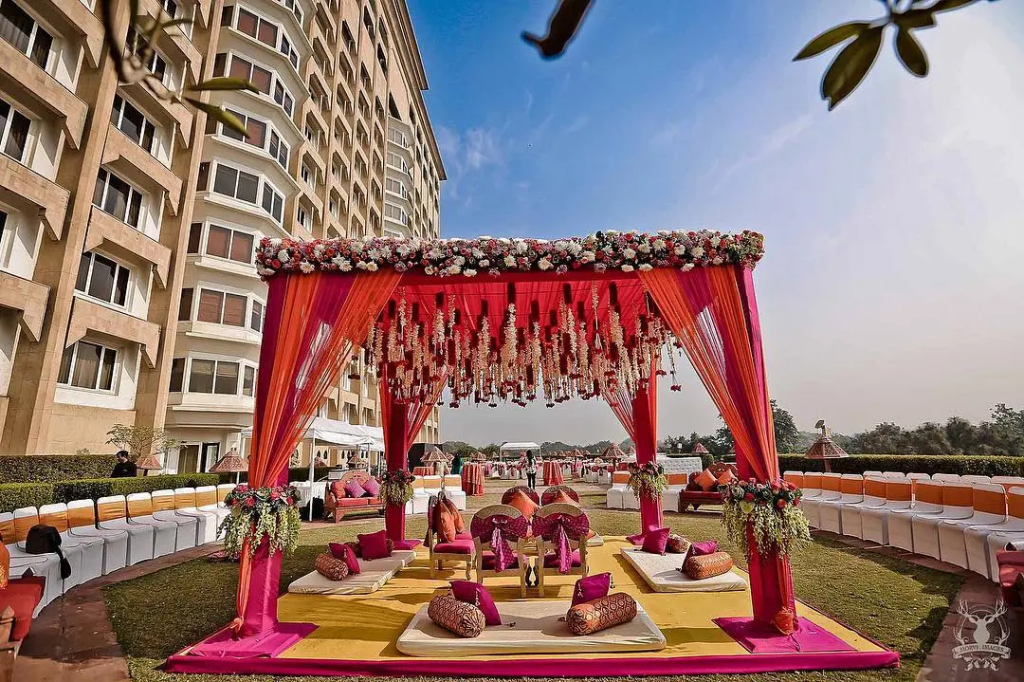 Photo Morvi Images
---
Wedding Lawns & Farmhouses:
Farmhouses are the best option when you want your wedding to be simple and cozy. The wedding event gets embraced with the beauty of the open sky and calmness far from the city with aesthetic lighting. Also, it is fun and cost-effective to host your wedding on lawns and farmhouses.
Photo Lumiere Wedding Company
---
Marriage Gardens:
Marriage gardens are the best venue to opt for an intimate wedding celebration. Couples who want a simple and ecstatic wedding prefer to go for an open space wedding. And the best part is the amazing decoration and filled with nature touch, with those amazing flowers and greenery all around spreading happiness in the air.
Photo Janine Licare Photography
---
Palace & Forts:
For the couple who had dreamt of a royal wedding, where both bride and groom want to cherish their wedding like a millennial couple. It is like living your dream with the historical monuments and remembrance of old traditional and pure love.
Photo Weddingnama
---
Beaches & Islands:
Beaches are a great type of wedding venue you are looking for. Not only the beaches but there are also several private islands that you can choose for your perfect wedding venue. The coolest breeze and purest form of air around will fill your event with the most amazing feeling.
Photo Dhanika Choksi Photography
---
Places of Worship:
It is the best venue option with the most auspicious feeling. The conventional Christian wedding, the Thali Kettu ceremony among South Indian Wedding happens at the church or the temple. For someone who keeps most religious beliefs these places of worship can do wonders for their most special day.
Photo Silvana Chandra 
---
Boats & Cruises:
A wedding on a cruise deck and a luxury boat is the most lavish wedding ceremony for couples who want a di'erent and unique wedding setup. A couple in the centre of the sea onboarded a boat embracing their togetherness with nature's love, which is something unique and magnificent.
Photo Silvana Chandr
---
Check out more links: Find Your Sole-Mate With Louboutin | Everything You Need To Know About Covid Weddings | Best Wedding Venues In & Around Chandigarh | Destination Wedding Tips & Tricks To Cut Down The Cost | Top 10 Wedding Venues In Udaipur | Lilac: Colour Of The Season Is Sensed And Here's How You Can Inculcate It In Your Celebration