The Revival Of Indian Wedding Wardrobe
Using bridal lehengas made by international designers adds a sense of novelty and distinctiveness to a wedding. Incorporating these designs into the bride's dress will provide a fresh and contemporary touch. It lets brides experiment with styles, shapes, and methods that are only sometimes seen in traditional local designs. Brides may express their individuality and create a distinct style from conventional bridal apparel by wearing bridal wear designed by international designers. These designs frequently use a fusion of ethnic influences, integrating aspects from several cultures to create a compelling combination of styles.
 Some of the great designers are: 
Zuhair Murad:
Zuhair Murad, a Lebanese designer, has won the hearts of brides all over the world with his gorgeous wedding dresses. Murad's creations radiate elegance and sophistication, thanks to his elaborate embroidery, luxurious materials, and attention to detail. His works highlight the feminine form and put a contemporary touch on conventional bridal apparel, ranging from opulent ball dresses to figure-hugging shapes. Some of the collections you can check out exclusively by Zuhair Murad are: "Les Jardins du Palais", "Bridal Dreams", "Royal Opulence" etc.
Via: @shaadilogy
---
Elie Saab:
Another Lebanese designer known for his timeless and exquisite creations is Elie Saab. His bridal collection is frequently embellished with stunning embroidery, delicate lace accents, and flowing designs that create an ethereal romanticism. Saab's designs celebrate femininity and create a dreamlike atmosphere that appeals to women wanting an elegant and lovely bridal appearance. Elie Saab has created unique bridal dresses for royal weddings, including Princess Claire of Luxembourg's. These pieces are in his hallmark style, which combines ethereal grace with impeccable craftsmanship.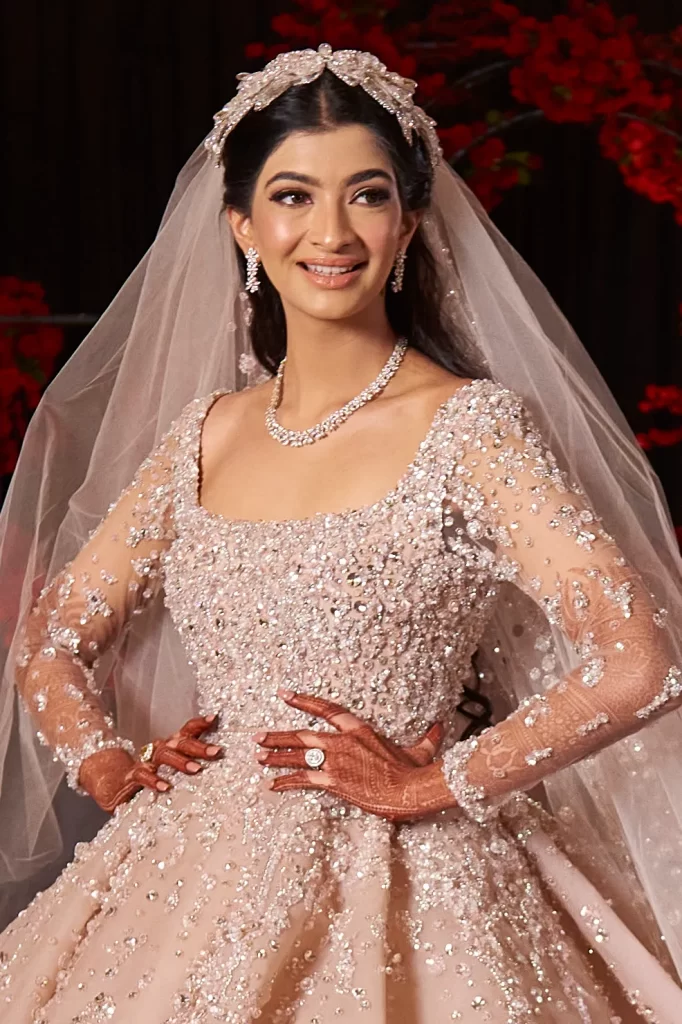 Via: Vogue, India
---
Carolina Herrera:
Venezuelan-American designer Carolina Herrera adds a contemporary twist to bridal attire. Herrera's wedding attire known for its clean lines and minimalist aesthetics, provides a modern touch to classic designs. Her designs radiate refinement and easy grace, thanks to great tailoring and opulent fabrics, making them a favorite among modern brides looking for sophisticated and refined bridal attire.
Via: Vogue, India
---
Ralph & Russo:
Ralph & Russo, a British luxury design house, has shown its competence in making gorgeous Indian wedding gowns. Their designs brilliantly blend traditional and contemporary features, with detailed decorations, extensive draping, and intricate patterns that highlight the luxury of Indian weddings.
Via: Vogue, India
---
From the glitz of Zuhair Murad to the classic beauty of Elie Saab, each designer has a distinct point of view that appeals to various brides' tastes and preferences. Whether women prefer to wear these foreign designer lehengas to express their particular style or integrate worldwide fashion trends into their wedding attire, these gorgeous masterpieces unquestionably add a touch of splendor and charm to the bride's special day.
---
Check out more links: Top designers who can give us major bridal outfit goals | Unique accessories to lift up your wedding look  | Unique poses to try out with best friends | Things every bride should do on her wedding day| Manish Malhotra brides that gave us major goals | Beauty tips every bride to be should follow  | Things every indian bride and groom should know