'Sindoor' – A Belief Of An Indian Married Woman
"Marriage is all about Faith, Belief and Trust – a faith to find a soulmate, a belief to have a companionship till eternity and a trust that these faith and belief will never be defeated."
Arranged Marriage starts with a faith that the stranger you are marrying will prove to be your soulmate and Love Marriage starts with a faith that the soulmate you are marrying will remain same in the relationship after wedding. And then, the complete wedding ceremony is series of various rituals based on beliefs.
Rituals are beliefs turned into practices. 
One such belief is 'Sindoor Daan Ceremony' that is applying 'Sindoor' in hair parting of a bride at the time of wedding as a symbol of 'Suhaag' by groom. This ritual is practiced in Hindu religion and 'Sindoor' distinguishes married women from unmarried and widows as it is banned for them. This belief has many mythological stories associated with it which also adds fear factor to 'Sindoor'.
Various feelings attached with Sindoor –
Love & Commitment – Sindoor is applied by groom to bride in the wedding ceremony as acceptance of her as a wife. This is first sign of commitment by groom and then, wife keep applying the sindoor in her hair parting for lifetime to symbolize that commitment. This feeling of commitment is what turns into love and trust. 
Belief – People often take Sindoor as the symbol of Suhaag applied by wife for the long life of husband. It is considered to protect husband's life. According to mythological stories goddess Parvati herself protects the life of those men whose wives apply Sindoor with faith.
Fear – It is said that those wives who do not respect Sindoor, their husbands die early. Even there are many myths related to it like if sindoor falls on floor there are chances of mishap with husband. These fear factors are more prevalent in rural areas and Bollywood.
Romance – Sindoor has mercury in it which induces sexual desire in woman. Woman applying sindoor has higher sexual desires then the one who does not and also mercury helps in controlling the blood pressure.
Fashion – Sindoor is also a majorly sold cosmetic in India and companies like Lakme are also having Sindoor in their range of products. TV Serials have introduced new ways of applying sindoor. If you remember the character roles played by Urvashi Dholakia, you know what it is.
Sindoor Khela – This ritual is prevalent among Bengalis. It is performed on the last day of Durga Pooja by applying Sindoor on the feet or forehead followed by applying sindoor to all the married women present in the pooja. Sindoor Khela is the celebration of a proud feeling of possessing a husband.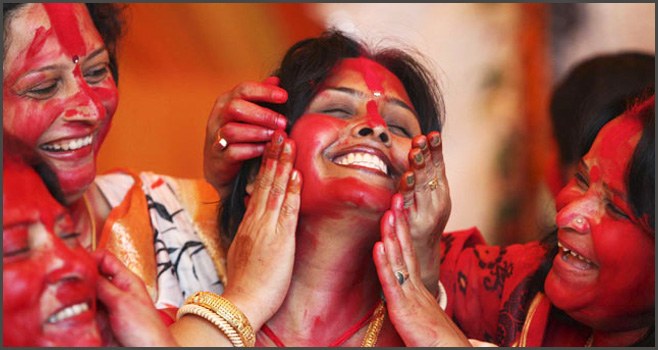 Bollywood Drama – Bollywood has also played an important role in spreading the significance of 'Sindoor'. It has made 'Sindoor' so famous that even non-hindu people in cities started adopting this ritual in wedding. Hope you remember the beautifully portrayed sindoor scenes in some of the famous movies like Ramleela, Jodha Akbar, Devdas, Om Shanti Om, etc. which have well explained the importance of Sindoor in Indian Culture.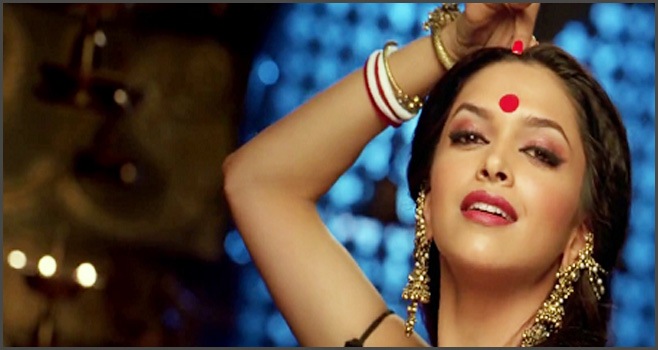 Ek chutki ki kimat tum kya jaano…
---
Checkout more links like these: Top 10 Places From Where You Can Pick Up Your Lehenga In Chandni Chowk | Unique Lehenga Colors In Trend This Wedding Season! | The 12 Bridal Lehengas That Caught Our Eye! | Beautiful Offbeat Wedding Lehengas For That Smashing Look |The Eternal Connection of Red and Indian Brides