Leave Behind That Traditional Outfits And Pick These Elegant Gowns For Your D-day!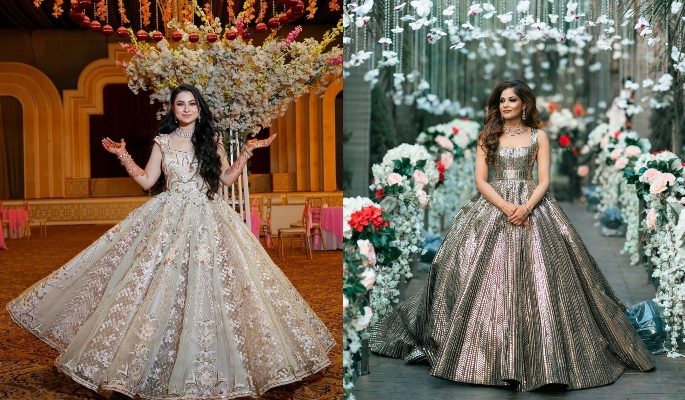 It is needless to say about the importance of outfits on wedding occasion since wedding outfits are the most most important part that is indispensable to be concerned about. It is due its significance role that create chaotic situation while making a good selection, even the thoughts of choosing the best outfits for one's wedding brings lots excitement and concerns too. There are multiple options and a variety available that seems simple to think off but is quite a tough job when we actually select our wedding attire. Every bride has a dream that she aspires to look the most beautiful by getting a perfect look. These unique and elegant gowns will give you a stand out look. Just scroll down to find the best fit for you and embrace your look!
Look at this gorgeous peach color gown that the bride would love to done it on her D-Day. The raffle design on blouse with one side cut design is desirable to get a glamorous look.
Outfit By Rachit Khanna
---
This elegant gown in beige shade is just fabulous for you to feel like really special and the most beautiful bride. The embroidery and art work will aid that shine in your look and to your happiness too.
Shot By Rajesh Digital
---
You want that outstanding look then this unique gown in golden color is perfect for you.
Photography By : Soulmate Films
---
Soft pink with hues of silver color designed gown is like a dreamy outfit giving that heavenly beauty to a bride, making her feel stand out on her big day.
Makeup By : Poise By Amrita Singh
---
Oh bride! Your wait to look divine ends here. Look at this mesmerizing outfit in lighter shade of pink is just awesome to give you a fairy like look.
Shot By Dipak Studio
---
This amazing light and bright shade of gown is so beautiful giving you a stunning look.
Outfit By Kamal Bhai Saree Sangam
---
Monochromatic gown in maroon color is too beautiful to praise. You will love not just to wear it but you will embrace it feeling in that exquisite feeling of a perfect bride.
Shot By Hitched & Clicked
---
If you want to pick something heavy then this gown will fulfill your desire of wearing a heavy outfit on your wedding. This embellished gown with minute detailing embroidery is just impeccable.
Outfit By Alixee Shan Theater Studio
---
Get a striking beauty by this olive grey ball gown. You will get amazed by its unparallel beauty.
Outfit By Rahul Kapoor
---
Gorgeous! Just stunning, you will get such compliments as you pick this extremely beautiful and dazzling gorgeous gown on your wedding. This silvery & shiny outfit is a style statement.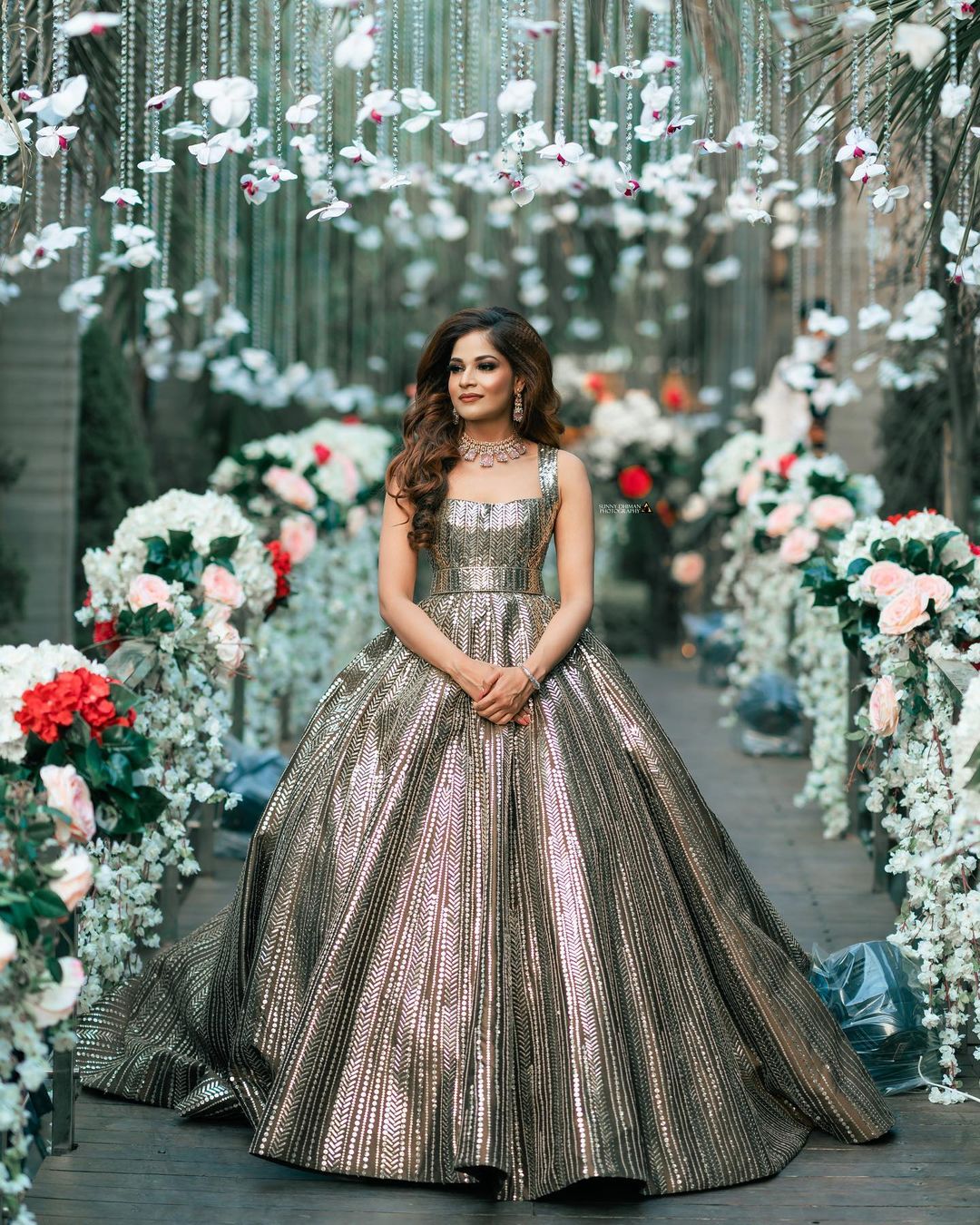 Shot By Sunny Dhiman Photography
---
Give the red traditional color a new look as this gown is looking just extraordinary.
Shot By Razz Films And Photography
---
Have a look on this magnificent and antique design of gown and add shine in your look and in your celebrations as well. The color combination of outfit and its embroidery is making a perfect option for a bride who wants to look the best.
Shot By Sunny Dhiman Photography
---
Checkout more links : Designer Blouses Are Talk Of The Show We Spotted On Real Brides On Instagram| Impeccable Lavender Lehengas For Year 2021 Intimate Wedding Season For Our Real Brides To Get Beautiful Look!|  Pristine White Lehengas For The Millennial Bride.| Outfits Giving Fabulous Look And Confidence To Be Ever Ready For Any Occasion| Trendy Outfit Ideas For Reception To Get That Stand Out Look!