Bridal Nath Hacks For Wedding !
Indian wedding is all about a diversified traditions and cultures. Consisting of various rituals all are important in their own way. Specifically jewellery in Indian wedding is something most crucial unlike any other thing. Jewellery plays significant role in enhancing the beauty of a bride. As looking her best on d-day is like a dream for every bride-to-be. Each piece of jewellery that a bride wears symbolises something traditional or cultural.  Apart from this nath or nose ring is such an ornament which is like a must wear jewellery.
It is wore by almost every bride. Also this priceless ornament keeps a great significance that it is traditionally, representative of a bride's virginity. And nose piercing is said to have acupuncture benefits. Ayurveda claims that women who have their nose pierced on the left side experience less menstrual pain and easier childbirth.
There are n number of designs and color options of nath which are in trend these days. Just pick your best match and embellish your beauty withholding Indian custom alive. Here are the list of gorgeous designs of nath of different sizes and elegant styles. Scroll down and have a look.
Photography by Cupcake Productions
Photo by The Wedding Salad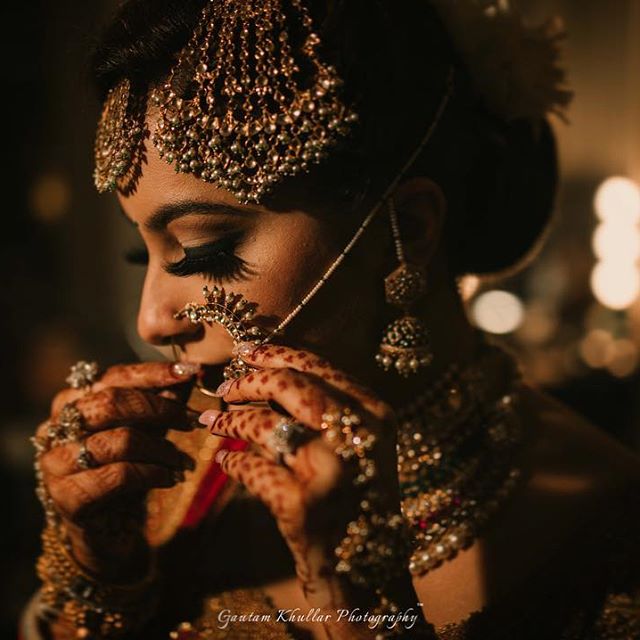 Photo by Gautam Khullar Photograph
Photo by Vows And Tales
Photo by Rajesh Digital
Photo by Gautam Khullar Photography
Photo by CoolBluez Photography
---
Checkout more links like this : 5 Stunning Wedding Accessories You Can't Say No To | 9 Jewels That Are Back In Trend For A Smashing Bridal Look | The 'Nosy' Affair : Bridal Nose Pins of 13 Different Cultures! | Solah Shringar:The Ultimate Beauty Regimen for Indian Brides