Amazing Ideas Of These Beautiful Bangles And Kadas To Make Your Look More Ravishing
Bangles are traditionally a part of the solah shringar of brides in Indian wedding rituals. It is like mandatory or indispensable for brides-to-be to wear bangles on their wedding day either made of glass, gold or other metals as they signify the long life of the husband. They signify good fortune and prosperity. And not only for brides-to-be, has it thought to be equally important for even newlywed brides to follow this custom. A bangle not only completes the look but it also enhances the look of a bride.
Bangles having attractive look aiding that too in your over all look as it seems really
beautiful in rani pink color and properly designed in exquisite set matching the outfit.
Shot By  Scented Memorie
---
Ohh Gosh! Have a look at it this kada, big in size and golden in color designed with
minutes pearls like granules is what any bride would wish to have on her wedding giving
a royal queen like feeling.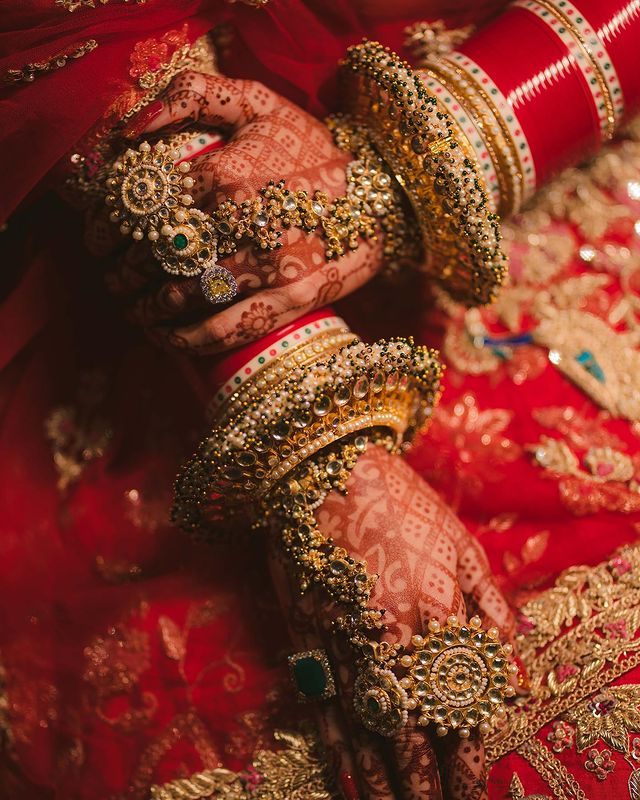 Shot By Vows And Tales
---
To give you a complete look like a fairy, these bangles in light shade with a stone
studded kada in the middle is a perfect option for a bride to choose for her wedding
outfit.
Photography By : Let's Get Wed 
---
To say about these big middle golden kadas inspired by Rajasthani look is all set to give
our brides a perfect and unique look.
Photography By Beginnings For You
---
Look at these bangles matching in color as well as the designs of wedding lehenga giving
you the feel of best look to flaunt it on your big day.
Shot By KS. Creative
---
Beautiful Kadas matching perfectly with your wedding lehenga like a true reflection of
your outfit, like outfits like Kadas.
Shot By KS. Creative
---
Golden bangles studded with different and unique shapes of stone looking son adorable
and perfect option to opt for a wedding ceremony especially when you have to match it
up with standard colors of outfits.
Jewellery By Jewels by Avi
---
These pink bangles are truly inspirational designed with side kadas big in size like really
defining the bangle set.
Shot By Dipak Studio
---
These bangles inspired by Chura designed has no match as it look beautiful uniquely in
color combination of red and white with printed designs on side bangles.
Shot By Mehar Photography
---
Simple yet soothing bangles in mehendi color are specially designed for such brides who
love simplicity.
Outfit By Sabyasachi
---
These bangles are looking great in combination of maroon and silver that matches well
to the wedding outfits giving a complete bridal look.
Shot By Dot Dusk
---
Checkout more links like this : Elaborate Jewellery Designs We Spotted On Brdies In 2020!| Amazing Designs Of Kaleere For Your Intimate Wedding To Grace Your Look! | Astounding Baaju Bandh Designs For Brides Giving Stand Out Look On Special day!|