A Story Of Two Beautiful Souls Getting Together For Whole Life!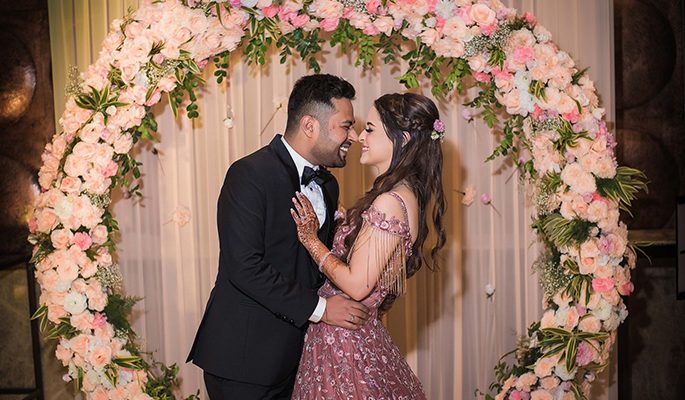 Story Of Meghna & Sushant
Working in the same office they shared a lot more experiences from becoming good friends to a life partner. Initially, they found it quite difficult to share their feelings with each other fearing getting their great bond of friendship spoiled which was so precious for them above all. But their love for each other was so pure that find their way and blossomed like it was like a dream come true for them.
Yes, it happened and they get along their feelings and tying-a-knot for the whole life. Their wedding was nothing short of extraordinary, with every detail matched to perfection! An inter-cultural wedding planned in such a way being remembered by everyone that made their presence. It was a grand wedding full of fun at a venue arranged in a luxurious manner having exquisite décor with beautiful ambiance. Since their wedding was an amalgamation of two quite different cultures so different rituals had taken place where everybody enjoyed and embrace the differences with all the zeal and having respect for each other's cultures & traditions. It was truly an unimagined
venture making the day memorable for everyone especially for those who believed in their love and took their relationship to next level. It was like a showcase of two beautiful rituals being played under one roof making the day very special and remarkable. It was fun witnessing the Punjabi phrase on one hand and Kashmiri rendition of pheras on the other where the bride walks down on the seven currency notes around the holy fire. It was a fulfilled celebration! Everything, in the end, turned just how they had planned to make every bit of the celebration perfect giving inspiration to head start a new journey and new beginning where love was spread in the air!
---
---
---
---
---
---
---
---
---
---
---
---
---
---
---
---
---
---
---
---
Bridal Outfits : Aditya and Mohi | Groom Outfit : Diwan Saheb | Groom Engagement Outfit : Philocaly Menswear | Makeup : Meghna Roda | Jewellery By : Vishal Jewellers Moti Nagar | Hazoorilal Jewellers, GK | Wedding Venue : City Park Green Resort, Alipur Road, New Delhi | Engagement : Crowne Plaza Okhla, New Delhi | Photography By : Delhi Velvet
---
Checkout more links : A Modern Romantic Love Story Of Priya & Manjot Wedding, Passionate About Relationship! |  Unita & Nikhil Wedding Story of amazing love and togetherness! | Sakshi And Jay Story Of Love Will Simply Inspire You To Fall In Love And To Be In It!