5 Ways To Coordinate Your Jewellery With Your Outfit!
 Jewellery is something which can be eye-catching adding life to your wedding dress. It is very very important that can bring out not only the beauty of the outfit but act as an surprising element making the brides really stand out. Jewellery well coordinated with bridal outfit gives ravishing look to the bride.
If deciding on your jewellery seems more difficult than finding your outfit then you don't need to be worry about. Here are the true tips which you can pick to accessorize your bridal look flawlessly with these helpful hints. You are going to love the way these jewellery go well coordinated with your outfits. Dear bride-to-be you don't have right to sour your moment, you have right to just enjoy the big day of yours.
#1. Contrast it: Contrast is the best possible way to coordinate your wedding outfit as contrasting the outfit and jewellery has taken the wedding ball game to a different level altogether. Pairing up your bridal outfit with contrast colour gives you a stunning look.
Photography by The Wedding Matinee
---
#2. Keep in mind the neck line: It is the most important thing that must be considered while selecting your jewellery specially your necklace.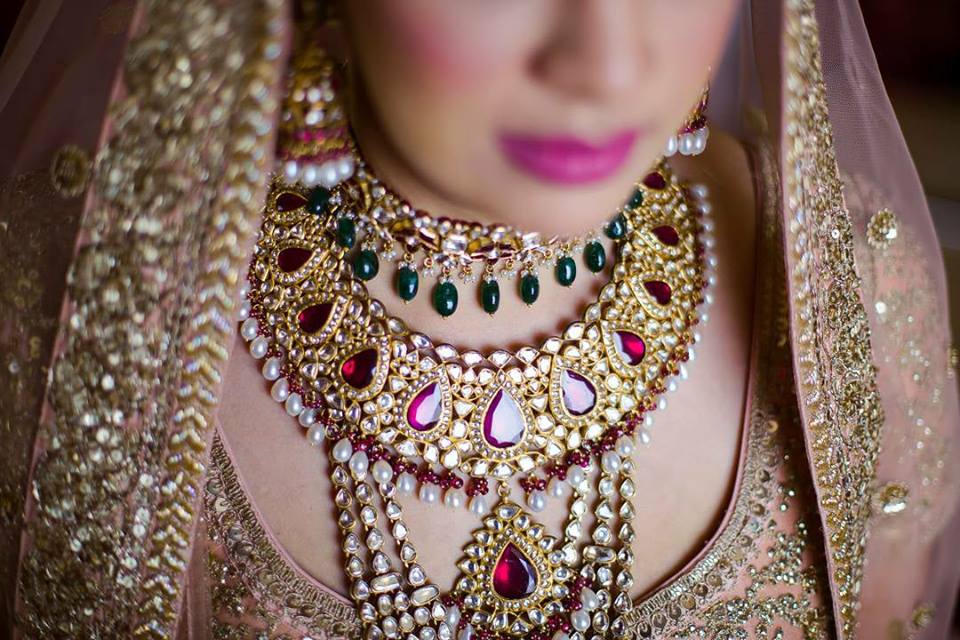 Photography by The Photo Diary
---
#3. Consider wearing the same shade on the big day: Matching your jewellery with your outfit is a perfect idea to coordinate with outfits.
Photography by Fotowalle
---
#4. Gold is forever: Gold is evergreen and beautifully set with any outfit giving the serene reflection of you. It gives you a rich traditional look on your wedding day and goes with almost every colour of outfit. Classic gold necklace adding grace to the serene beauty of a bride.
Photography by Anuraag Rathi Photography
---
#5. Match it with your dupatta: You can match up your jewellery with the edge colour of your dupatta. The border of dupatta has a colour which is a good idea to pair your outfit with.
Photography by Dream Diaries
  Checkout more links like this  :  6 Wedding Jewellery Accessories For Your Beautiful Hair | 7 Inspirations & Looks That Every Bride Should Have For Her Mehendi Ceremony ! | Flyrobe : Own Everything Buy Nothing! | Ten Unique Wedding Favor Ideas!