Smile.Camera.Click! Social and Style's Bridal Shower In A Grand Style
Shivanth and Kamana's story came directly from the pages of a fairytale as Shivanth thought of every possible item that would make his proposal to the woman of his dreams spectacular. He then went two steps further to ensure that Kamana had the story and the man of her dreams.
The Grand Proposal
Shivanth and Kamana started their courtship over witty text messages, chatty e-mails and conversations at all hours of the night. Shivanth was in Silicon Valley living the tech dream while Kamana was making her own inroads back in Maryland. Over time their conversations became longer, their trips to see each other more frequent and Shivanth's desire to marry the woman of his dreams inevitable.
On a brisk morning in August Kamana came out to California to visit her boyfriend; that Saturday morning he drove her out to the idyllic Chateau St. Jean, nestled in the heart of Sonoma Valley to propose the only way he knew how – with true style and sophistication.
As they approached the estate, Kamana's breath was taken aback as she saw the enchanting castle with vineyards, lush gardens, and ivy covered arches all around. Even with the car windows up the scent of vines, grapes, and roses entwined with the morning dew that made the chateau
smell and feel like something out of a fairytale.

Shivanth led her by the hand into the Chateau's secret garden and as they entered they heard the live acoustic rendition of Kamana's favorite song Pehli Nazar Mein. Shivanth led her to a walkway draped in pink and white rose petals that led to a small couch he asked her to sit on.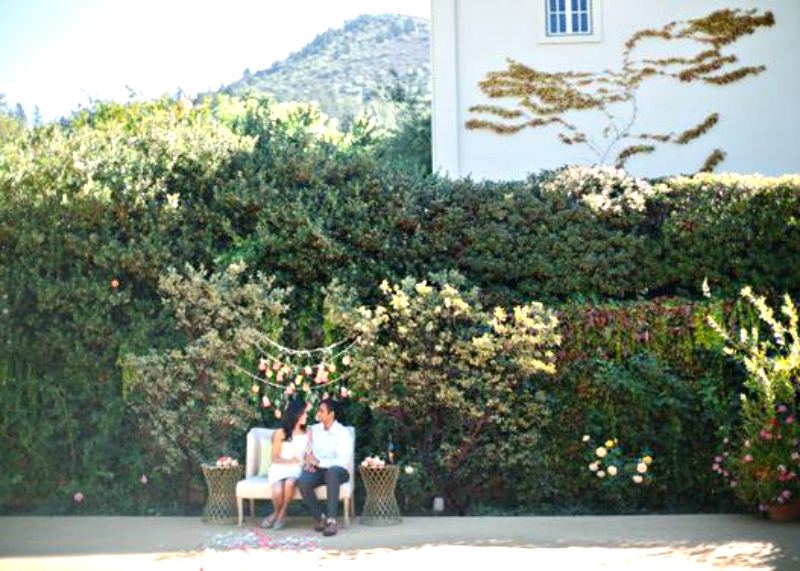 Above the couch were roses hanging from two trees with an abundant amount of hand written notes on heart-shaped cards with messages of why he loves Kamana so much. Overhead; a monogram with their initials etched on each mint and coral colored heart coincidently Kamana's favourite colors. Reading the cards, Kamana was touched by the elegance and beauty of each detail he had thought of and upon finishing the cards Shivanth went down on one knee unbeknownst to her and Kamana made Shivanth the happiest man alive.
The Beautiful Engagement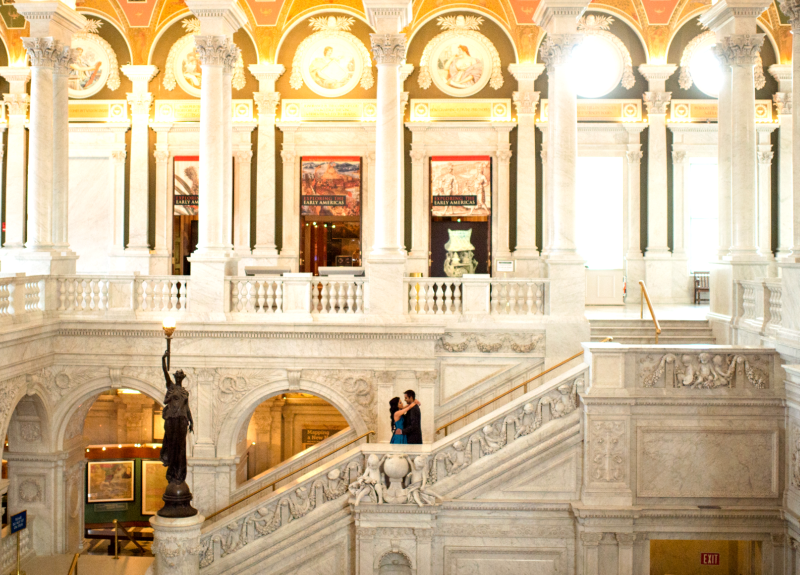 When it came time to plan our engagement photos –  my Fiancé and I knew we wanted to include the city closest to my heart. Born and raised in the D.C. area, I have always felt like D.C. was home. Since I will be moving to Sonoma County after our wedding, having our engagement photos in D.C. made the day even more memorable. Walking past the Supreme Court and Library of Congress – I was always amazed by the history and beauty of the locations. We knew they would be the perfect spots for our shoot!
When deciding on what to wear, my fiancé is very fuss free. So we decided to do one causal shoot, which he loved and one more glam shoot, which I loved. Have I mentioned that Shiv and I are total opposites! Thankfully, our values and core beliefs keep our relationship strong.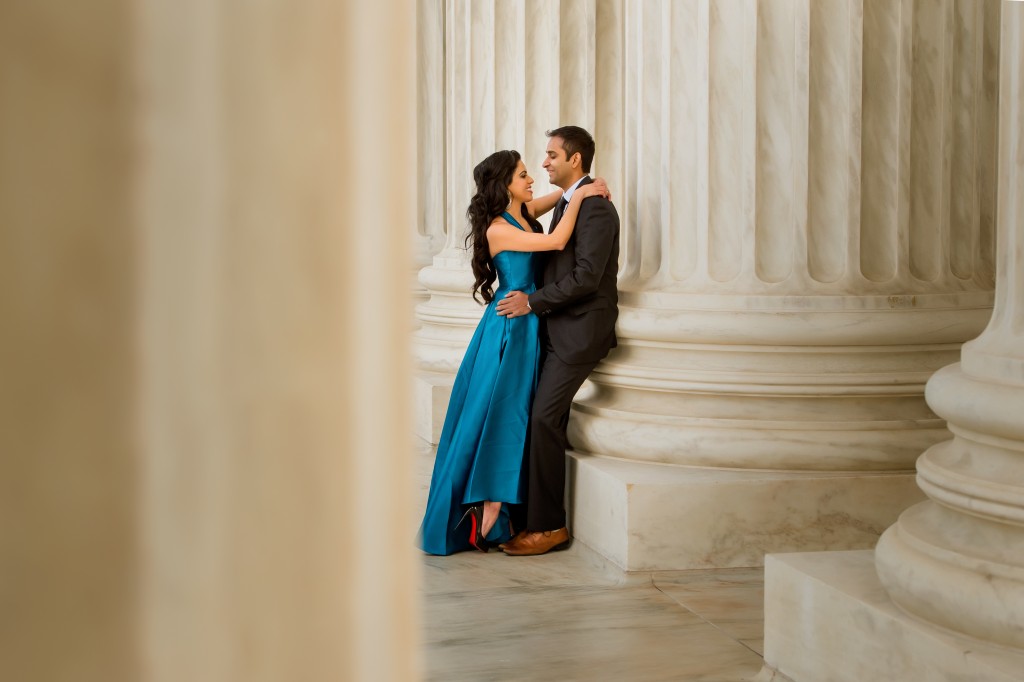 I did get pretty stressed before our engagement shoot since I wanted it to be perfect. In the end, the weather was beautiful (60 degrees in February!), we had fun, and Sunny from Photographick captured the photos beautifully. Sunny was patient, understanding, and so fun to work with! I have learned that with the wedding, I have to trust in God's plan and that things will always work out. While there will be some bumps along the way, if we enjoy, smile, and laugh everything will work out!
The Exquisite Bridal Shower

On March 12, 2016 my #ShaadiSquad (Bridesmaids) threw me the most beautiful shower. Bridal Showers are one of my favorite events in a wedding and I feel so blessed to have had the shower of my dreams. My sister,the Maid of Honor, took the lead in planning and each and every detail and my bridesmaids went above and beyond to make the details come to life. I am excited to share a few highlights with you!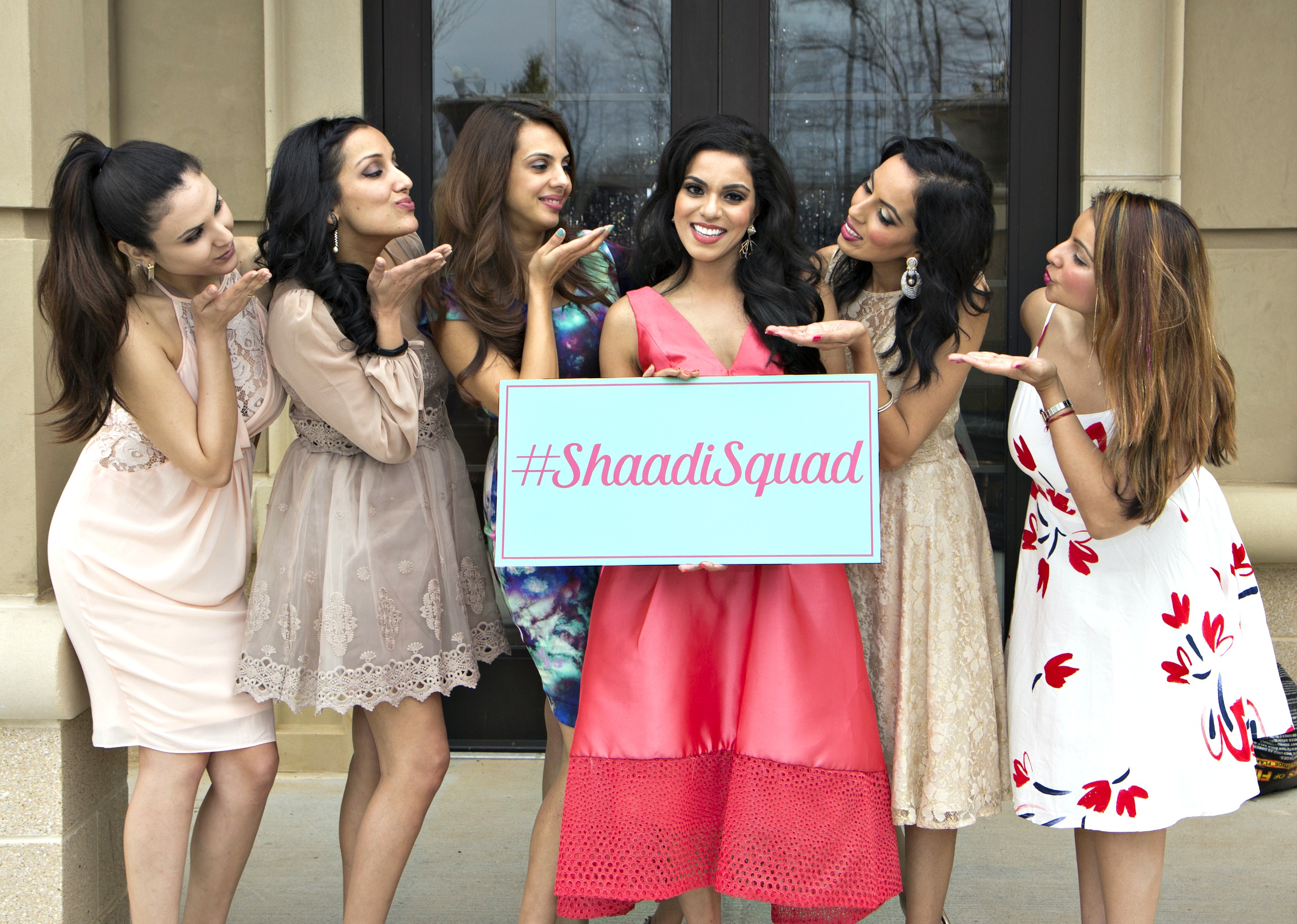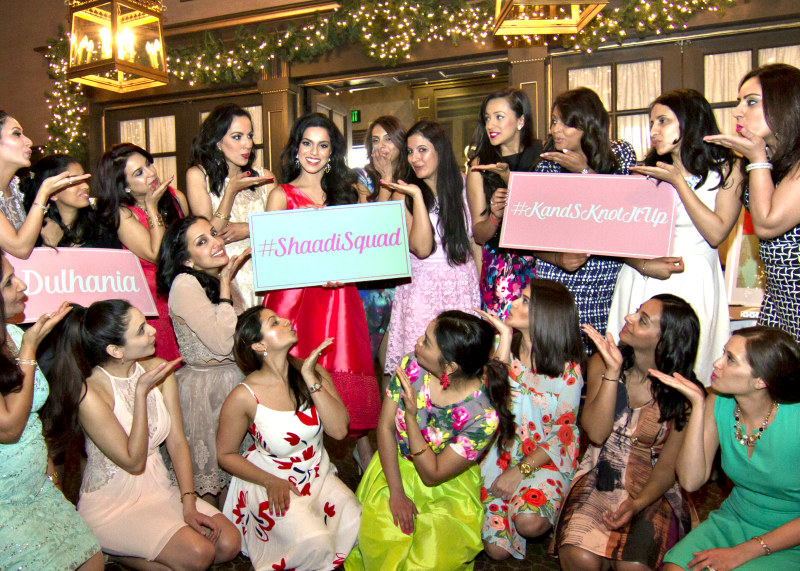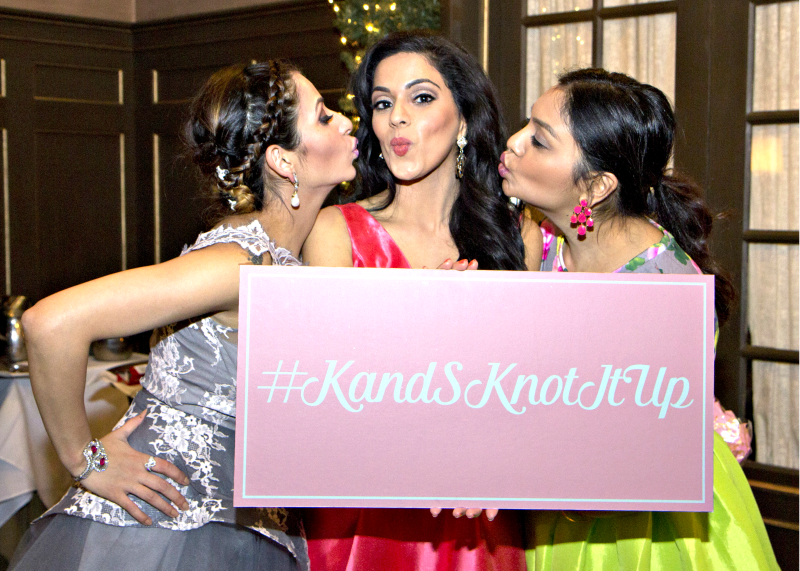 Bridal Shower Look
For my Bridal Shower, I knew I wanted to wear coral. I looked for months to find the perfect dress but never found something that felt quite right. Thankfully, Rent the Runway came to the rescue and sent me a Monique Lhuillier gown and Lulu Frost Portico Statement Earrings. The dress was exactly what I had envisioned and was so comfortable to wear! I added Valentino Rockstud heels to give the look a modern edge. Jasmine from Mod Girl Makeup worked her magic on my hair and makeup!
Theme
When deciding on a theme, my sister picked my favorite colors: coral, mint, and gold to go with our  'Pop.Fizz.Clink ' theme. My sister enlisted her close friend Shery and founder of Craft Couture to design custom save the dates, invitations, welcome signs, drink cards, and favors. Shery is amazing to work with. Her modern Indian designs are a work of art and she goes the extra mile to ensure everything is perfect!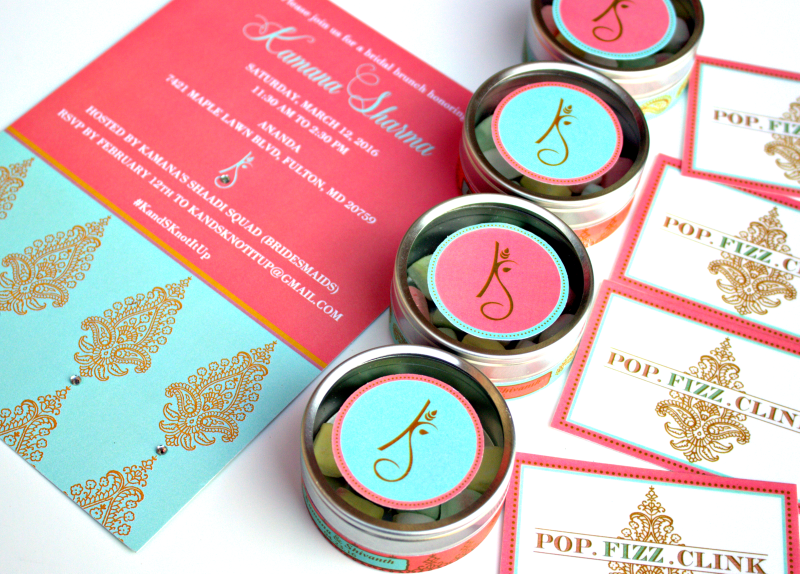 Location and Decor
Since we had two big wedding events in one day, Bridal Shower and Mata Ki Chowki, we knew we wanted to make both events easy to manage. We picked Ananda Restaurant, nestled in the suburbs of Fulton – Maryland, for our Bridal Shower. Everything about Ananda personifies elegance and class. From the ornate décor to the five-star quality Indian fusion food, the management at Ananda provided excellent service to ensure our event ran smooth. Given the ambiance of Ananda is so elegant, we decided to have minimal décor and only selected items that would compliment the theme of the shower. Calligraphy chalk boards, white roses, and candles were all we needed to make the setting perfect.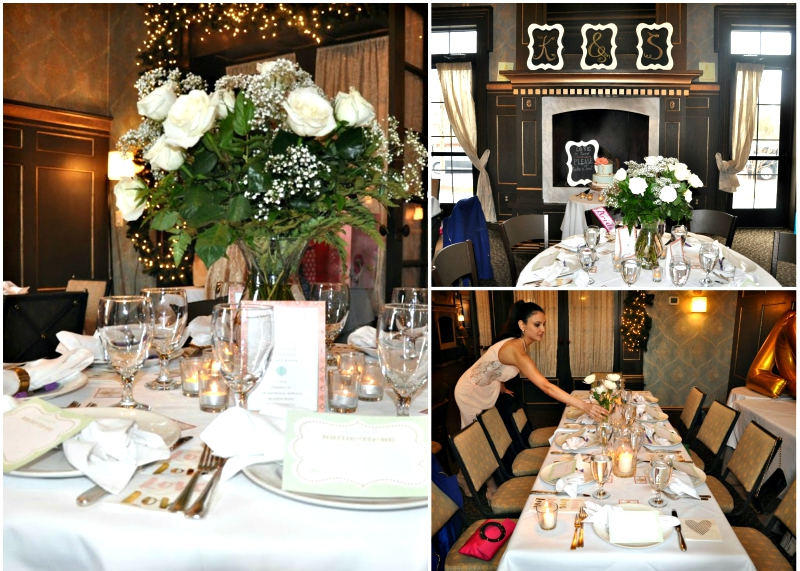 Bridal Fun
Since I will be moving to California, my sister wanted my last big celebration with my closest girl friends to be a blast! My bridesmaids created their own twist on bridal games to make the shower was memorable. From Guess Your Celebrity Hubby to Create Your Own Indian Bridal Gown; The games were a big hit. The delicious food and bridal inspired drinks added to the festive atmosphere.
Special Moments
Each moment was so special. One of my favorites was the Bridal Shower cake designed by my best friend Ashima. A baker herself, she selected the most tasty flavors and the cake looked almost too good to eat! The addition of our wedding logo on the front of the cake was such a thoughtful idea. My sister knows me best and knows I love photos! She hired Mr V Imagery to capture all the moments. Photographing 30+ girls is not easy, but Aras made us all feel so comfortable in front of the camera.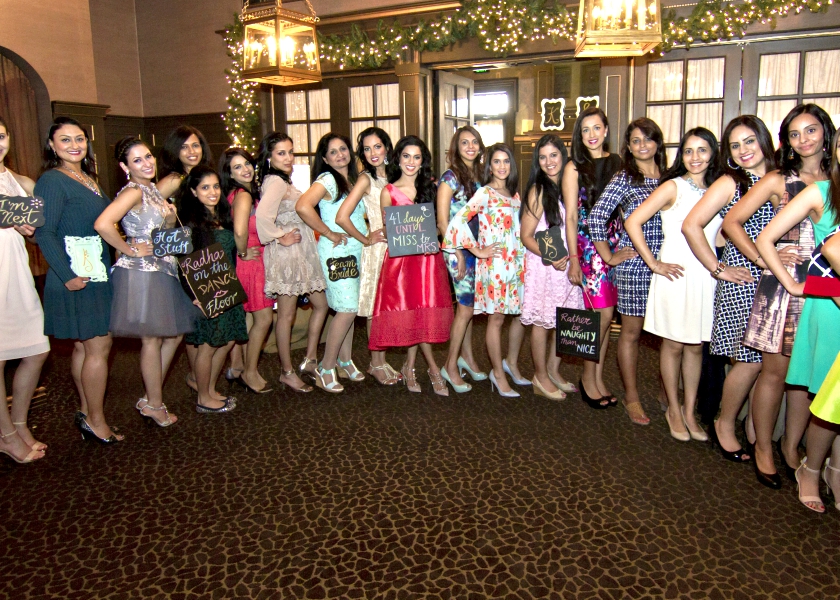 Social And Style is a website owned by Kamana. She is a blogger of  Indian origin based out in Washington D.C.
You can Follow her at @SocialandStyle using the hashtag #KandSKnotItup.