7 Beautiful Offbeat Wedding Locations In India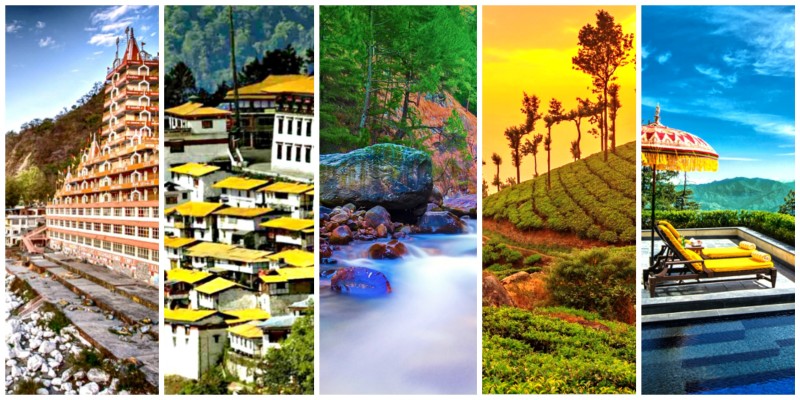 Exchange vows in a beautiful and unique way at some of the most interesting and offbeat locations. Choose from India's cultural and diversified land for the crisp and magical wedding ceremony for you and your fiancé. Hence, we present to you 7 offbeat Wedding Destinations for that much wanted x-factor for your wedding.
1. Rishikesh: The Holy Trail
River Ganges, encapsulates the most beautiful scenic location in North India. Tantalising with spirituality and peace, Rishikesh can be an amazing option to marry due to the rising trend of destination weddings in India. You can choose from variety of hotels that take up everything from decorations to the riverside tents with all you left to do is to only indulge in the moment.
Best Season to Wed: May to October
Location: Uttarakhand, Northern India
 Nearest Airport & Travel: Jolly Grant Airport,Dehradun [35 kilometres away from Rishikesh].  Lot of buses, local carriers available from the airport to Rishkesh. Also well connected via Railways ( dehradoon railway station)
2. Tawang: Land of Tranquillity
Culture & natural beauty together form a place known as Tawang which can easily serve as a destination for your wedding destination. The serene environment will soothe your nerves that will be all worked due to the wedding stress. It will sure shot be a memorable destination with all the monasteries and the backdrop of Himalayas.
Best Season to Wed: April to October
Location: Arunanchal Pradesh, North Eastern India
Nearest Airport & Travel: Tezpur Airport, located 143 km away is the nearest airport. Tezpur is also the major rail head closest to Tawang. Buses and private taxis are available to reach Tawang.
3. Munnar: The Backwaters
Well what could be better than starting you life with your partner in God's own country.  Plush green and rich in atmospheric ambience Munnar sounds like a dream destination for your wedding. family and friends would live to be in the presence for a lavish ceremony, clubbed with special incentives for sight-seeing in Kerala.
Best Season to Wed: October to February
Location : Kerala, Southern India
Nearest Airport & Travel:  Cochin International Airport, which is 110 kilometres away by road. You can hire a cab to get to Munnar from their.
4. McLeodGanj: Scenic Mountain Backdrop
McleoadGanj is a small scenic but a blissful hill station which is full of cafes, cultural locations and Tibetan motifs. It can be a beautiful and quaint place to start your martial life. The view of snow covered Himalayan Mountains along the way could be a lasting memory for both of you and surely the quiet and peaceful environment of this paradise would be an excellent choice as a wedding destination.
Best Season to Wed: March to June and September to November
Location : Himachal Pradesh,Northern India
Nearest Airport & Travel: Gaggal Airport is about 20 kilometres to McLeod Ganj, about 45 minutes by taxi from the airport.
5. Nubra Valley: Heaven on Earth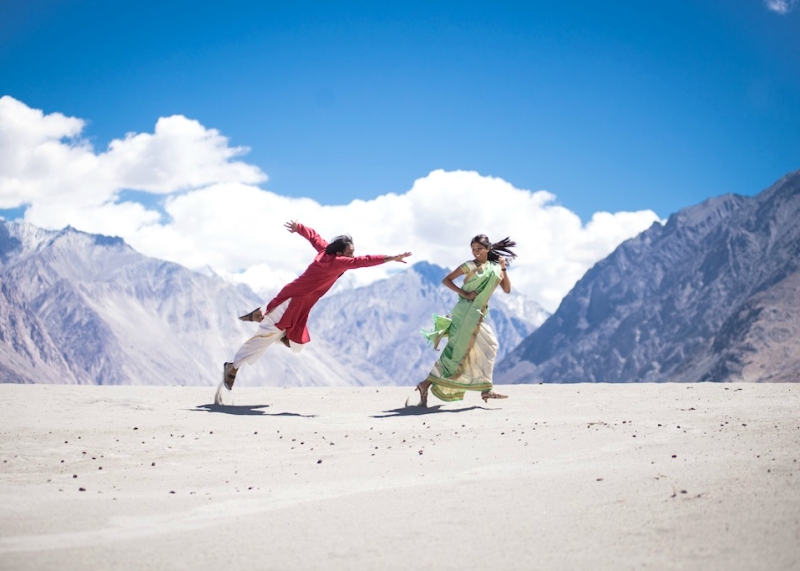 Need a "Swiss romance" styled wedding in India! Well, chilly mountains and cold air sifting through your hair will make you love this offbeat wedding location.  Hidden from mainstream travellers, this place will provide you with peace and tranquil for that perfect wedding of your's.
Best Season to Wed : July to September
Location :  Leh, Jammu And Kashmir, Northern India
Nearest Airport & Travel: Leh Kushok Bakula Rinpoche Airport is the nearest airport which is situated 120 Kms away in Leh. Hiring a jeep or boarding a bus are the best options. Protected Area Permit (PAP) is alsto required to visit from local authorities.
6. Coorg: Scotland of India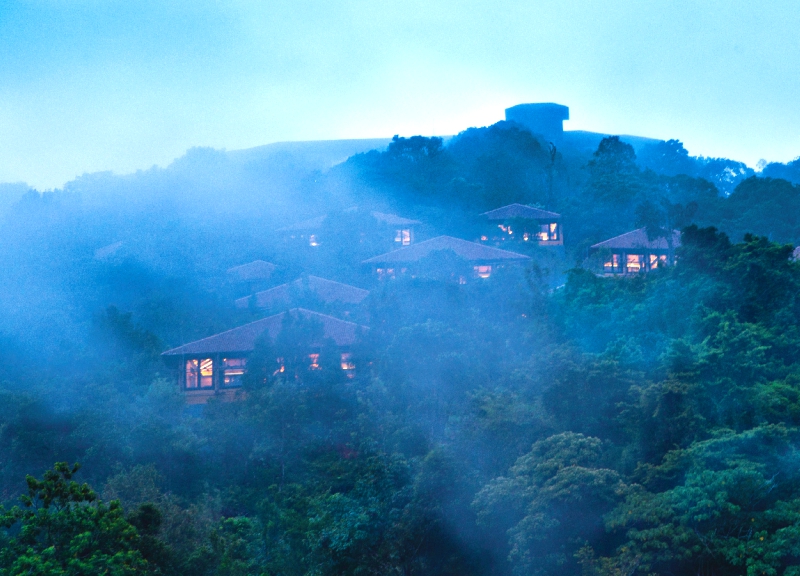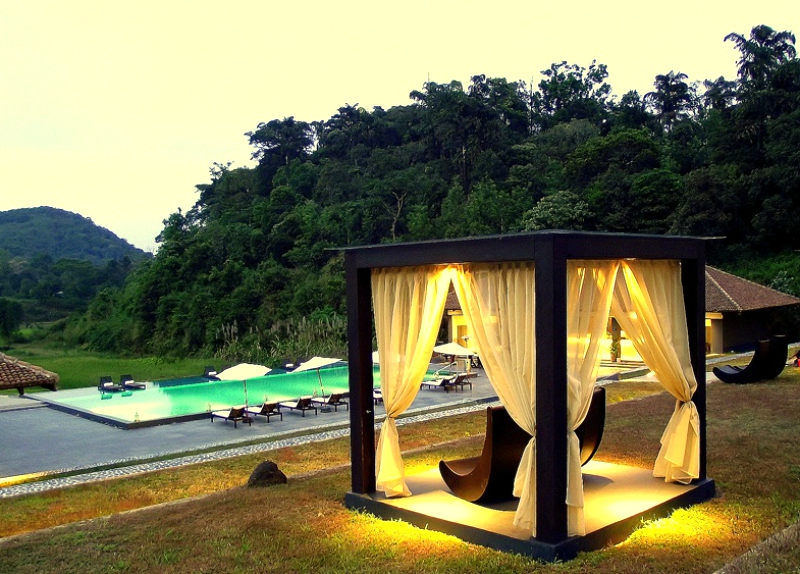 Located in the western ghats of southwestern Karnataka. Coorg is a perfect place perfect for those couples who are looking for a dream wedding location. Lush gardens, orange orchards and the aromatic coffee fields will work as a perfect backdrop for your wedding. A beautiful location to tie the knot in this incredible unexplored country of ours.
Best Season to Wed: October to February
Location: Karnataka, Southern India
Nearest Airport & Travel: Mangalore International Airport, about 160 kilometres away from Coorg whereas Mysore railway station is about 95 kilometres away, you can easily access a bus or taxi from both the stations.
7.Ranthambore:: Simply Majestic

Before you start getting up all excited, No! you cannot wed inside the National Park. But you can plan an unforgettable and the most beautiful wedding experience at Ranthambore. It remains not just a National Park in India but an unconventional wedding destination as you can have your wedding in the wild for some extra fun and thrill.
Best Season to Wed: November to March

Location: Rajasthan, Northern India
Nearest Airport & Travel: Sanganer Airport in Jaipur located at a distance of about 180 km. Highly accessible from all modes of transport.
Imagine exchanging your wedding vows on the sea shore or the picturesque mountains already! Well, for a short and memorable wedding these 7 destinations which can be a refreshing change for you. So try these places and these quite out-of-the-box destinations.
Also Read : 5 Favorite Honeymoon Destinations In India|Best Bridal Makeup Artists in Delhi/NCR To Choose From Under 20k|Pink Alert! Lighter Shades of Pink Lehengas in Trend