Love Is In The Fall :) – Yashi and Nipun's African Diaries !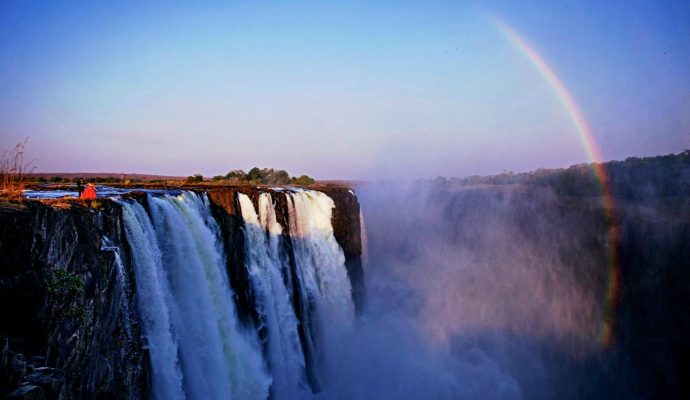 Fall in love and you'll feel the distance between you and your loved one shrinking with every passing minute. So, whether your love resides right at the end of the block or across the seven seas, you are just a reason away to see them and show your love to them.
The same thing happened when Yashi from Zimbabwe and Nipun from India fell head over heels in love with each other. They overlooked the distance and made it work beautifully in their favour. They decided to do a pre-wedding shoot in this Southern African country and showcased a rare combination made from romance and adventure.
The shoot was done in various locations of Zimbabwe but mainly 'Victoria Falls', A world heritage site. As their shoot's location, they picked out Mosi-oa-Tunya- 'The Smoke Which Thunders'. And on the top of it, their photographer Tom Varley took the couple to the edge of the falls where the breath-taking shots were taken the beauty of which will hypnotise the viewers.
Not to mention the risk they both took for it, but love is all about taking risk, isn't it? Not only this, the couple then headed to the forest where they got clicked in the exotic location. The icing on the top was the compliments paid to them by the tourists who called them the prince and princess of the forest. And why shouldn't have they? Since Yashi was a big hit in her beautiful, luscious, pink gown and Nipun rocked in an outlandish suit.
And to add more beauty to their shoot, they opted for a helicopter ride. After stepping down the helicopter, they had their share of adventure when they got clicked with elephants and fed them. And if you're thinking that this was it then you're wrong as the shoot was yet to be completed. They went to Nyanga and got clicked under a surreal sunset at World's View. Their beautiful pre-wedding shoot is serene and adventurous at the same time and we can't stop gushing over every detail of their exotic experience.