Kanjivaram Saree Inspiration for Brides
When it comes to bridal attire, Kanjivaram sarees are the epitome of timeless beauty and grace. These exquisite sarees, originating from Kanchipuram in Tamil Nadu, have been a cherished choice for brides across generations. If you're a bride-to-be looking for Kanjivaram saree ideas to make your wedding attire truly special, here are some inspiring suggestions:
---
Classic Red and Gold
Embrace tradition with a classic red and gold Kanjivaram saree. This combination signifies love, prosperity, and bridal elegance. Choose one with intricate zari work on the border and pallu for that extra opulence.
Via: Sunasa
---
Contrasting Blouse
Add a contemporary twist by selecting a blouse in a contrasting colour. A jewel-toned blouse paired with a traditional Kanjivaram saree can create a striking look that blends old-world charm with modern flair.
Via: House of Blouse
---
Pastel Hues
For a softer, dreamy look, consider pastel Kanjivaram sarees. Colours like blush pink, mint green, or lavender offer a refreshing departure from the conventional red and gold, yet exude bridal charm.
Via: Vedhika
---
Dual Tone Sarees
Explore Kanjivaram sarees with dual tones. These sarees feature a different colour on the body and the border, adding a captivating dimension to your bridal attire.
Via: Shri's Clothing
---
Temple Motifs
Kanjivaram sarees often feature intricate temple motifs in their design. Opt for one that resonates with your spiritual or cultural beliefs to add a meaningful touch to your bridal look.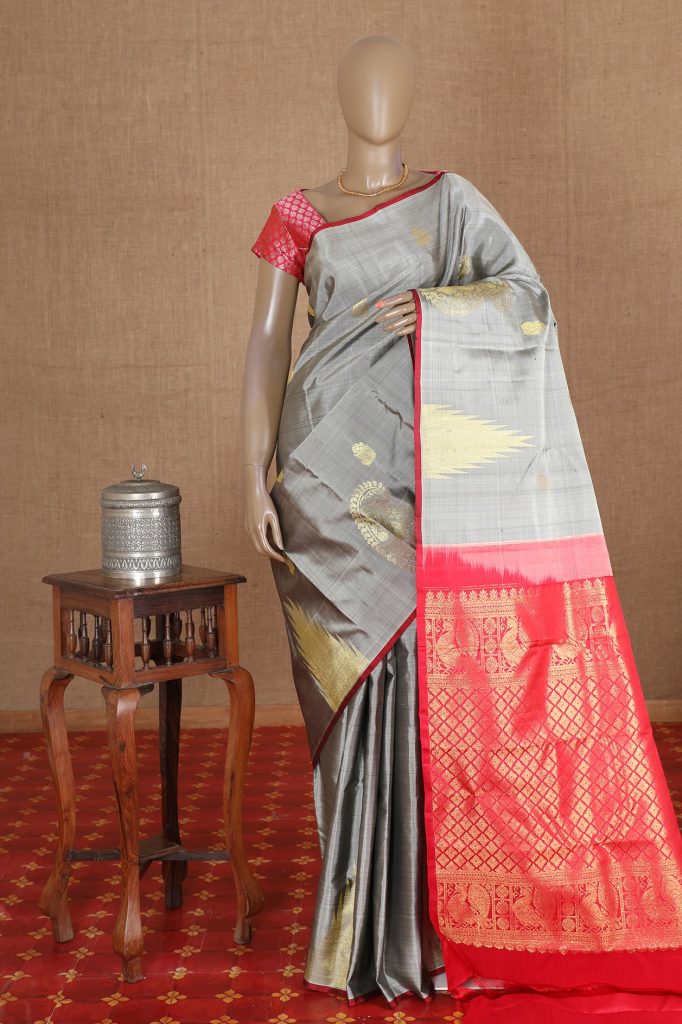 Via: Sundari Silks
---
Silk Jacquard
Modern brides can experiment with Kanjivaram sarees woven with silk jacquard patterns. These patterns introduce a contemporary element to the traditional saree.
Via: Leemboodi
---
Minimalist Elegance
If you prefer a minimalist approach, choose a Kanjivaram saree with subtle zari work. This will maintain the saree's regal appeal while keeping the overall look understated.
Via: Karagiri
---
Intricate Zari Pallu
Make the pallu the focal point of your Kanjivaram saree. Select one with exceptionally detailed zari work on the pallu to create a captivating and regal effect.
Via: Ranjvani
---
Lighter Silk
If you're concerned about the weight of a Kanjivaram saree, opt for a lighter silk variant. These sarees are more comfortable to wear for extended periods, making them ideal for brides who want to dance the night away.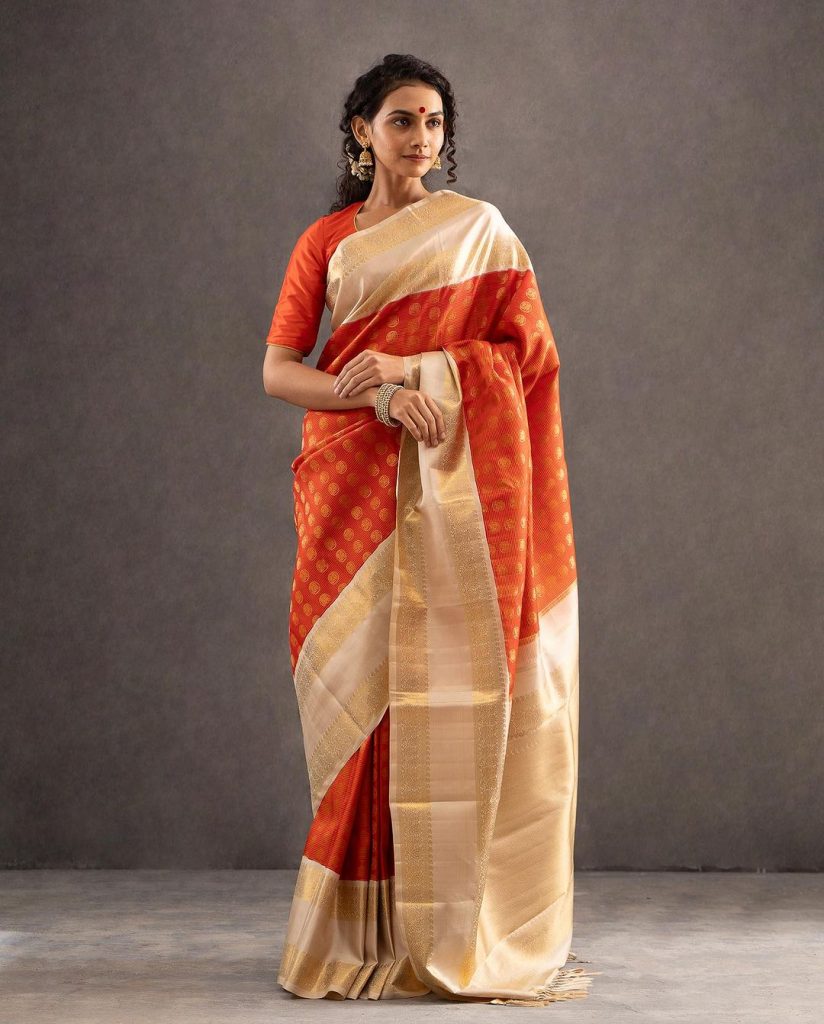 Via: Clio Silks
---
Kanjivaram sarees are incredibly versatile and can be customised to match your personal style and wedding theme. Whether you prefer a traditional, contemporary, or fusion look, there's a Kanjivaram saree out there that will help you radiate bridal elegance on your special day.
---
Check out more links like this: Indo-Western Engagement Outfits for Brides |Roka Outfits for Brides-to-Be |Selecting the Perfect Blouse Neckline for Your Body Type | Your Guide to Choosing the Perfect Bridal Lehenga for Your Skin Complexion |Versatile Ways to Style a Jacket with a Saree | Bridal Latkan Ideas to Elevate Your Lehenga Ensemble | Elevating Your Bridal Outfit with Enchanting Colour Combinations | Stunning Reception Saree Ideas for Brides | Top 10 Shirt Blouse Inspiration For Offbeat Brides