JJ Valaya Showcased His Comeback Collection – Tabriz In Collaboration With Swarovski Crystals!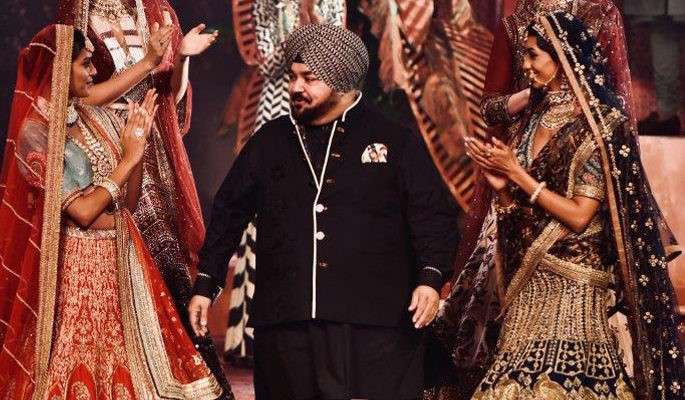 A sparkling night ensued at the classic Imperial Hotel as JJ Valaya showcased his comeback collection – Tabriz in collaboration with Swarovski Crystals.
The highlight piece of the show was an embellished burgundy lehenga that has almost 12,000 exquisite Swarovski crystals encrusted. With a total line-up of 42 magnificent garments, majority of them donned crystals from Swarovski.
Tabriz, the one-time capital city of one of the most significant ruling dynasties of Iran, the Safavids (their reign is often considered the beginning of modern Iranian history) and later, also one of the most important cities during the Qajar dynasty's rule, forms the core of our collection this winter. Between these two greats, much flourished in Persia, with both dynasties bringing a scattered Persia together, besides nurturing the crafts and arts of the region. This season's collection is an ode to, and celebrates, a mystical Persia of the 16th century through the 19th century. The inspiration further manifests itself into three unique collections, each combining Persian intricacies with our three perennial loves: The Royal legacy that defines us, the Nomadic spirit that we always embrace and our penchant for the glamour of the Art Deco period.
Collection One. FARSH
A collection inspired by the Persian hunting design carpets, one of the oldest and most elusive carpet styles, infused with the romance with our constant love, the Art Deco period. Our signature midnight blue meets an antique teal and further serenades Golden mustard to create a collection using aged gold metalwork, gota and multicolored threadwork.
Collection Two. NAQSHBAND
A garden of exotic flowers worked in the finest of metallic threads and beads, borders with delicate glitter, antiquated crystals and pearls, all form a part of a collection that romances rich reds and sage greens in silks, velvets and tulle. We play the role of the modern day Naqshband (master craftsperson) and revel in our bond with Royalty and all things grand with this collection.
Collection Three. KHAYYAM
Khayyam, the renowned royal tent makers of Persia and the masterpieces they created, form the inspiration of our Nomadic song this season. Blacks, Greys, Burgundy in a medley of materials that come together to create a dramatic montage of raw yet refined elegance. Antique mirror-work, rough cotton yarn, resham and unusual appliqué techniques form the details along with the unique prints of Valaya.
Commenting on the partnership, Vivek Ramabhadran, Vice President, Asia South and Africa Region, Swarovski Professionals:
"Swarovski's endeavour has always been to strengthen its presence in long-term creative collaborations, especially in the realm of bridal couture in India. Our association with JJ goes back to the time we started out in India, more than 17 years ago. It was hence only natural for us to collaborate on the occasion of this very special show. JJ Valaya is a true artist whose romantic affair with royalty and splendour have created a legacy for one of the first and most majestic home-grown luxury brands in India. We look forward to many more exciting years ahead together!
---
Checkout more links like these:Abhinav Mishra Presents Wildflowers Spring Couture 2019| A Parisian Symphony By Shyamal and Bhumika At Amazon India Fashion Week! | 10 Dream Brands and Their Flagship Stores in Delhi