Double Dhamaal: Twin Sisters Riya & Shriya took Wedding Vows With Picturesque View Of The City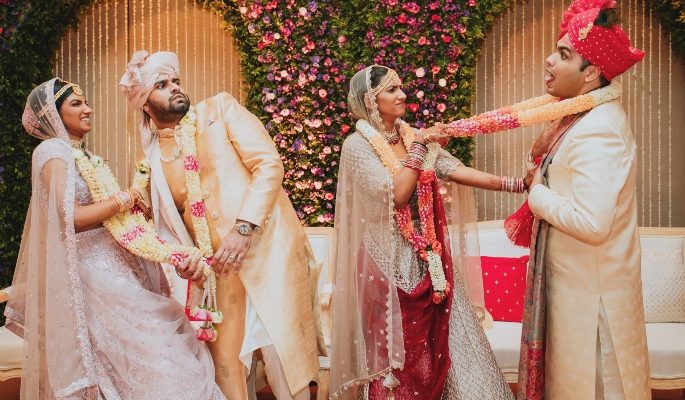 Story of Riya & Indra
They met (on tinder) at a night market in Hong Kong for their first date and clicked instantly only to find out that Indra was leaving for Cyprus for a month after their first date. They continued the long-distance and visited each other. Shortly after Riya moved to Belgium for work, the couple got more opportunities to see each other and travel together. Two years later, Indra had the perfect idea of hiding his proposal in the letters he had sent Riya. He started each proposal letter with an alphabet that pieced together to form "Will you marry me", which Riya only figured out on a trip to Paris to celebrate Indra's birthday when he handed her the final letter. He took her to a park to remind her of all the parks in Hong Kong they would frequently visit. She couldn't help and said yes even though she had always wanted to be the first one to propose! She still planned a proposal for him even though it ended up being a week before the wedding.
Story of Shriya & Devavrat
Shriya and Dev met (also!) on Tinder, and they liked calling themselves the (t)inspiration! Their first date was a walk on Marine Drive because Shriya wanted to make him more active, not because it was an easy exit in case it didn't go well. Cut to 1.5 years later when Dev whisked Shriya off to Alibag for her birthday weekend and after dinner, Dev asked a paanwala outside the restaurant to take a few pictures of them. Shriya looked beside for Devavrat to pose with and there he was, on one knee asking her to marry him.
---
---
---
---
---
---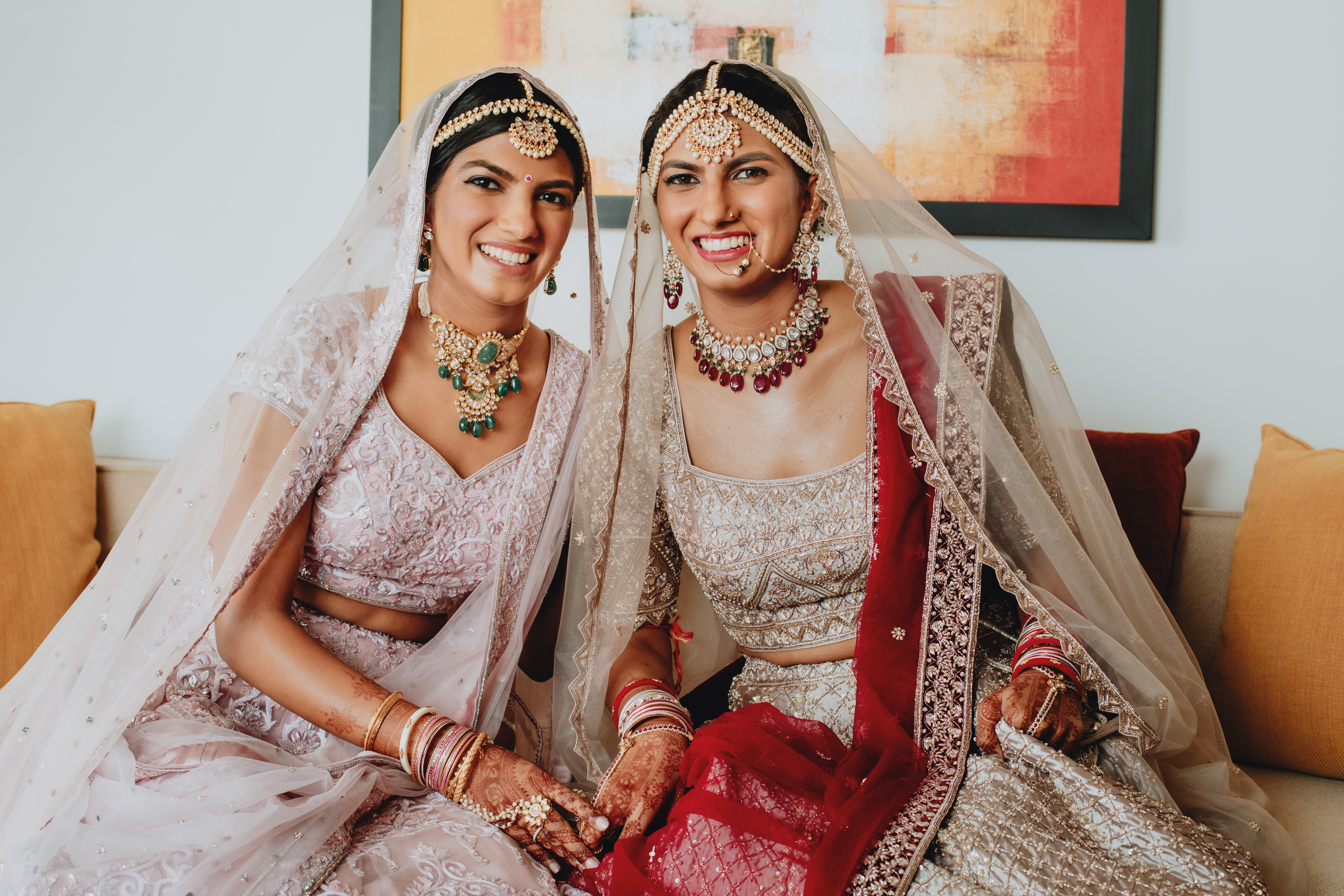 ---
---
---
---
---
---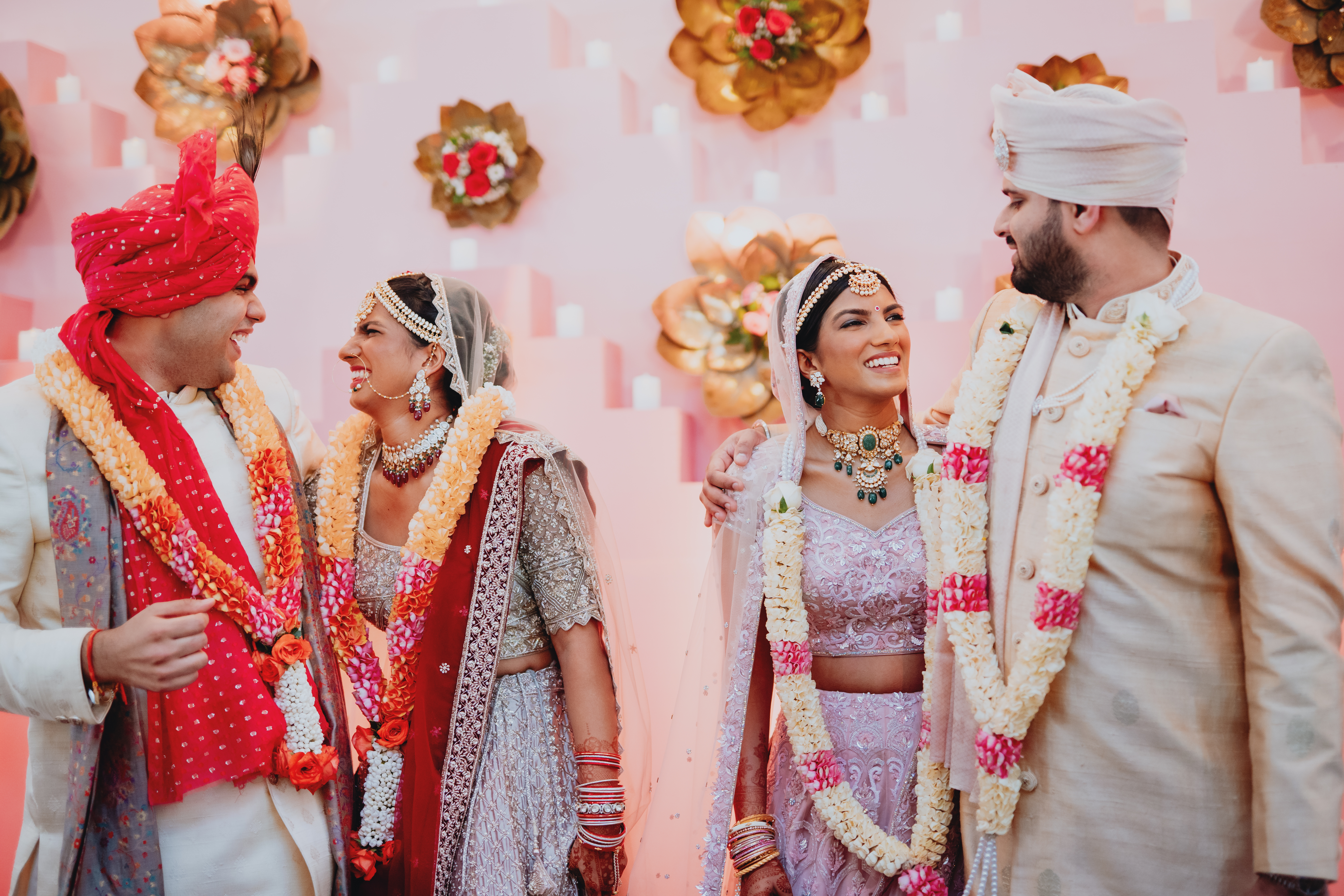 ---
---
About the wedding venue
Trident rooftop – the first time they saw this location, they were absolutely in love with it. It had a perfect setup with a great view of the city and enough space for social distancing for an intimate wedding. They were especially in love with the idea of a double mandap and were happy to see how it turned out!
Wedding hashtag: #RiShriIndraDev
Photography: Jodi Clickers| MUA: Makeup By Bandana
---
Check out More Links: High School Lovers Made It Official For Lifetime At The Oberoi, Gurgaon.| Witness A Concoction of Modern And Traditional Treats At This Arranged-Turned-Love Marriage Of Sonam & Himanshu.| A Waffle-O-Some Wedding Of Nupur & Shubham!| A Dreamy Wedding Of Anshuka & Arun, With Uniqueness Of Love That Made Them Together Forever!